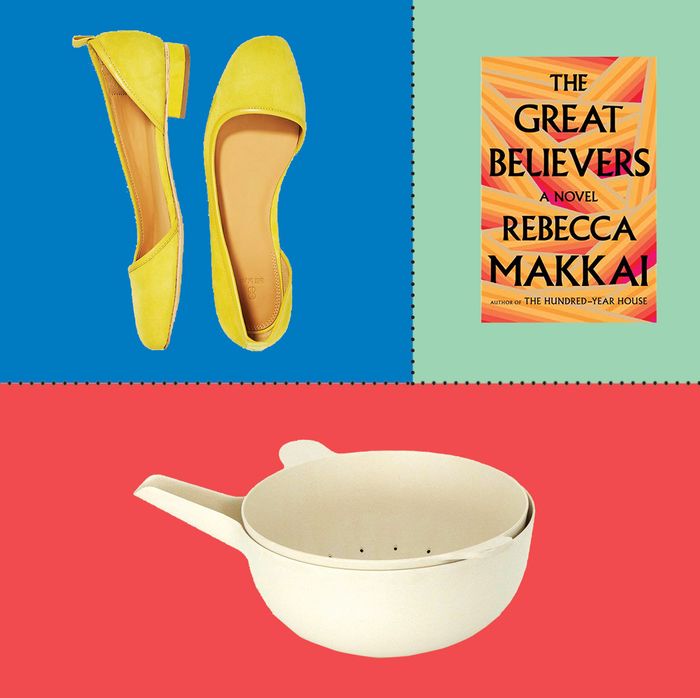 If you follow our biweekly feature Your Shopping Cart, you know that we have some eerily good intel on what things you all are buying. It led us to think that, as Strategist editors, we could turn the tables and highlight all the things we've been buying ourselves. As you'll notice, it's both a blessing and a curse to be a Strat editor; we're picky, but sometimes we just have to get on with it (it's online-shopping expertise meets IRL needs). Below, what we all bought in June.
I re-upped on my beloved Aubrey Plaza–recommended natural deodorant. Even on the most sweltering of summer days it keeps me dry. It's truly a miracle.
I'm pregnant and will only wear stretchy cotton or linen dresses at this point (i.e. no more pants). I've held firm and have not bought any maternity dresses, but some of my dresses are starting to feel a little tight and I thought it might be time to bite the bullet and buy one. It pains me to spend money on this stuff (and most maternity clothes are so uggo), so I've been scrounging around and landed on this on-sale Old Navy number with 81 rave reviews (mostly from women saying how comfortable it is). It's currently in the mail — and will report back when it arrives!
Another thing I bought that has not arrived yet (as I was waiting for it go even further on sale — which it just did) is this pair of yellow flats from Bill Blass. Yes, Bill Blass! Which I was reminded is helmed by Chris Benz these days. Most of my dresses are black, and a pop of yellow I thought would make me look a little less like a dark cloud this summer. [Note: An extra 25 percent off the sale price is applied at checkout.]
As devoted as I am to white sneakers, they are not the shoes to wear with white jeans. So I went on the hunt for very basic black sneakers this month. I truly adore my Doc Marten Dante Brandos, but the same tough, shiny leather that makes them so nice-looking also makes them VERY uncomfortable for walking everywhere, so I got a similar-looking pair in soft, pliable leather. I cut the little tab off the back and you can't even tell it was there.
I needed a new doormat and thought I'd try one from Target's design "concept" Project 62. It's much sturdier than I thought it'd be!
Historically I am not a hoodie person, but I simply had to have this one from our latest batch of merch. I plan on tying the strings into a bow, à la off-duty models and Katy Schneider.
This is schlubby of me, but I love Adidas slides and I love that they're still having a style moment. I know they're called "pool slides" now, but they used to be "soccer slides," and they remind me of being a teenager and how good it felt to take off shinguards and sweaty socks at the end of a soccer game. I have the classic black ones, but for months now I've been irrationally wanting these white ones, too. It's summer, so I got them.
Honestly, I'm ashamed it took me this long.
I recently wrote about some of my ideas for a joint anniversary gift, and in the end, the space-age toaster won.
In light of the latest harrowing humanitarian shitstorm, and in an effort to do my part as a non-immigration lawyer and a non-Spanish-speaking potential volunteer, I donated to the Texas Civil Rights Project. Like the ACLU, this organization provides legal advocacy to those who need it most. The group's name appeared early and prominently in a lot of trustworthy lists of where to donate to help families at the border, like this one at the Cut and this extensive one over at Slate. So I went with it, but those lists are still worth checking out, as more organizations have been added.
My book club mostly likes to socialize but we do read too. This go-round, we picked The Overstory by Richard Powers, which at 457 pages may have been too ambitious for how often we like to meet. With about a week to go before meeting, we decided to pivot to something more manageable: Arthur Schnitzler's 95-pager, Late Fame.
I started using this microfiber towel turban thing about a year ago, though I'm not sure how I existed so long without it. I have fine, curly hair that is highly frizz-prone, and so I had been told by stylists over the years to twist my post-shower hair in a soft, old vintage T-shirt which is less frizz-rousing than a regular towel. I would do it from time to time, but also mostly didn't. Then I came across this Aquis turban towel and pretty much never looked back. My hair dried much faster, but in a way that was much softer and shinier and healthier-looking. The idea is that the microfiber creates less friction on your hair over time. And my hair has never been smoother. My first one was black, but I've swapped it for this stripy one that looks slightly Turkish-towel-like.
We all just wrote about our favorite white 'T-shirts, but I'm actually in the process of experimenting with some new fits and styles, which is why I bought Reformation's Joplin tee a few days ago. I really wanted it in the crimson color, but that was sold out so I went with black. It hasn't arrived yet, so I can't give the full rundown, but I'm very intrigued by the fit and texture. It looks like it'll be really thin and soft.
I bought Susan Alexandra's beaded, perfect strawberry pouch for my sister's 21st birthday. Unsurprisingly, she loved it.
For a wedding earlier this month I got my glam on at the Chanel beauty counter, so I ended up buying a few things, including a moisturizing tint with SPF that I now wear every day and a sheer "lip shine" in a color called Deauville that's also a great little something for every day.
I have two weddings this summer, and it's the first year that people of my own age group are getting married. So, like at the beginning of Bat Mitzvah season when I was 13, I decided to invest in a dress I could wear to them all. I went with this very pretty, silky satin yellow thing from Paris Georgia via No. 6 that I'm completely in love with.
I bought a new plant for my apartment, because I had a spare terracotta pot and wanted to fill it with something green and alive. I went with this "Golden Devil's Ivy" because the guy at the plant shop near my house told me I wouldn't kill it, like I did my fiddle leaf fig. And my fern.
I'm going to the beach this weekend with friends, and we decided to all read the same book. We went with The Great Believers by Rebecca Makkai because one of the editors I spoke to for my "Best Summer Books as Recommended by Fiction Editors" said he'd, and I quote, "rarely heard people gush about a novel the way they have about Rebecca Makkai's The Great Believers." I found those words extremely persuasive!