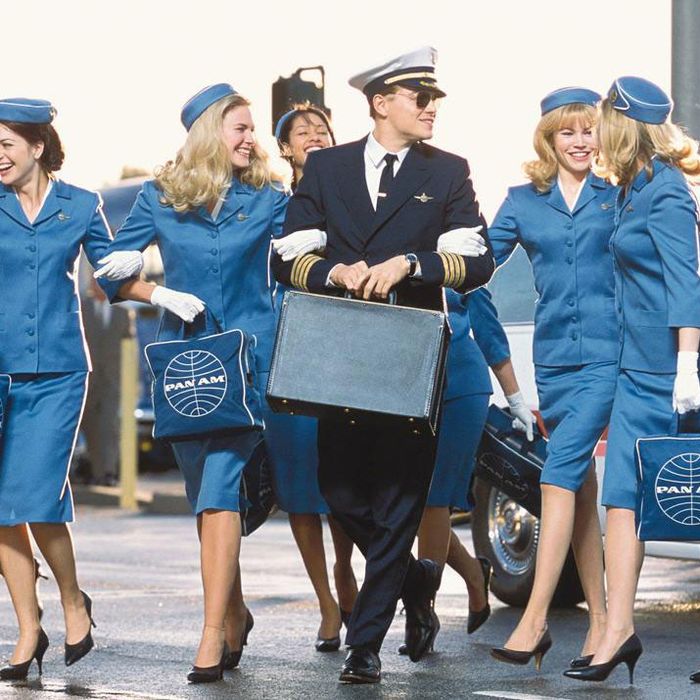 Photo: Courtesy of DreamWorks
Whether you're hitting the slopes in Aspen in the winter or escaping to a faraway beach in the summer (or winter), getting out of town requires the right gear. That of course includes the stuff you'll need when you get wherever you're going, but just as important are the things you'll use in transit — because everyone knows that getting there is half the battle. In our ongoing search for the best travel gear (see what our editors can't get on an airplane without, and our roundup of the best rolling luggage), one item that's always top of mind is a good pair of shoes to travel in — as in, ones that can withstand both airplanes and cobblestones, and are nice-looking enough to wear straight from the plane, or a day on the streets, to dinner. So we asked some people who get around a lot — including travel writers, photographers, tour guides, globetrotters, and other frequent fliers — about their favorites. Read on for their 28 picks, which include sandals, flats, sneakers, and boots. Quick shopping note: A lot of these shoes come in both men's and women's, or in unisex, sizes.
Best sneakers for travel
Travel blogger Annette Richmond calls these Adidas Cloudfoam Racers her "go-tos" because they are "super lightweight and breathable," which makes them perfect to wear on a flight or walking around a new city, she says. "I pair them with leggings or shorts for an athleisure look that's perfect for hiking, sightseeing, or a travel day."
For another lightweight, easy-to-put-on pair of sneakers, Grant Nyquist, the director of adventure at the Outbound Collective, recommends "Allbirds, hands down." Wearing these makes airport security a breeze, he promises, and like the Adidas pair above, the Allbirds can be worn with most anything — including slacks. Plus, you can even wear them sockless because the wool wicks away any unwanted moisture. "For the price, the quality, and the style, nothing comes close," Nyquist says.
Strategist columnist and cool person Chris Black wears a pair of crisp, gray New Balance 990 v4s to complete his "respectable but still comfortable" airport ensemble. His advice: "Honestly, just keep your toes covered and you already look better than half of the airport population."
If you are the sort of person who needs to fit in a workout while on vacation and would prefer not to pack two pairs of shoes, this Adidas pair works equally well on the streets or a treadmill, according to Ben Pundole, the editor-in-chief of travel magazine A Hotel Life. Their super-lightweight mesh upper allows feet to breathe during speed training, while still looking cool enough to pass for streetwear. Plus, they're a part of Adidas's Parley collection, which means they're made using recycled plastic found in the ocean.
Matt Smith, a co-founder of bespoke luxury travel company Black Tomato, told us he prides himself on being a highly efficient traveler who very rarely checks a bag. That's why he loves No Bull trainers, which he says are "like four pairs of shoes" in one. (No Bull trainers took the runner-up spot on our lists of status gym sneakers for both men and women.) Like Pundole's favorite Adidas pair, Smith says these are comfortable enough to fly in, durable enough to work out in, and have a design that's sleek enough to bridge the gap between going out to dinner with clients or taking meetings at the office.
For a slightly less sporty sneaker, Tom Marchant — another co-founder of Black Tomato — suggests this handsome leather pair from Cole Haan, which he says are always a safe bet for travel since they're designed for comfort and flexibility. "They're incredibly breathable," he explains, adding "they're ideal for exploring a bustling metropolis by foot or gearing up for a long haul flight."
"The Filling Pieces shoes are the most comfortable I've ever encountered and incredibly durable," according to David Prior, the founder of travel club PRIOR. The keys to a good traveling shoe, he says, are being able to get it on and off quickly, and for it to still feel comfortable when your feet inevitably swell while in the air. "They also need to be presentable enough when you're getting off the plane and need to go straight into something," Prior adds, noting that his favorite pair from Filling Pieces meets his criteria for ease of use and comfort, but still look super stylish with their fun colors and chunkier sole.
"I'm an active traveler, so I know I need footwear that will be comfortable, lightweight, and good-looking," says Kristin Finton, a category merchandising manager for footwear at REI. She likes this Altra pair for its "versatility" and "understated" style, noting the sneakers are great for walking all day or a quick run in an urban destination. "I love the fit, and they're a huge REI customer favorite," Finton adds. Adventure travel consultant Matt Schonwald — who also leads guide trips 100 days out of the year — is another proponent of Altra Footwear, but prefers its "trail-worthy" Altra Lone Peak RSM sneakers as his go-to travel pair.
If you are planning your upcoming trip to commune with nature, Finton suggests the Salomon Sense Ride sneakers. She wore them to hike and run along a river trail in north Vancouver and she says the grip made her feel secure: "I was especially pleasantly surprised that the grip held over larger wet boulders." She also wore the same shoe to explore Runyon Canyon, which she describes as being a "super-hardpack, dry, sandy," trail. "I thought I was going to go down because everyone was slipping on the sand layer, but nope — I felt secure, cushioned." And as a bonus, she loves the "techy cool" look of the bright color and quick laces.
For beach adventures, Josiah Q. Roe, the director of media company Granite & Light (which focuses on outdoor adventure and travel experiences), loves these mesh sneakers from Vivobarefoot, which he wore while on a trip to Roatán. "Hiking, swimming, scrambling over rocks and sharp coral: They crushed it and weigh next to nothing."
They may cost as much as some plane tickets, but according to Flight 001 co-founder John Sencion, you will not find a more stylish travel shoe (that's also comfy) than the Achilles sneakers from status brand Common Projects. "From the jetway to the boardroom or the beach, this shoe has the broadest style spectrum than any other shoe," Sencion says, adding that he's felt as comfortable wearing them to a meeting at the company's Tokyo office as he has to the beach in Tulum.
Photo: Retailer
For a less expensive travel shoe that's just as good-looking, Mike Arnot, the founder of luggage company Owen & Fred, suggests Greats. "I see tourists wearing Crocs, and a few pilots wearing black Danskos," he says. "No. Just, no. I wear a pair of Greats," which, Arnot adds, he's been complimented on more than once at an airport — including by some hard-to-impress TSA agents.
Best slip-ons for travel
For a recent two-week stint in Cusco, Peru, Schonwald told us he packed these and another pair of running shoes. But he barely used the running shoes, he said, because the Sanuk slip-ons were so comfortable for walking around town. In addition to being good for sightseeing on foot, he says these easily transition into beachwear if you're going somewhere that's part city, part sand. They also pack up well, he adds.
Foods of New York Tours creative director Am Bandolik only takes one pair of shoes with her when she travels: the Emmie flats from Lucky Brand, which she's worn "over the concrete of NYC and the cobblestones of Rome." She loves that they are casual, but still feel feminine and stylish. Plus, they're foldable, so it is "easy to fit a few colors — your basic black or brown and a fun color — in your suitcase without going over the weight limits on your bags."
In our roundup of the most comfortable shoes (according to people who stand all day), flight attendant Crystal Roseberry told us about her favorite comfy flats from Clarks, which she wears during long shifts in the air because they are "well made and cute, provide good support, and last forever."
Abra Boero, the founder and creative director of Off Season Rockaway, calls Sabahs "the ultimate travel shoe," because they not only slip on and off with complete ease, but are suitable for so many different climates. "I wear the same pair to the beach that I wear in the winter with wool socks." Their supple leather molds to your foot, making them super comfortable even after a long flight, and the unfussy design keeps them very lightweight, she promises.
Best boots for travel
If you're headed someplace known for rainy days, these weatherproof Chelsea-style rain boots are the ones that travel blogger and photographer Samantha O'Brochta relies on. She says they're "extremely comfortable" and an "easy way to rock a cute pair of shoes that also double as something useful against inclement weather." Plus, they cost a fraction of the price of a pair of Blundstones.
Richmond says that most people "think orthopedic or ugly" whenever she says the words "comfortable shoe," but assures that these boots are neither. "White Mountains are comfortable shoes with style." The ankle boots rise a bit lower on the leg than a Chelsea boot, and have a stacked heel that makes them great on trips where you might need to dress up a bit, she says. The heel isn't too high, though — just enough to give you extra inches without killing your feet, according to Richmond.