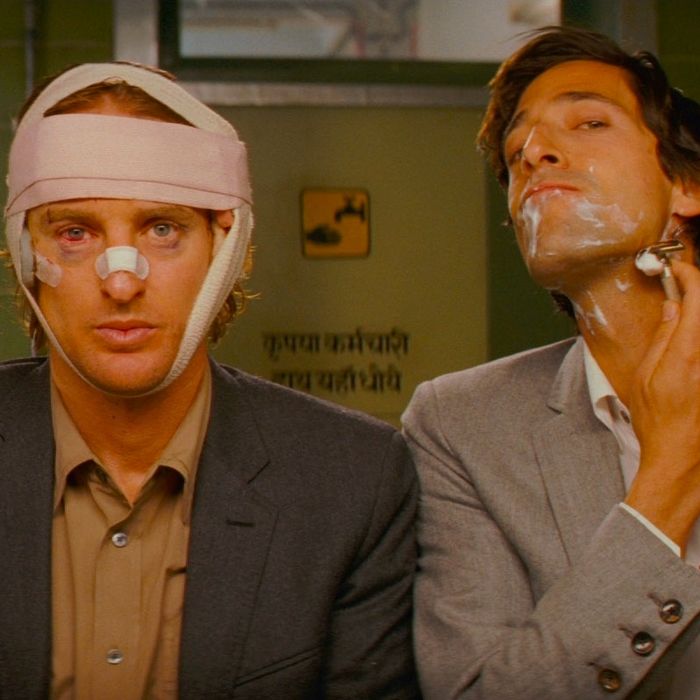 Photo: Courtesy Fox Searchlight Pictures
We've talked about how to battle acne scars before, but what if you're dealing with more serious scarring from, say, surgery or wounds? "Scarring is a normal and necessary response to a wound," says Dr. Cybele Fishman, a board-certified dermatologist and assistant clinical professor of dermatology at Mount Sinai Hospital. "It's the result of inflammatory cells coming in to stop bleeding, prevent infection, and lay down new collagen to 'close' the wound." Or, as Dr. Adarsh Vijay Mudgil of Mudgil Dermatology puts it, "Scar tissue is essentially collagen, which is packed denser than that normally present in skin."
Although scars are an unavoidable part of healing, there are things you can do to minimize — if not eliminate — their effects. "The goal is to treat wounds early and well to prevent the formation of a hypertrophic scar, which is a raised scar that stays within the confines of the wound," explains dermatologist Dr. Anita Cela, who specializes in cosmetic dermatology. While our experts agree that in-office laser treatments are the most effective way to improve the appearance of scars, they do say there are also ways to treat them at home. To find out about those at-home remedies, we spoke to six dermatologists about the most effective over-the-counter products for getting rid of scars, plus what to use to prevent a scar from forming in the first place. Because there is no all-in-one, holy-grail scar treatment, we've instead organized their recommendations as part of a step-by-step guide to treating scars.
Keep wounds clean and hydrated
The first line of defense is to keep the wound clean, moist, and covered in the early hours, days, and weeks — before you start using a scar treatment. "You want to keep the wound hydrated with something like Aquaphor, as this promotes faster healing," says Chwalek. It's a myth that you want to air out the wound and let it dry, because that will form a scab, which can cause more scarring and take longer to heal. You can add a bandage for added protection.
The first line of defense is to keep the wound clean, moist, and covered in the early hours, days, and weeks — before you even start using a scar treatment. "Don't let the wound get infected," cautions Dr. Kenneth Howe of Wexler Dermatology. "This may necessitate the use of a topical antibiotic like bacitracin ointment, which is especially important if the wound occurred with concomitant contamination" — for example, a road rash injury from skateboarding. (Polysporin contains bacitracin zinc in addition to a second antibiotic, polymyxin B, though you can get ointments that contain just bacitracin.) After you've treated the wound with antibiotics, Dr. Jennifer Chwalek, who practices with Union Square Laser Dermatology, says that "you want to keep the wound hydrated with something like Aquaphor, as this promotes faster healing." It's a myth that you want to air out the wound and let it dry, because that will form a scab, which can cause more scarring and take longer to heal. "Avoid wound breakdown," adds Howe. "Proper wound dressing can help in this regard."
Protect wounds from the sun
Protecting the wound from the sun is also key. "The sun is your enemy and will impede good wound healing and worsen the scar," says Fishman. Dr. Evan Rieder, a board-certified dermatologist and faculty member in the Ronald O. Perelman Department of Dermatology at NYU Langone (he's also board-certified in psychiatry) agrees: "Any sort of exposure will make the scar darker." Rieder recommends sunscreen with physical blockers, or those that contain active mineral ingredients, like zinc and titanium. Howe says that "a fresh wound or scar is more prone to sunburn than normal skin," and that "a titanium or zinc containing sunscreen that's at least an SPF 30 should be applied daily." He and Cela recommend sunscreens from EltaMD, which happens to be a Strategist favorite.
Cela also likes this mineral sunscreen Tizo, which has a sheer tint to it. (It was also mentioned as a good non-comedogenic — or non-pore-clogging — sunscreen in former Strategist writer Lori Keong's article about how to get rid of body acne.)
Treat wounds with silicone-based sheeting…
A week or two after an injury or a surgical incision is the ideal time to start treating the scar. All six of our experts recommend using silicone-based patches (or sheeting), or gels (more on those to come, to treat scars in the early stages of formation, which they say are more effective than popular onion-extract-based products like Mederma. According to Howe, silicone-based topicals are "the simplest OTC treatment for raised, or hypertrophic, scars." He says that they work "by exerting a small amount of compressive pressure on the scar, making it flatten and/or soften." Although there aren't definitive medical studies that prove that silicone works best, the dermatologists we spoke to said there are studies and other evidence that show that applying silicone products on a daily basis helps scars maturate appropriately and minimizes cosmetic damage. Chwalek, Cela, and Fishman all recommend ScarAway, which comes in sheets (as well as a gel). The sheets are self-adhesive, making them a convenient overnight treatment (no gel-covered skin touching your sheets), and reusable. That said, our experts recommend changing a sheet once a day, and using them consistently for two to three months, or even longer, depending on the severity of the wound. They add that ScarAway sheets may also help minimize the appearance of old scars, too.
For those recovering from a C-section, Fishman particularly likes these strips, which are conveniently pre-cut to the length and width of the average C-section scar. "Every woman who has a C-section should use silicone sheets, in my opinion," according to Fishman, who adds those scars have a high rate of becoming hypertrophic (raised and often red in color).
Howe agrees that silicone-based sheets are an effective treatment. He particularly likes these ones, which he says are easy to use: "The sheets are self-adhesive, so no cumbersome dressing or bandages are required. Just trim the sheet to a size slightly larger than the scar to be treated, and apply overnight." Like ScarAway's sheets, he says "the silicone in these exerts a gentle pressure that flattens raised-up scars."
… or with silicone-based gels
For smaller or irregularly shaped wounds, you might prefer using a silicone-based gel over a sheet. When it comes to gels, Howe and Mudgil both recommend Stratadarem. "It consists of a blend of silicones in a topical gel that you put on once daily without any sticky mess," says Howe. The transparent gel both hydrates and protects scars, while the pressure from the silicone helps raised scars that "contain a good deal more collagen than normal skin" become "flatter and less hard," according to Howe. Strataderm can also help reduce redness. Mudgil agrees that "topical gels containing silicone can improve the appearance of scars by reducing thickness and redness." He likes Strataderm because it's "quick drying" and "does not contain any ingredients that can cause allergy or irritation," but notes, "tropical treatments really only provide benefit in the very early stages of scar formation." During this time, Mudgil advises applying any gel to a scar daily.
Cela and Chwalek recommend Kelo-cote, a silicone gel that forms a protective barrier over the scar. For best results, it should be applied to an already healed wound twice to several times a day for two to three months.
Another gel product Cela and Chwalek recommend is Biocorneum. It has the added benefit of being SPF 30, so it protects both old and new scars from discoloration and redness caused by the sun.
Rounding out our list of expert-recommended silicone gels is Pro-Sil, which Cela likes because it comes in a glide-on stick for easy application on-the-go.
The Strategist is designed to surface the most useful, expert recommendations for things to buy across the vast e-commerce landscape. Some of our latest conquests include the best acne treatments, rolling luggage, pillows for side sleepers, natural anxiety remedies, and bath towels. We update links when possible, but note that deals can expire and all prices are subject to change.
Every editorial product is independently selected. If you buy something through our links, New York may earn an affiliate commission.