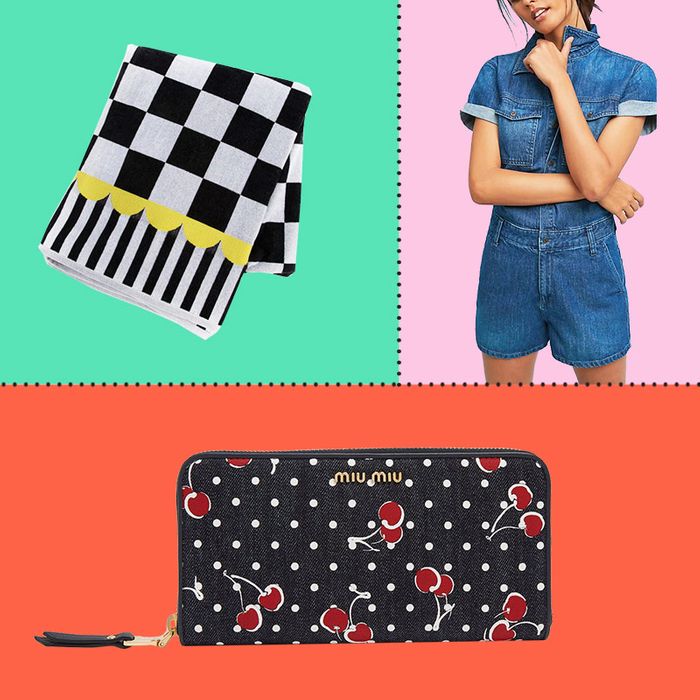 Photo: courtesy of the retailers
The summer sales, they are not stopping. Below, our favorite discounted bathing suits, denim rompers, Miu Miu wallets, $20 Supergas, and all-white moccasins that we gathered from the internet's vast array of sales bins.
This particular Solid & Striped bikini was designed by model Jessica Hart.
We've been on Matches Fashion sales watch for a few weeks now, and a whole slew of items are now an extra 20 percent off their sale price. This stripey Loewe wallet is pretty great (and won't be hard to find in the depths of your tote bag).
Same with this cherry-adorned Miu Miu wallet.
This Anya Hindmarch cosmetics case would make an excellent gift for someone you want to spend about … well … $64 on.
A metallic-tinged color-block scarf from Missoni that once cost $600!
These Stella McCartney espadrille sandals don't qualify for the extra 20 percent off sale, but we liked 'em too much not to include.
$20 is a very good price for this pair of light-gray leather Supergas.
This denim COS dress has some fun scrunched-up sleeves. For more summer dresses on sale that we like, click here.