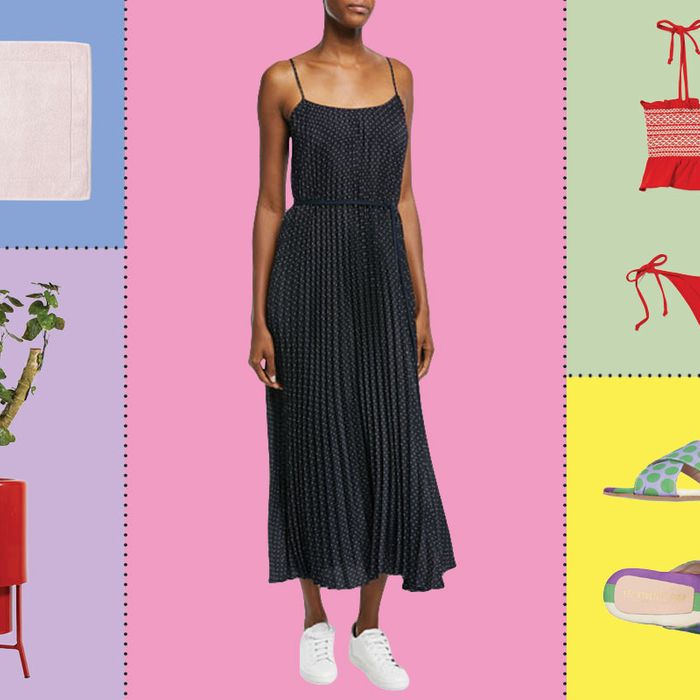 Photo: courtesy of the retailers
We are still not quite recovered from Prime Day around these parts, but when there are excellent sales (like the Nordstrom anniversary sale) you can rest assured that we will rise to the occasion and be ready for action on the scene. This week, the prices are continuing to drop — with a ton of items that we've seen on sale get even cheaper. Below, the best of the week's deals.
A pair of "looks like you've had them for years" high-rise jeans from Citizens of Humanity.
A perfect little polka-dotted number from Vince.
This floral appliqué top would look great with the jeans up top, FWIW. (And yes, we have included this in a sales roundup before, but it's gotten really cheap.)
A dress that works for summer, but will feel right at home in the fall.
A rose-gold storage basket that can hold anything from a few apples to some school supplies.
If you've been meaning to get a monogrammed Matouk bath mat … now's the time!
Some work pants from Eileen Fisher that you can throw in the washing machine.
We like to check in on the Goop sale every once in a while to see what's new, and they seem to have recently added a number of goodies, like this Lisa Marie Fernandez bright-red smocked bikini.
And this 100 percent silk charmeuse Kiki de Montparnasse bra.
And lastly, this fluttery top from Kalita.
We did a number on the Nordstrom sale, but these classic Birkenstocks somehow got overlooked.
It's a rattle in the shape of a banana, which would make an excellent little baby-shower gift.
And for a full farmers'-market experience, here's a (seemingly for photo shoots only) peapod to stick your little one into.