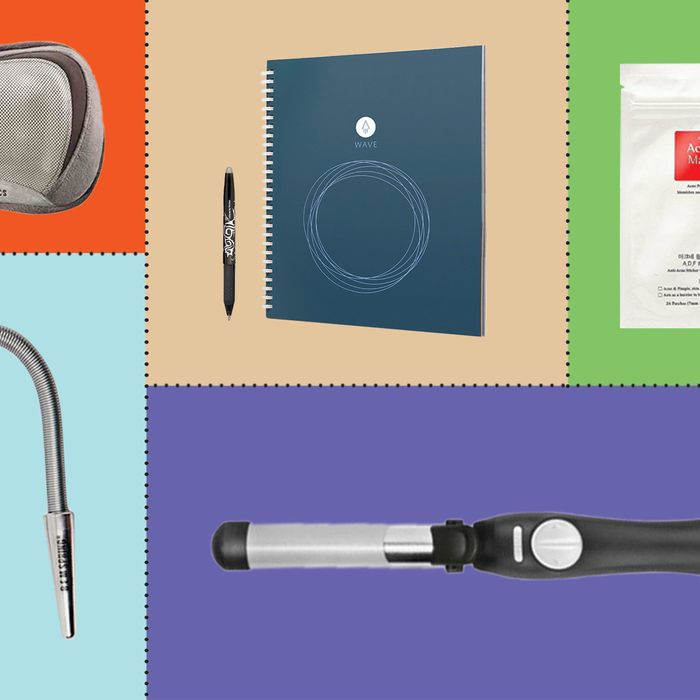 Welcome back to Your Shopping Cart, wherein we break out the top ten products that you, devoted Strategist readers, bought in droves. Think of this as the TL;DR of the Strategist: If your like-minded brethren are buying these items, maybe you'd like to, too.
Only three new entries made the list this week, two of which deal with hair: A metal coil that removes facial hair debuted in second place and a curling iron perfect for beachy waves popped up at number seven. Our third new addition, in eighth place, is a smart notebook we recommended as a last minute Father's Day gift. Meanwhile, old favorites held steady, leapfrogging up or down a few spots. At the top of the list is a heated, shiatsu massage pillow that was number five last time around. Lots of you bought a $20 wireless phone charger, bringing it up in the rankings from tenth to third, while the perennially popular pimple-shrinking patches dipped from fourth to sixth, and a classic white T-shirt moved from number seven to number nine. Also dropping to make room for the newcomers, a vacuum suction beard trimmer fell to fifth place from second, and the tick-repellent clothing spray that's been a huge hit so far this summer slid from third to fourth. Finally, our tried-and-true best pillow for side sleepers closes out the list at number ten.
1. 43 Last-minute Gifts That Will Arrive by Father's Day (5)
Available with free one-day shipping with Amazon Prime, we included this "heated pillow that kneads [dad's] neck and head with circular motions" in our roundup of last-minute Father's Day gifts. Now that Father's Day has come and gone, it looks like many of you picked up one of these deep-tissue massaging pillows for yourself. We totally get it.
2. This Doohickey Gets Rid of the Hairs Around My Chin (new entry)
This U-shaped metal coil is writer Elizabeth Gumport's go-to method for removing hair from the sensitive skin on her chin. She uses the spring "mostly on my chin between waxes, especially for the efficient collection of fine, fragile, or otherwise hard-to-tweeze hairs," and likes that it's quicker than tweezing and gentler than waxing.
3. The 50 Best Gifts for Every Type of Dad (That You Can Buy on Amazon) (10)
We recommended this handy wireless iPhone charger in our Father's Day gift guide because of its "4,000-plus glowing reviews," and it looks like our readers are fans as well. The charger jumped into the top three all the way from tenth place last week so we're thinking dad might be spreading the gospel of wireless charging.
4. The Most Effective Tick Repellents for Humans (and Dogs), According to Science (3)
This summer is predicted to be one of the most tick-filled ever, so Strat writer Maxine Builder went in search of the best products for repelling the disease-carrying pests. She discovered this powerful permethrin spray for protecting your outdoor attire: "Spraying your sneakers or hiking boots before going out into the woods is another solid tick-prevention technique. You could also spray gardening gloves, pants, shorts, or T-shirts with permethrin."
5. What's the Best Beard Trimmer? (2)
This beard trimmer, with a radial dial that lets you choose lengths down to the half-millimeter for guys who don't want to go totally clean-shaven, was up in second place last week and clings to a spot in the top five. Writer Kurt Soller loves how it keeps stray hairs out of the sink: "A vacuum-suction feature that collects the majority of your shaven hairs — up to 90 percent of them, according to the company, but who really knows? All I can say is that this is a godsend."
6. The Google Doc I Send to People Who Ask About My Skin (4)
Strat beauty writer Rio Viera-Newton  introduced us to the now-famous Cosrx patches last year in her epic skincare Google Doc post: "[T]he Holy Grail. Drop everything and buy them. Not even going to explain, will just say if you pop or pick a zit, put this on immediately afterward, go to bed, and in the morning you'll see what I'm talking about and thank me." Tons of you heeded her advice and the patches make the list yet again, slipping a bit from last week's fourth place spot.
7. No Curling Iron Ever Worked Until a Backstage Hairstylist Gave Me Hers (new entry)
Even though writer and costume designer Alison Freer had "long ago given up my quest for 'TV hair' — those loose, beachy waves that absolutely every woman on television has," everything changed when a hairstylist she was working with introduced her to this "miracle gadget" curling iron. She says, "the secret is in its rotating barrel, which does most of the work … I often curl my whole head with the Beachwaver while watching TV, never once looking in the mirror."