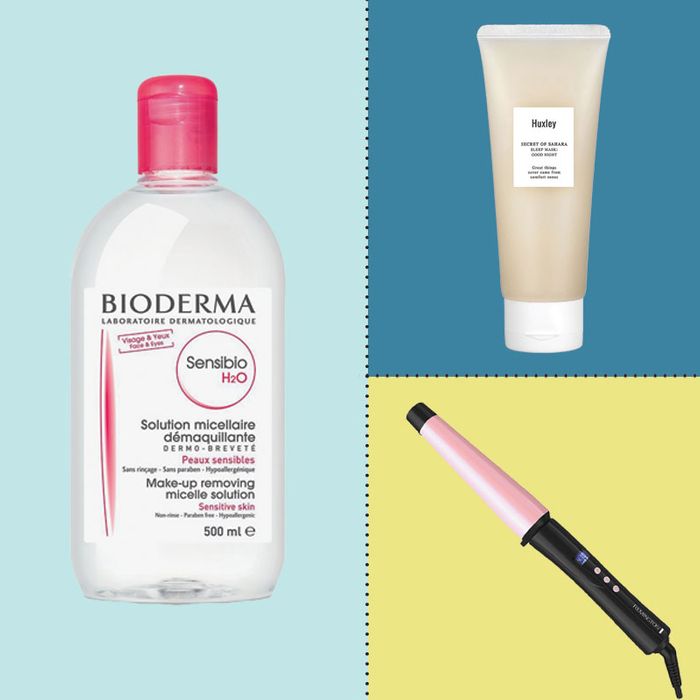 Photo: Courtesy of the retailers
Welcome back to Your Shopping Cart, wherein we break out the top ten products that you, devoted Strategist readers, all bought in droves. Think of this as the tl;dr of the Strategist: If your like-minded brethren are buying these items, maybe you'd like to, too.
This year's Amazon Prime Day megasale might have broken the internet for a while, but that didn't stop our readers from taking advantage of the deals. Only three products from last week's list survived the frenzy — ecofriendly stainless steel drinking straws dropped from first to fourth, the always popular pimple-shrinking patches fell from second to fifth, and a vacuum suction beard trimmer held steady in third place. Newcomers filled the rest of the list, with discounted micellar water taking the top spot. A top-of-the-line electric toothbrush we already love got a Prime Day price cut, making it the second-best-selling item this week. Lots of you took the advice of our writers and bought their favorite Prime Day products: Maxine Builder's entry level sous-vide machine came in sixth, Lori Keong's hypoallergenic pillow landed in seventh, and Lauren Ro's beloved curling wand took the eighth-place spot. Enough of you snatched up another one of Lori's picks this week, a hydrating face mask, for it to earn a ninth-place finish, and rounding out the list at number ten is a very on-trend — and on sale — knotted T-shirt.
3. What's the Best Beard Trimmer? (3)
This beard trimmer, with a radial dial that lets you choose lengths down to the half-millimeter for guys who don't want to go totally clean-shaven, claims the third-place spot for the second week in a row. Writer Kurt Soller loves how it keeps stray hairs out of the sink: "A vacuum-suction feature that collects the majority of your shaven hairs — up to 90 percent of them, according to the company, but who really knows? All I can say is that this is a godsend."
4. I Sip My Iced Coffee From These Stylish (Ecofriendly) Straws (1)
With the New York City Council introducing legislation to ban plastic straws and Starbucks pledging to eliminate them by 2020, we're on the lookout for a sustainable alternative. This set, from Sipwell, is proving to be a strong contender. Last week's top seller, this set keeps going strong. As one Amazon reviewer said, "They are very close in size to the disposable ones and have a nice bend to them." Lots of you also opted for Strat writer Bethany Blakeman's favorite metal straws from Greens Steel. If you're not into metal, our senior writer Lauren Levy prefers these soft silicone ones that are also biodegradable.
5. The Google Doc I Send to People Who Ask About My Skin (2)
Although they weren't part of the Prime Day sale, these pimple healers remain in the top five. Strat beauty writer Rio Viera-Newton introduced us to the now-famous patches last year in her epic skin-care Google Doc post: "The Holy Grail. Drop everything and buy them. Not even going to explain, will just say if you pop or pick a zit, put this on immediately afterward, go to bed, and in the morning you'll see what I'm talking about and thank me."
6. If You Buy One Thing on Prime Day, Make It a Joule Sous-Vide Machine (New Entry)
You don't have to be a Walter White level chemist to dabble in molecular gastronomy with this sous-vide cooker. In fact, Strat writer Maxine Builder says, it's "arguably the easiest way to make sure meat is properly cooked every single time." During Prime Day, the Joule was over 25 percent off — the cheapest we've ever seen it. Grub Street editor Alan Sytsma called the Joule "a lot smaller and sleeker" than the competition — as if we needed any more reason to add to cart.