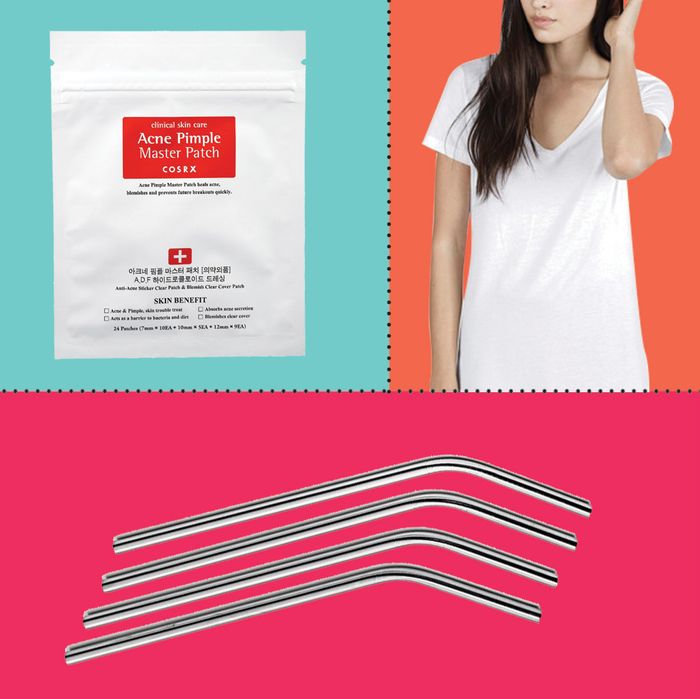 Photo: Courtesy of Amazon
Welcome back to Your Shopping Cart, wherein we break out the top ten products that you, devoted Strategist readers, all bought in droves. Think of this as the tl;dr of the Strategist: If your like-minded brethren are buying these items, maybe you'd like to, too.
We saw an influx of new faces on the list this week, led by a set of ecofriendly stainless-steel drinking straws debuting at No. 1. Two returning champs, the always popular pimple-shrinking patches and a vacuum-suction beard trimmer, round out the top three, while our runaway summer hit, a tick-repellent clothing spray, holds steady in fourth place. Newcomers dominate the rest of the list, including a luxury lubricant in fifth place and a rotating tower fan for fighting the summer heat in sixth. Next up are two home goods, a tiny but mighty handheld vacuum returning to the list in seventh place after a brief absence, and a compact garment steamer coming in eighth. In ninth place, a universally flattering red lipstick supposedly worn by Carolyn Bessette-Kennedy. Finally, our perennial favorite white T-shirt lives another week, taking the tenth-place spot.
1. I Sip My Iced Coffee From These Stylish (Ecofriendly) Straws (New Entry)
With the New York City Council introducing legislation to ban plastic straws, and Starbucks pledging to eliminate them by 2020, we're on the lookout for a sustainable alternative. This set, from SipWell, is proving to be a strong contender. As one Amazon reviewer said, "They are very close in size to the disposable ones and have a nice bend to them." Lots of you also opted for Strat writer Bethany Blakeman's favorite metal straws from Greens Steel. If you're not into metal, our senior writer Lauren Levy prefers these soft silicone ones that are also biodegradable.
2. The Google Doc I Send to People Who Ask About My Skin (6)
The beloved Cosrx pimple patches are back in the top two after a few weeks lingering lower down on the list. Strat beauty writer Rio Viera-Newton introduced us to the now-famous patches last year in her epic skin-care Google Doc post: "[T]he Holy Grail. Drop everything and buy them. Not even going to explain, will just say if you pop or pick a zit, put this on immediately afterward, go to bed, and in the morning you'll see what I'm talking about and thank me."
3. What's the Best Beard Trimmer? (5)
This beard trimmer, with length options down to the half-millimeter for guys who don't want to go totally clean-shaven, got bumped up from fifth to third place on the list this week. Writer Kurt Soller loves how it keeps stray hairs out of the sink: "A vacuum-suction feature that collects the majority of your shaven hairs — up to 90 percent of them, according to the company, but who really knows? All I can say is that this is a godsend."
4. The Most Effective Tick Repellents for Humans (and Dogs), According to Science (4)
This summer is predicted to be one of the most tick-infested ever, so it's not surprising that many of you picked up this powerful permethrin spray. Strat writer Maxine Builder discovered it when searching for the best products to repel disease-carrying pests. The spray works by protecting your outdoor attire: "Spraying your sneakers or hiking boots before going out into the woods is another solid tick-prevention technique. You could also spray gardening gloves, pants, shorts, or T-shirts with permethrin."
5. What Is the Best Lube? (New Entry)
It might be one of the things we don't talk about, but lube is definitely something you're buying. Samantha Bard, co-owner of the sex-positive shop Shag in Williamsburg, raved about this very elegant-looking lube: "Uberlube is THE BEST. Not joking — it is one the highest-quality silicone lubes out there. Plus, it comes in the classiest bottle you've ever seen. Aside from being a staff favorite, it is also a customer favorite!"