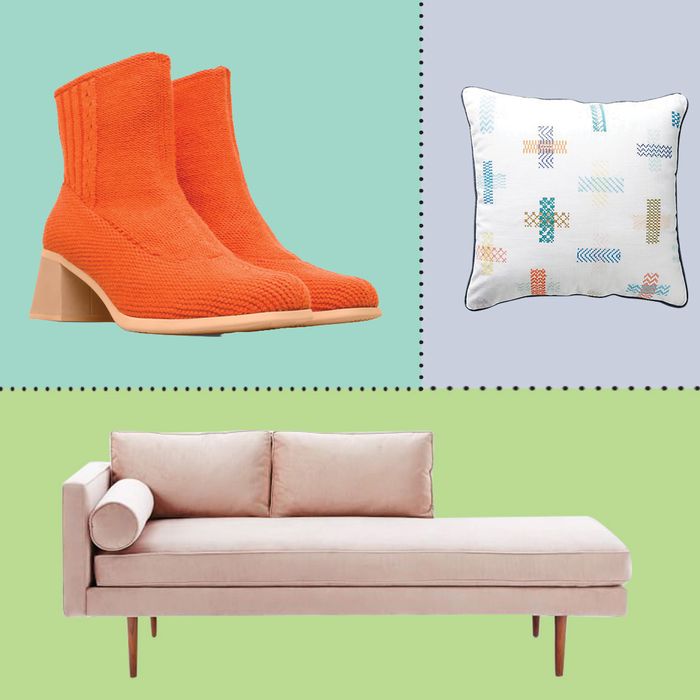 Photo: Courtesy of the retailers
If you follow our biweekly feature Your Shopping Cart, you know that we have some eerily good intel on what things you all are buying. It led us to think that, as Strategist editors, we could turn the tables and highlight all the things we've been buying ourselves. As you'll notice, it's both a blessing and a curse to be a Strat editor; we're picky, but sometimes we just have to get on with it (it's online-shopping expertise meets IRL needs). Below, what we all bought in July.
I had some fun in the Urban Outfitters shoe-sale section … and got these Minnetonka for Urban Outfitters all-white moccasins that I've had my eye on for these final days of summer, and then these yellow Vans that seem like a good fall shoe. They are sold out at UO, but you can pick them up at Zappos. I think they'd look fun with some high-waisted, cropped, slightly flared jeans.
The one thing I bought on Prime Day is this Halo sleep sack — I'm due in September, and my friend with a newborn swears by it, so I thought, what the heck! I liked the one adorned with hedgehogs.
I tried to clean the cover of one of my favorite throw pillows, and upon removing the case, the pillow underneath ripped in half and the fluff inside went everywhere! I bought this replacement throw pillow from Anthropologie because I like how graphic it is without being overpoweringly so.
So my mother actually found this for me at a yard sale. I must admit, at first, when she lifted it up out of a cardboard box on the ground and showed it to me from afar, I was a little skeptical, but when she told me it was $2 and new with the tag, I changed my tune. Now, having worn it around the house for the past few weeks, I am fully obsessed — it's just the perfect soft, lightweight waffle knit robe (my beloved monogrammed flannel L.L. Bean hibernates from April to September pretty much), and I would have definitely paid $28 for it!
I never really cared for how my water-filtration pitcher (that Brita disrupter) was too tall for any of the shelves in my fridge, so I got the apartment a new one with one of the charcoal filters we've written about before. I love its little spout and handle, but mostly how it fits neatly into the refrigerator door.
When these hot-dog trays went on sale, I snatched a pink one up immediately (the better to pop against the black console in my apartment). It's even better than I imagined it would be, made of a weighty metal in a matte shade. It's where the remote control lives in the guest bedroom now.
Another season, another pair of 511s. Despite my wandering eye, I have just come to accept that these are my jeans, so I got another pair in this pale blue that I've been wearing almost every day now that it's 85 degrees and humid out. I don't know if light denim is actually cooler than dark, but it certainly feels that way.