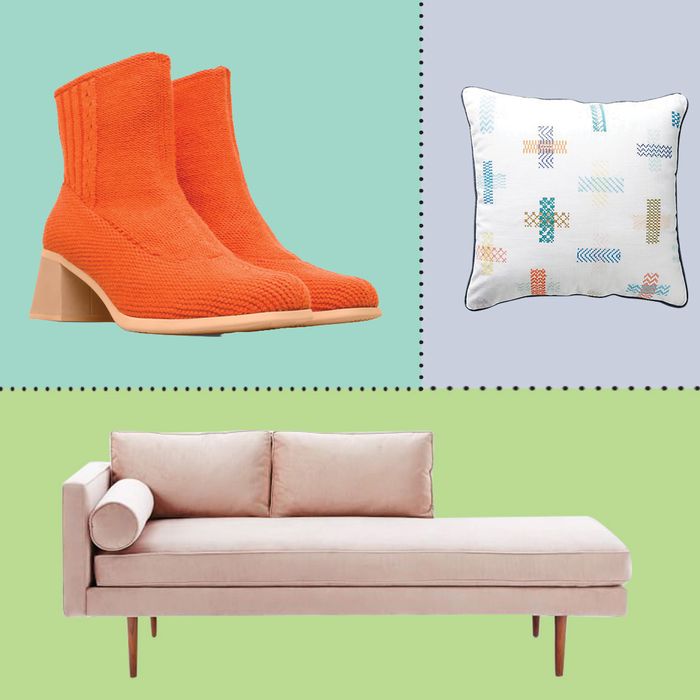 Photo: Courtesy of the retailers
If you follow our biweekly feature Your Shopping Cart, you know that we have some eerily good intel on what things you all are buying. It led us to think that, as Strategist editors, we could turn the tables and highlight all the things we've been buying ourselves. As you'll notice, it's both a blessing and a curse to be a Strat editor; we're picky, but sometimes we just have to get on with it (it's online-shopping expertise meets IRL needs). Below, what we all bought in July.
I had some fun in the Urban Outfitters shoe-sale section … and got these Minnetonka for Urban Outfitters all-white moccasins that I've had my eye on for these final days of summer, and then these yellow Vans that seem like a good fall shoe. They are sold out at UO, but you can pick them up at Zappos. I think they'd look fun with some high-waisted, cropped, slightly flared jeans.
The one thing I bought on Prime Day is this Halo sleep sack — I'm due in September, and my friend with a newborn swears by it, so I thought, what the heck! I liked the one adorned with hedgehogs.
I tried to clean the cover of one of my favorite throw pillows, and upon removing the case, the pillow underneath ripped in half and the fluff inside went everywhere! I bought this replacement throw pillow from Anthropologie because I like how graphic it is without being overpoweringly so.
So my mother actually found this for me at a yard sale. I must admit, at first, when she lifted it up out of a cardboard box on the ground and showed it to me from afar, I was a little skeptical, but when she told me it was $2 and new with the tag, I changed my tune. Now, having worn it around the house for the past few weeks, I am fully obsessed — it's just the perfect soft, lightweight waffle knit robe (my beloved monogrammed flannel L.L. Bean hibernates from April to September pretty much), and I would have definitely paid $28 for it!
I never really cared for how my water-filtration pitcher (that Brita disrupter) was too tall for any of the shelves in my fridge, so I got the apartment a new one with one of the charcoal filters we've written about before. I love its little spout and handle, but mostly how it fits neatly into the refrigerator door.
When these hot-dog trays went on sale, I snatched a pink one up immediately (the better to pop against the black console in my apartment). It's even better than I imagined it would be, made of a weighty metal in a matte shade. It's where the remote control lives in the guest bedroom now.
Another season, another pair of 511s. Despite my wandering eye, I have just come to accept that these are my jeans, so I got another pair in this pale blue that I've been wearing almost every day now that it's 85 degrees and humid out. I don't know if light denim is actually cooler than dark, but it certainly feels that way.
Simone's haul from last month reminded me that I've been meaning to replace my old, too big microfiber hair turban with a new one. My hair is very fine, but there's a ton of it, so these towels make a huge difference in keeping broken flyaways to a minimum. I also opted for an Aquis one — they seem to be the best — but went for a plain-white waffle version. I only buy white towels because it comforts me to know that I can bleach away anything that might happen to them.
Yet another purchase inspired by a fellow Strategist: After our audience-engagement editor Mia wrote an ode to her Japanese-style linen smock apron, I started thinking that maybe I, too, would like a linen apron. I have linen fever right now, after working on two longer posts on linen (clothing and homewares and sheets) this month. And I cook often enough that an apron is necessary, but every time I see the nice ones at Whole Foods or Whisk, I can't deal with the idea of spending upwards of $40 on one. After some tripping around on Amazon, I landed on this one that's cut like a classic waiter apron — adjustable, cinches at the waist, and with a front pocket. I put it on and my mom, who was staying with me last week, goes, "Well, aren't you cute in an apron!" So the apron is a hit.
There's a really lovely shop near my apartment in Greenpoint that sells stuff like Ganni dresses, Baserange tees, architectural linen (!!!) pieces, and so on. The other day they were burning this candle, from a brand I had not yet heard of, and immediately I decided that I needed to bring the earthy, sensual smells home with me. The Brasilia candle from Wary Meyers is one of my all-time favorites, so if you're familiar with that line, this St. Al has a similar woodsy scent. True to the name, it's slightly on the masculine side. The packaging describes it as "a holy and exotic experience," and I would have to agree that it is.
I knew that Margaret and Lauren had a linen-sheets story in the works, and my thinking was that I'd wait for their full rundown on the linen-sheet landscape and then make a decision, but I had kind of made up my mind on these a while ago. I studied the color swatches online, I visited the New York store to get a feel for things, and then I finally went for it. The whole thing — the sheets, the duvet cover, the pillowcases. And it has changed everything. They are so soft and breathable, but also so substantial — they drape and bunch and move in this completely luxurious way (while still looking totally wrinkled). They are deceptively fancy. And everyone says this, so I'm not adding much here, but after sleeping on linen, I don't know how you go back to not sleeping on linen.
These were a Strat-suggested Prime Day purchase. They arrived almost two weeks ago and I have barely taken them off. The noise-canceling is so satisfying that I have found myself wearing them everywhere — around my apartment, walking outside, at my desk at work — plugged into absolutely nothing. I know people like the upgraded wireless version, but I sort of prefer these for their non-Bluetooth-ness, which, right near my head, I'm trying to cut back on.
I have tried many natural deodorants — grain-alcohol spray versions, baking-soda-infused stick ones, salt crystals — and they all work about 40 percent of the time. Not great. ​So when Alexis praised this natural deodorant in her haul a couple of months ago, I wondered how different could it be. When my last (not really effective) one ran out, I decided I'd give this one a go. It is a roll-on and has a slightly musklike smell, but on your skin it doesn't smell like anything. And then it makes you not smell like anything. For the entire day. I have remained dry on some of the swampiest days. It is remarkable and confusing. It does a better job than any deodorant I have ever used, including scary prescription-strength Certain-Dri, which indicates just how much of a sweater I am (was).
I actually end up scrubbing my face way more in the summer. Between the sunscreen gunk, humidity-style breakouts, occasional dehydrating beach trip or weekends away where I just forget to pack face wash, my face just gets more bumpy when it's hot out. This stuff is super creamy and has just a hint of scrubbiness, so it doesn't make me look all insane and splotchy afterward.
I was nearby Dover Street Market one Sunday, and when I popped in they happened to be having a crazy sale. Like seriously insane 70 percent off every designer. So I treated myself to these Marine Serre pants for around $200, down from like $900.
I'd had a tab open on these Camper x Eckhaus Latta boots for a month and a half, debating on when and if I should buy them. Eventually, they went on sale for 30 percent and I still decided to wait. And then one lucky day, they went down by 50 percent and I bought them immediately.
Editor's Note: While these Camper boots are sold out, there are other Camper boots at Zappos.
It was a big shoe month for me. I had been in the mood for white slides, so I decided to buy these from Everlane. They've been giving me some pretty bad blisters, though, so a friend recommended this foot balm that you rub on the sensitive spots before wearing the shoes, and apparently it prevents any irritation. I haven't tried it yet, but I plan to.