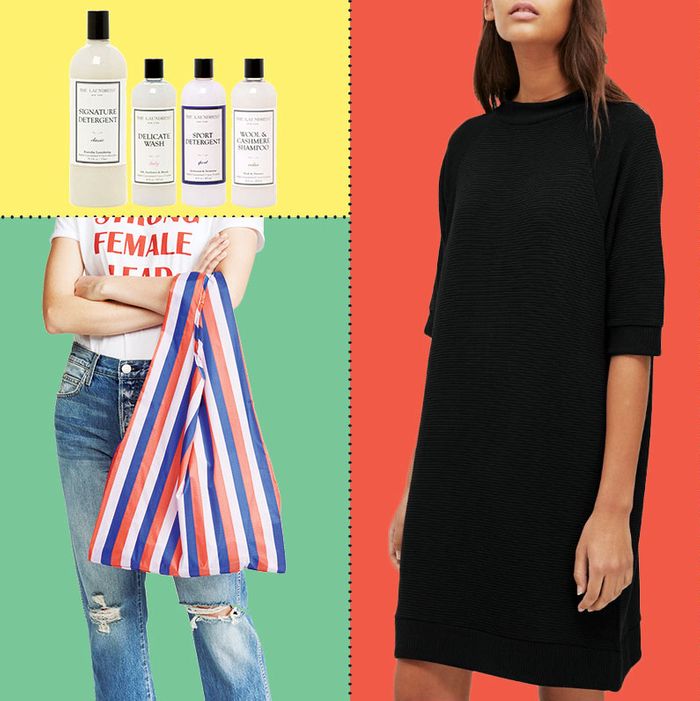 Photo: courtesy of the retailers
For today's sales roundup we gathered together a mix of deals on summer-y products (bathing suits, weekenders, T-shirts, clog sandals) as well as more fall-appropriate wares (a tea kettle, a down vest, a lunchbox, and a bunch of backpacks).
Because, really, before you know it, it will be "down Patagonia vest" season …
Some everyday Madewell underwear made from "unbelievably soft fabric." (For more from Nordstrom's almost-over anniversary sale, click here.)
A mock-neck summer dress that will last you through the fall.
We're big fans of the Laundress's various detergents (particularly the Wool & Cashmere Shampoo), and you can get this handy four-pack of the brand's best sellers for 18 percent off. (It makes a nice host or hostess gift.)
Photo: 18-05-14 katelynparker AM2 B1 jentricolello W
Speaking of sets, this stripy Baggu is one of three you'll get in this handy "triple set." (That's eight bucks a bag, as opposed to the standard ten.) And for more on-sale stripy Baggus, click here.
An elegant Marni skirt for nearly 80 percent off.
It'd actually look great paired with these Sonia Rykiel clog sandals.
Yoox is under-selling itself here; these high-waisted, muscle-sculpting LNDR leggings were originally $150, not $130.
Let us not forget that it's still beach season, and this Solid & Striped one-piece is a nice 30 percent off.