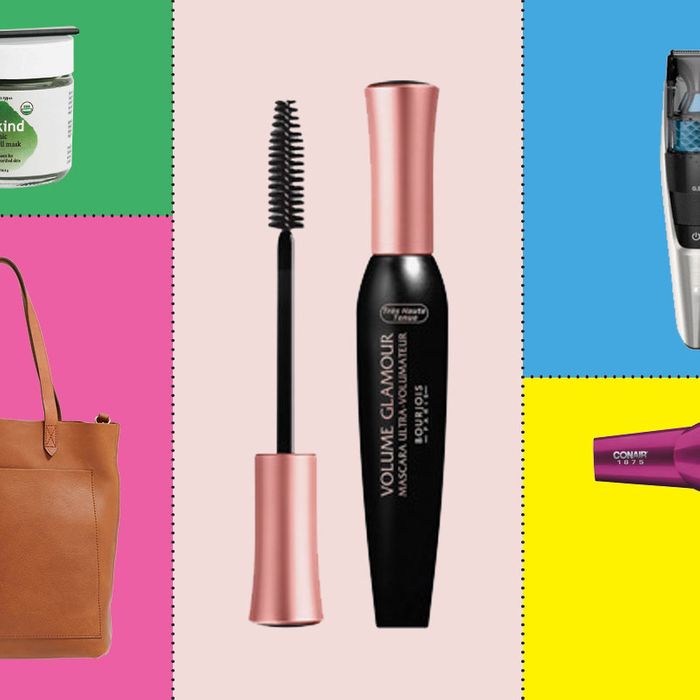 Photo: Courtesy of the retailers.
Welcome back to Your Shopping Cart, wherein we break out the top ten products that you, devoted Strategist readers, all bought in droves. Think of this as the tl;dr of the Strategist: If your like-minded brethren are buying these items, maybe you'd like to, too.
Maybe it's the updated version of Rio Viera-Newton's legendary skin-care Google Doc, or maybe it's the long days of summer somehow leaving our faces both parched and greasy, but skin-care products dominated this week's list, claiming nearly half of the top ten spots. An old favorite, Rio's favorite pimple-shrinking patches came in second and the snail-powered K-beauty essence that she still uses a year after her original post landed in fourth. Two face masks made the list — a chlorophyll mask generating buzz in the YouTube beauty world in third, and Strat writer Lori Keong's beloved hydrating face mask in ninth. Two more beautifying picks did well this week — an affordable French mascara took the top spot and a powerful hair dryer earned seventh place. A perennial men's grooming favorite, this vacuum-suction beard trimmer dropped from third to fifth; and slipping just a bit, from fourth to sixth place, stainless-steel straws are proving to be a summer staple. After getting booted off last week's list, one of our favorite white T-shirts returned — placing in eighth — and a classic work tote closes out the list in tenth place.
1. This Trusty $13 French Mascara Might As Well Be Chanel (Last installment: new entry)
We discovered a lot of new-to-us French products during Made in France week, but this lash-lengthening mascara (supposedly made in the same factory as the much pricier version from Chanel), was a runaway hit — and this week's top seller. Writer Susannah Edelbaum discovered it in Paris as a teenager: "Volume Glamour made it so easy, even for a novice like me, to make one aspect of myself look exactly like I wanted it to — for a truly unsanitary length of time."
2. The Google Doc I Send to People Who Ask About My Skin (5)
The Amazon Prime Day sale back in mid-July boosted a lot of new products onto the list, and these all-time best sellers fell to fifth place — leaving the top three for the first time in a long time. This week, they reclaim their rightful perch at number two. Strat beauty writer Rio Viera-Newton introduced us to the now-famous patches last year in her epic skin-care Google Doc post: "[T]he Holy Grail. Drop everything and buy them. Not even going to explain, will just say if you pop or pick a zit, put this on immediately afterward, go to bed, and in the morning you'll see what I'm talking about and thank me."
3. The Entire Internet Is Obsessed With This Chlorophyll Mask, and So Am I (New entry)
When Rio saw this chlorophyll rinse-off mask getting rave reviews from all corners of the beauty internet, she put aside her usual preference for sheet masks and gave it a shot. She ended up loving it — as she said, "On top of giving me generally bright and clean skin, I also noticed that the mask calmed and reduced the size of an angry, red spot that had made itself at home on my forehead." Enough of you were convinced as well to try it, and it enters the list this week at number three.