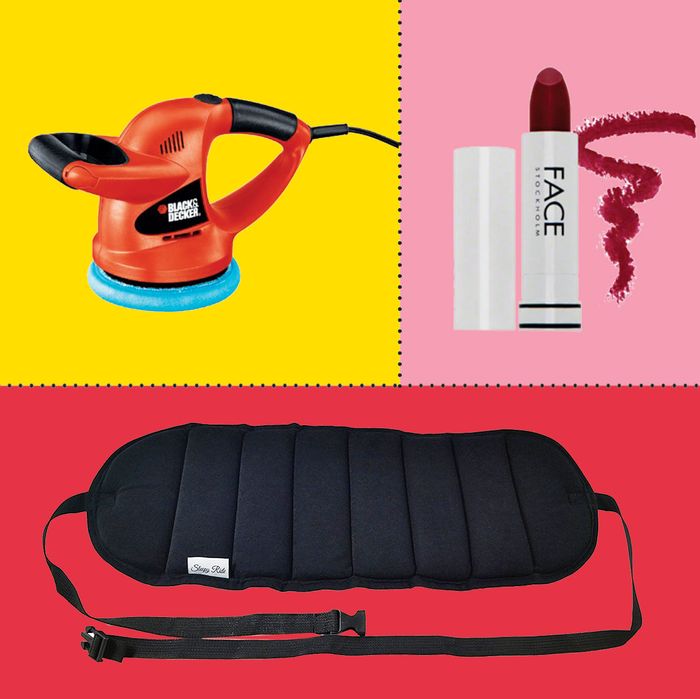 Photo: Courtesy of the retailers
Welcome back to Your Shopping Cart, wherein we break out the top ten products that you, devoted Strategist readers, all bought in droves. Think of this as the tl;dr of the Strategist: If your like-minded brethren are buying these items, maybe you'd like to, too.
Among the many newcomers on the list this week are the products in the top two spots, which are designed to help you fall asleep — an airplane footrest that makes economy seats feel surprisingly luxurious, and a soothing lavender-scented balm that helped a new mom doze off. Two skin-care recommendations from our beauty writer Rio Viera-Newton are also on the list — the longtime best-selling pimple patches that she first raved about in her Google doc, and a new vitamin C serum that she alerted us about in this summer's updated version of the story. Also in the beauty sphere, Dermstore's anniversary sale boosted a universally flattering red lipstick back onto the list in ninth place, and a cult-favorite exfoliating serum onto the list for the first time in eighth. Additional new faces include blue-light-blocking glasses designed to filter out the light from screens that cause eyestrain in fourth place, and a power tool that does double duty as a muscle massager in seventh. Finally, two old favorites return — ecofriendly stainless-steel straws in fifth, and a classic white V-neck T-shirt closing out the list in tenth place.
1. This Padded Foot Sling Makes Economy Feel Like First Class (New Entry)
Writer Alyse Whitney usually has trouble sleeping on planes, so she decided to try out this $20 footrest for her 20-hour flight to Singapore and Hong Kong, and it turned out to be a huge success. "I had zero pain, pressure, or swelling, and was able to sleep for four to six hours at a time," she wrote. "It was the closest thing to a first-class experience that I could get in economy."
2. This Lavender-Scented Stick Is Like Ambien Without the Side Effects (New Entry)
This aromatherapy balm helped writer Sara Gaynes Levy calm her racing mind and get some sleep after her daughter was born. She reported that it worked even when nothing else — including wine, deep-breathing exercises, and relaxing podcasts — seemed to help. "I read for maybe five minutes before falling asleep. I did the same thing the next night, and it knocked me out again," she said.
3. The Google Doc I Send to People Who Ask About My Skin (2)
A perennial favorite, these pimple-eliminating patches stick on the list another week, sitting pretty at No. 3. Strat beauty writer Rio Viera-Newton introduced us to the now-famous patches last year in her epic skin-care Google-doc post: "[T]he Holy Grail. Drop everything and buy them. Not even going to explain, will just say if you pop or pick a zit, put this on immediately afterward, go to bed, and in the morning you'll see what I'm talking about and thank me."
4. Do Blue-Light-Blocking Glasses Actually Do Anything? (New Entry)
Since we spend most of our time looking at screens, it's not surprising that we've been curious about blue-light-blocking glasses designed to filter out the active blue light that cause eyestrain. Strat writer Maxine Builder did a deep dive on the subject and found that these affordable, orange-hued glasses are the ones used in scientific studies and have been shown to improve sleep.
5. I Sip My Iced Coffee From These Stylish (Ecofriendly) Straws (6)
With the New York City Council introducing legislation to ban plastic straws, and Starbucks pledging to eliminate them by 2020, we're on the lookout for a sustainable alternative. This set, from SipWell, is proving to be a strong contender, making the list yet another week. As one Amazon reviewer said, "They are very close in size to the disposable ones and have a nice bend to them." Lots of you also opted for Strat writer Bethany Blakeman's favorite metal straws from Greens Steel. If you're not into metal, writer Lauren Levy prefers these soft silicone ones that are also biodegradable.
7. Massage Sore Muscles With This … Black & Decker Power Tool? (New Entry)
Although it's intended for polishing cars and boats, this power tool has a following for its surprising off-label use as a body massager. Writer Maggie Coughlan discovered that "it simultaneously spins and vibrates, creating a friction that's got an unbelievable way of soothing tired muscles, releasing tension and warming the body." It also got a shout-out from Tim Herrera of the New York Times, who said "it works like a dream." And at a fraction of the cost of the NBA player–approved TheraGun massager, it's a cheap way to powerfully work out kinks and knots.