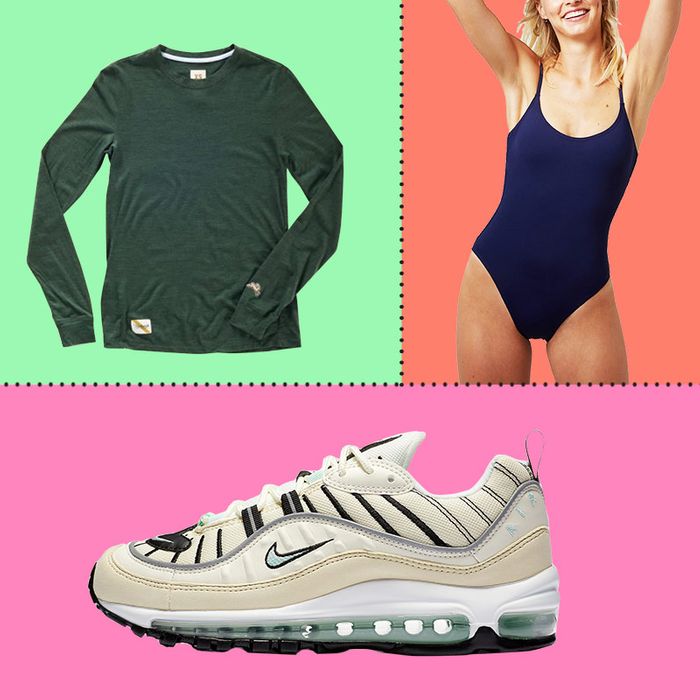 Photo: Courtesy of the retailers
If you follow our biweekly feature Your Shopping Cart, you know that we have some eerily good intel on what things you all are buying. It led us to think that, as Strategist editors, we could turn the tables and highlight all the things we've been buying ourselves. As you'll notice, it's both a blessing and a curse to be a Strat editor; we're picky, but sometimes we just have to get on with it (it's online-shopping expertise meets IRL needs). Below, what we all bought in August.
Lauren Ro, writer
Up until this weekend, I hadn't submerged myself in a body of water — natural or otherwise — all summer because, I don't know, life got in the way. Still, for whatever reason, I felt the need to buy a new swimsuit. This time, I wanted a simple one-piece to hold it all in that also didn't cost over $100. So I turned to Andie, a direct-to-consumer brand that launched last year, for its reasonably priced options. Because I have a short torso and am insecure about my back, I went with the Amalfi (which the website's handy Fit Finder tool also recommended) for its cami-style straps, low neckline, high-cut back, and elegant silhouette. I was between sizes, so I ordered two (Andie offers free shipping and returns) and went with the larger one, which fit like a dream. The other day I took it for a swim at my local pool and felt sleek and secure, like a sexy water mammal.
I first learned about the Nashville-based made-to-order clothing company Elizabeth Suzann from my husband, of all people, who had heard an econ podcast about its sustainable and ethical business model. With a focus on natural fibers, Elizabeth Suzann offers timeless pieces for women, like swingy linen tees, tunics, jackets, wool sweaters, and breezy bottoms, each made to order in-house, which means lead times are currently at six to seven weeks. I ordered the staple Georgia Tee in navy, a boxy linen top, and the Josephine Vented Shell in ivory, which has cap sleeves and a box pleat in the back, in June and received my order this month. I love the structure of the Georgia tee and how I can pair it with a voluminous skirt without looking too precious. Although the pieces aren't cheap, I'm confident that they'll be with me for the long haul.
Maxine Builder, writer
There's something about the return of fall that really gets me going on a self-improvement kick, probably some vestige of back-to-school nostalgia. I usually buy a bunch of new pens or a new planner to scratch the itch, but this year, I went big and bought a guided gratitude journal called the Five-Minute Journal. Every morning, it directs you to write down three things you're grateful for, three goals for the day, and a daily affirmation, and yes, it's absolutely as cheesy as it sounds. But I've been liking the practice so far, as an easy way to collect my thoughts and be more mindful that's less boring to me than ten minutes of meditation. My boyfriend says I seem happier and less stressed-out since doing it, but it's still unclear if I'm a better person or not.
I am, however, officially a hat person! This $90 felt Stetson hat that I found in the hunting section of L.L. Bean in Freeport, Maine, is the fedora I never knew I needed. The brim's wide enough to give me enough coverage, but not too big as to make me feel totally goofy, and the gorgeous, neutral tan matches almost any outfit. I've been referring to it, lovingly, as my dumb starter hat because now that I know how good I feel (and maybe even look?) while wearing it, it's only a matter of time before I amass a whole collection.
Karen Iorio Adelson, writer
After reading rave reviews of R.O. Kwon's debut novel, I bought The Incendiaries thinking it would last me through Labor Day weekend, but I ended up finishing it in two days. The novel centers around a charismatic cult leader who sets up shop on a college campus, luring in emotionally and spiritually vulnerable students. When two young lovers become enmeshed in his inner circle, Kwon's writing takes on a mounting sense of dread that kept me, as a reader, similarly bewitched.
Photo: Courtesy of Tracksmith
I'm trying to limit my running clothes purchases (since I already have a dresser full of technical gear), but when Tracksmith released this gorgeous new color in its soft and breathable merino-wool Harrier top, I couldn't resist. I also picked up another pair of its silky-smooth and stretchy Session shorts because I was placing an order anyway … And I'm already dreaming of wearing them together on a crisp fall run.
The first time you swipe toner or another liquid skin-care product across your face using one of these feather-soft, yet structurally sound, cotton pads, you will never be able to go back to regular old cotton balls. These don't shed and leave linty residue all over the place, nor do they get oversaturated and dissolve on you. I use these with my Biologique Recherche P50 twice a day, and when my first pack was running out, I didn't hesitate to order more.
Margaret Rhodes, senior editor
I wanted in on the chunky-ugly sneaker wave, but didn't want anything that even remotely resembled a Triple S knockoff. After many, many weeks of deliberating, I went for these 98s in a neutral but not plain "Sail/Fossil/Reflect Silver/Igloo" color scheme. I love them, especially with wide-leg pants.
I am both blessed and cursed with a home with several big windows, a few of which are next to my bed. This makes it nearly impossible to sleep in past 7 a.m. on the weekends, so a year ago, I had to buy a sleep mask. It had to be a silk one that didn't have any pink, any winky-eye decals, and was super slim (I sleep on my stomach, and therefore on my face). This one is perfect. And it's $8. I left mine on a flight recently and reordered my replacement as soon as I logged back on to Amazon.
Full disclosure: The press person for this new leather shoe line sent me a pair of slip-ons back in April. They have a nice huarache-meets-loafer vibe. They're made in India, and they're buttery soft. I mention them now because somehow, to my total surprise, these became my go-to shoes for the summer. New York is a cruel place for sandals, especially leather ones. (Some leather espadrilles from a well-known brand practically disintegrated on me last summer; other leather sandals have gone from giving me blisters to stretching out so much that they didn't fit, in just one month.) But these have held up. I wore them almost every day, almost everywhere: to work, on long concrete walks around the city, at a lake house, on a boat. And they're still good. A hint stretched out, but good. So I'm buying another pair, as a thank-you gift to a recent hostess who said she liked mine.
Alexis Swerdloff, Strategist editor
I've been buying a ton of incredibly boring baby stuff that's not worthy of being included in this roundup (for instance: a diaper changer, water wipes, bottles), but of all the things I've gotten in anticipation of this baby (who is ostensibly arriving next week), there is one thing I am actually quite excited about: It's the long-awaited follow-up to my favorite kids' book, But Not the Hippopotamus by Sandra Boynton, and it's called But Not the Armadillo. Not to give too much away, but the original is about a whole slew of animals who are hanging out and having fun together … but not the hippopotamus. (e.g., "a moose and a goose together have juice … but not the hippopotamus.") After much buildup, at the end of the book, the hippopotamus finally decides to join in on the fun … but not the armadillo. And that's where this sequel comes in. As the blurb reads: "For more than thirty-five years, readers have wondered what happens to the mystery armadillo on the last page of Sandra Boynton's classic board book, But Not the Hippopotamus. Now, at last, comes the long-awaited sequel." It's actually out next week, and you bet I preordered it.
It was time for a new duvet cover, and after a lot of hemming and hawing, I settled on this guy from Pottery Barn. I am drawn to any kind of white duvet with a colorful border, but thought the usuals (navy, red, black) were a little too humdrum. The bright-green really pops and feels elegant and playful at the same time.
Photo: Julia Robbs Photography
I just ordered this (it's featured in our Labor Day sales roundup) because I thought it would make for a good nursing dress. It's made with "breathable Japanese cotton," which sounds soft and lovely.
In an attempt to clear out our house and make way for bebe, we asked our landlord if we could store our shoes in the hallway on a shoe rack and she (surprisingly) said yes. I liked the looks of this one from Urban Outfitters, but realized I could get basically the exact one from Amazon for a bit cheaper. It's totally unremarkable (it isn't going to win any design awards), but will get the job done in a nice, tasteful way.