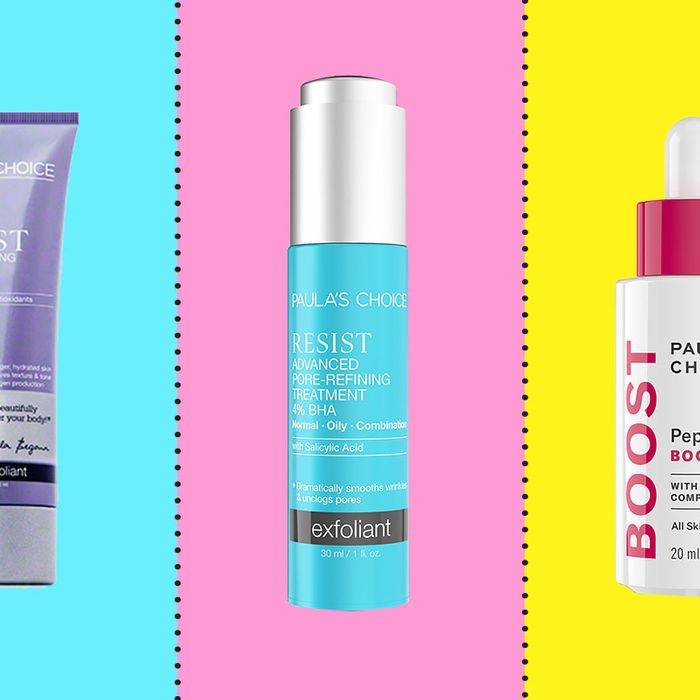 Photo: Courtesy of the retailer.
Paula's Choice — the so-called Cosmetics Cop and culty skin-care brand that's become a perennial favorite here at the Strat and over at the Cut — is having a rare 15 percent off sale on almost everything at Dermstore. That includes its hyperpopular BHA and AHA serums, and even some of the brand's colorful boosters, so it's a smart time to re-up on its greatest hits. Here, an edit of some Paula's Choice stuff we love.
First, there's Paula's Choice's No. 1 best-selling product: this BHA exfoliant lotion that's an all-star favorite of the Cut staff for its acne-fighting, pore-cleansing abilities. Former Cut beauty editor Ashley Weatherford says it's so good, it deserves its own star in the skin-care hall of fame.
If you want just a little something for tightening, plumping, and brightening your skin, this peptide booster is the stuff. Cut writer Shannon Barbour says to consider it "like a shot for your skin care" to treat a bad scar or an especially prominent wrinkle.
And if you need to kick it up a notch from the 2 percent version of the BHA treatment, there's this 4 percent salicylic-acid version that Weatherford recommends for the especially acne-prone.
Or, this "skin perfecting" 8 percent AHA lotion (which uses glycolic acid to exfoliate). Weatherford uses it everyday and credits it for her impossibly smooth skin: "The occasional pimple on my face never leaves a scar; the humectant property of glycolic acid draws in moisture and makes my skin look constantly dewy."
The eight percent AHA is also available in gel form, which is a slightly thicker consistency that dries down to a matte finish (go for the liquid lotion one, though, if you want to layer it underneath serums).
For hyperpigmentation, we also like this potent C15 super booster that is the same formula as another certain (more expensive) vitamin C serum. Not to get too scientific on you, but Weatherford explains its merits thusly: "The combination of vitamin E and ferulic acid stabilizes the typically finicky vitamin C (vitamin C's potency weakens when exposed to light and air), and they increase the brightening capacity of vitamin C from fourfold, to eightfold."
Here, a smoothing body lotion that exfoliates with glycolic acid, which Weatherford suggests for people who have keratosis pilaris.
For those of us with crow's-feet and wrinkles, niacinamide (a form of vitamin B3) can be helpful as an anti-ager for tightening skin. Weatherford recommends it for evening skin tone overall, too: "You won't notice an effect overnight, but give it a few weeks and you'll experience crazy-smooth skin and become a teeny-tiny pore person."