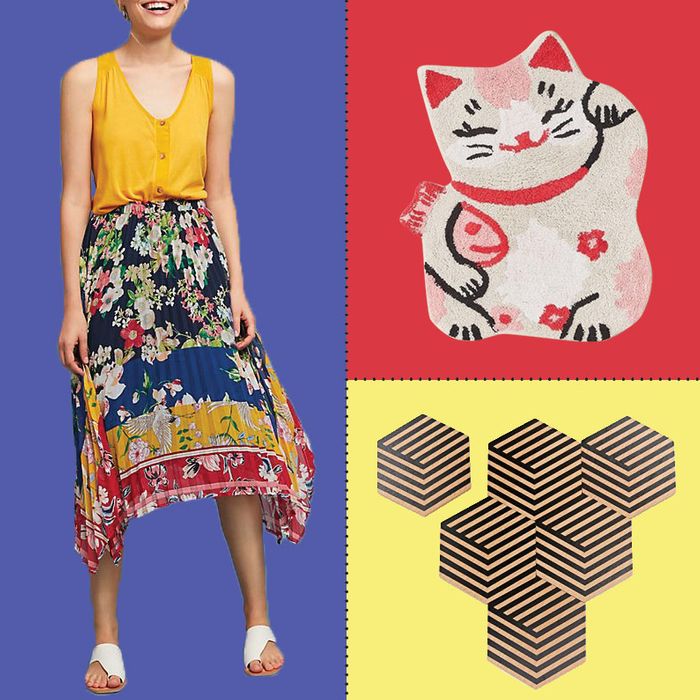 Photo: Courtesy of the retailers
There's a nice crop of sales happening this weekend, as you'll see reduced items getting even further discounts. You'll want to act fast though — many of the sale-on-sale promotions end after this weekend (such as the STOCKUP18 code for East Dane and Shopbop, the extra 30 percent off at Anthropologie, and the FALL discount code at Macy's). Below, three dozen great things we found on sale, including A.P.C. coats, Madewell jeans, and Areaware coasters.
One thing A.P.C. has a real knack for: cutting the hem of a coat so it hits just at the right spot.
We found a lot of great Baggu goodies on sale the other day, but these plain black wallets weren't among them.
An almost ruglike skirt that does all the work for you — all you need is a plain white tee.
Get your puttering-around-the-apartment slides right here!
We have this, we love it, we give it as gifts.
James Perse's famously buttery tee, with a very California palm tree printed on the back.
We love this friendly-looking lamp and might just get it for ourselves.
When your look for fall is definitely the opposite of body-con.
The lucky cat you see in Japanese restaurants, now in bath-mat form — we especially appreciate the fish-under-the-arm detail.
A totally effortless silk dress that becomes fall-appropriate when you wear it with a cardigan.
Rainy days mean combat boots and combat boots mean only Doc Martens.
We love cheap bath towels, but we love cheap bath towels even more when they're (a) doubly reduced with a sale-on-sale and (b) Kassatex.
The perfect finishing touch for your 8-year-old's dinosaur costume — or just a regular everyday backpack.
A casual top with a vintage, painting-the-house-this-weekend vibe.
Korean beauty experts told us that this liposome lotion was everything they wished a Clinique lotion was, at a better price point.
The crisscross part of this black dress comes in its neat back detail — we like the idea of styling it with a denim trucker jacket, too.
A perfect little work bag for those days you're not planning to head to the gym (or even if you are).
Save this one for a Saturday in October when it'll inevitably shoot up to 82 degrees.
Madewell makes lots of stuff well, but what they're really known for is jeans (consult our guide to see how many are Madewell). These high-waist puppies will always be in style.
We like to think of these as a refined cousin to ubiquitous Birkenstocks.
Reminiscent of the Equipment silk shirt without the hefty price tag (it's also rayon rather than silk).
Photo: Luke Pidgeon/(c)Luke Pidgeon 2016
A folding dryer with all the expert-recommended bells and whistles that's just super for travel (you don't use that dinky hotel blow dryer, right?).
We like the cheery print and flattering ruffle detail along the collar of this dress.