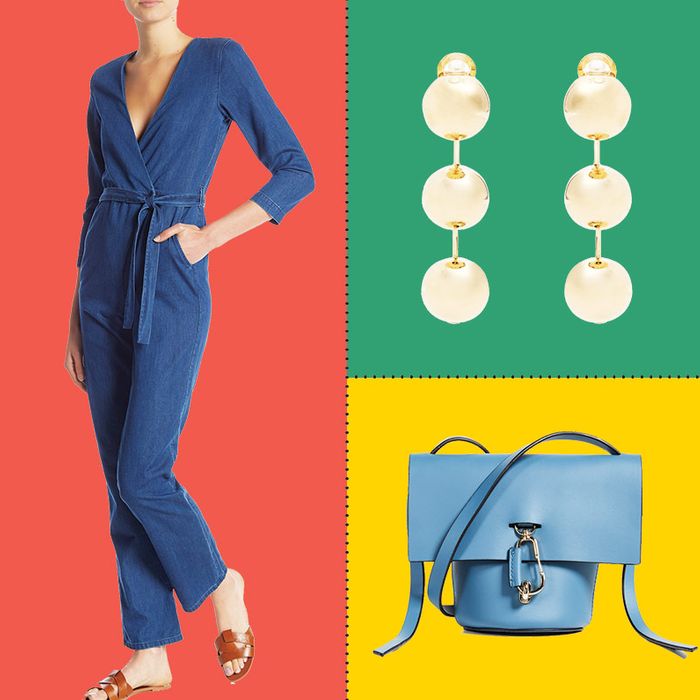 Photo: courtesy of the retailrs
Labor Day has come and gone, but the sales are still quite good: Below, the 50 percent off Balenciaga earrings, discounted denim jumpsuits, googly-eyed bathmats, and on-sale Geoff McFetridge posters that we dug up this week.
An elegant denim jumpsuit (that can easily transition from day to night) from 3x1.
A crisp white button-down is overrated. We like this slouchy, soft cotton one from Free People.
We are suckers for anything googly-eye-related, so are fully delighted by this bathmat.
Photo: 18-01-16 oksanajager AM1 B4 benbrubaker W
An autumnal shift dress (that you could wear with a turtleneck underneath) from MSGM.
Photo: 18-03-14 nicolepollard PM1 B3 raypfeiffer W
Another autumnal floral number, this one from A.L.C., and made from 100 percent silk.
Photo: 18-02-23 daniwitt AM2 B6 alizabaran W
A long-sleeved French-terry tee that you can wear around the house with sweatpants, but also to a nice dinner.
Photo: 18-01-31 maritzaveer AM1 B5 toddmaughan W
These Citizens of Humanity jeans have the perfect amount of flare, and the perfect amount of crop.
Photo: 18-03-02 Accessories PM1 B8 raypfeiffer W
In fact, they would look great with these 75 (!) percent off Loeffler Randall wedge mules.
Photo: 18-04-11 kellymoreiro AM2 B4 benbrubaker W
For those (like us) who find the no-white-after–Labor Day rule silly.
Photo: 18-06-05 Accessories AM2 B9 raypfeiffer W
A little bucket bag with a little more flair than your usual bucket bag.
We picked out some of our favorites from J.Crew's excellent fall sale the other day, but there are goodies we skipped over, like this lovely indigo tie-waist top.
Add a little fresh-faced dewy glow to your cheeks with this "dew pot" from Make.