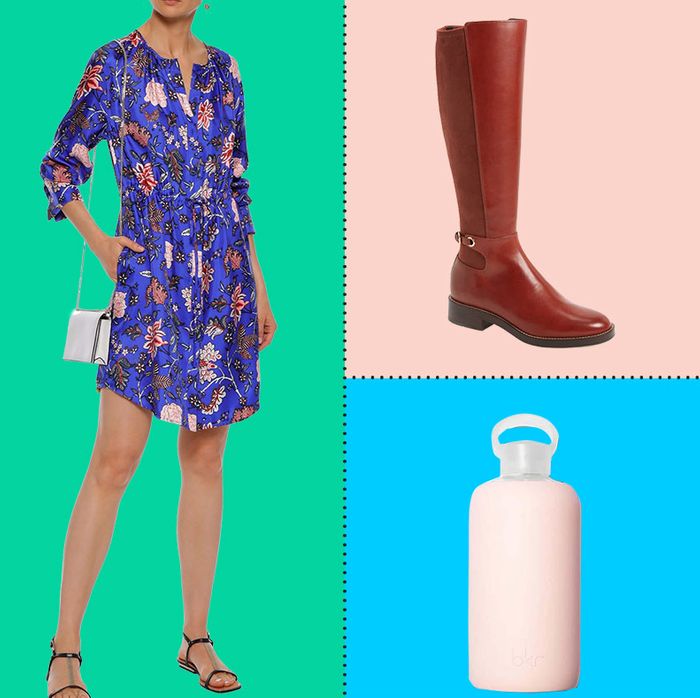 Photo: Courtesy of the retailer
It's a funny moment right now: We've got fall on the brain, but we're still experiencing the temps of summer (lightweight dress, anyone?). You'll see that this week's mix of sale items is a real grab bag — there are some Stutterheim raincoats and Cole Haan boots, as well as DVF dresses and Everlane tees.
Writer Alison Freer first told us about the magic of the Beachwaver curling iron, which gave her curl-free hair Victoria's Secret–esque beachy waves. (This is also the cheapest we've seen it.)
Photo: 18-03-20 annarachford PM1 B1 kateberg W
The ultimate 7:30 a.m. dog-walking shoes.
We could see lots of our editors in this boxy, sophisticated T-shirt that zips in the back.
It's true: We love, love, love this cactus candle, not least of which because it's a plant we'll never kill.
Photo: 18-05-21 Accessories PM1 B8 jentricolello W
Summer may be coming to an end, but these would make great padding-around-the-house shoes.
Our friends at the Cut raved about Everlane's line of denim, which the retailer found hard to keep in stock when it first launched. We like the light hue of these blue jeans.
Photo: 18-04-13 annarachford PM1 B1 robstebler W
We can imagine wearing these sweet blush-colored flats to zhuzh up our frequent jeans-and-T-shirt days.
Photo: 18-01-12 ekaterinamiasnikova PM1 B5 dylanremis W
Some premium denim shorts right here! These are the jorts we'd design: Levi's high-end Made & Crafted line collaborated with Shopbop on a pair of high-waisted, slightly flared jean cutoffs with just the right amount of fringe at the raw hem.
A cute beach bag that'd be very useful for a post-work Whole Foods run.
We'll never not need a pair of plain black pumps and especially like the teensy kitten heel on this one.
Dermstore is having a big sale on its tech accessories — just put in the code TECH20 to get twenty percent off. Funnily, lots of other things we added to our cart were discounted too, like bkr water bottles in a bunch of shades. We're tempted to do some very early holiday shopping and buy one or two of these water bottles now for the (stylish) health nuts we know.