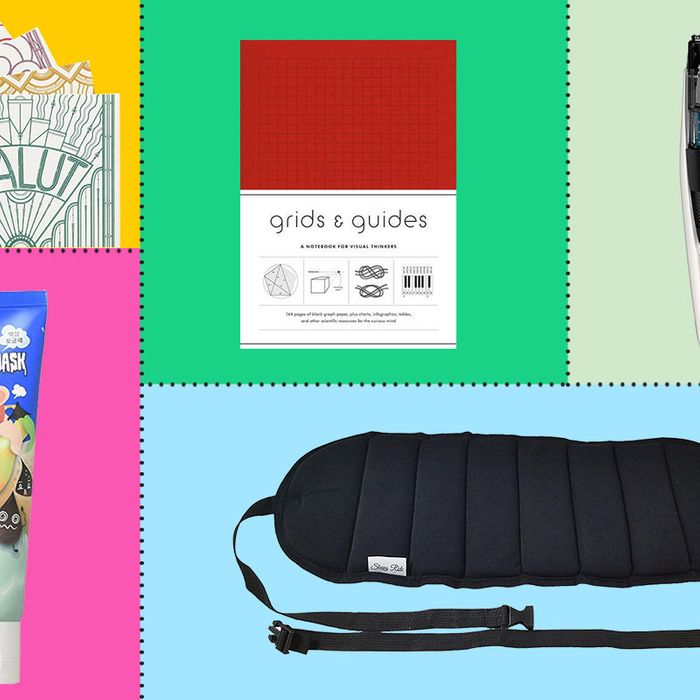 Photo: Courtesy of the retailers
Welcome back to Your Shopping Cart, wherein we break out the top ten products that you, devoted Strategist readers, all bought in droves. Think of this as the tl;dr of the Strategist: If your like-minded brethren are buying these items, maybe you'd like to, too.
This week's list includes a healthy mix of newcomers and returning favorites. On the skin-care front, a pore-clearing mask debuts at No. 1, and these good old pimple patches remain in third place. Last week's top seller, a padded airplane footrest, drops a spot to No. 2. Labor Day weekend brought big sales on mattresses, so it's not surprising to see one of our top picks in fourth place. New stories on elegant paper goods landed a pair in the top ten — Molly Young's "keepsake" notebook enters the list in fifth place and these Art Deco thank-you notes take eighth. We also saw the return of two products that are back on the list after a brief hiatus — one of our all-time favorite beard trimmers returns at No. 6, and a fancy lube last seen back in July reappears in seventh place. Finally, last week's ninth and tenth place products — a universally flattering lipstick and a classic white T-shirt — swap places on the list this week.
1. The 'Most Painful Mask Ever' Is Like a Dyson for My Pores (new entry)
In the YouTube beauty community, this pore-suctioning, peel-off mask has a reputation as the "most painful mask ever." Despite videos featuring "tears, screams, and general terror," writer Garrett Munce had to try it. "Whenever I use it, every single blackhead on my face is gone," he said; "my pores become microscopic, like I've taken a Dyson to them." His glowing review convinced lots of our readers to risk the pain as well.
2. This Padded Foot Sling Makes Economy Feel Like First Class (last installment: 1)
Writer Alyse Whitney usually has trouble sleeping on planes, so she decided to try out this $20 footrest for her 20-hour flight to Singapore and Hong Kong, and it turned out to be a huge success. "I had zero pain, pressure, or swelling, and was able to sleep for four to six hours at a time," she wrote. "It was the closest thing to a first-class experience that I could get in economy." The No. 1 best seller on the last list, the footrest sticks around another week.
3. The Google Doc I Send to People Who Ask About My Skin (3)
These pimple-eliminating patches, longtime staples on the best-seller list, are in third place for the second list in a row. Strat beauty writer Rio Viera-Newton introduced us to the now-famous patches last year in her epic skin-care Google-doc post: "[T]he Holy Grail. Drop everything and buy them. Not even going to explain, will just say if you pop or pick a zit, put this on immediately afterward, go to bed, and in the morning you'll see what I'm talking about and thank me."
5. I Found a Notebook Like No Other Notebook (new entry)
As a writer, Molly Young goes through dozens of notebooks a year — usually "cheap-ish" ones that fulfill a few basic, utilitarian requirements. But when she received this notebook as a gift, she fell for its handsome, textured cover and variable grid design. "I've tasted the fine wine and I can't go back," says Young on her new favorite notebook. It's an affordable way to get some "eye-watering thrills" from an everyday product.
6. What's the Best Beard Trimmer? (off last list)
This beard trimmer with a radial dial that lets you choose lengths down to the half-millimeter, for guys who don't want to go totally clean-shaven, returns to the list after a short break. Writer Kurt Soller's loves how it keeps stray hairs out of the sink: "A vacuum-suction feature that collects the majority of your shaven hairs — up to 90 percent of them, according to the company, but who really knows? All I can say is that this is a godsend."