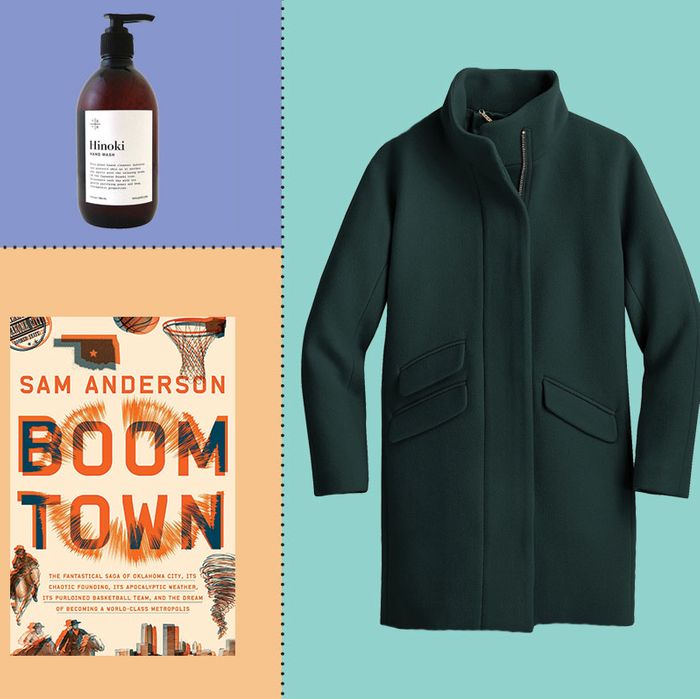 Photo: Courtesy of the retailers
If you follow our biweekly feature Your Shopping Cart, you know that we have some eerily good intel on what things you all are buying. It led us to think that, as Strategist editors, we could turn the tables and highlight all the things we've been buying ourselves. As you'll notice, it's both a blessing and a curse to be a Strat editor; we're picky, but sometimes we just have to get on with it (it's online-shopping expertise meets IRL needs). Below, what we all bought in September.
Simone Kitchens, senior editor
I have this wallet in brown. It's my second, the first was actually a hand-me-down I got years ago from my sister when she decided it was too beat-looking to use anymore (I carried it for five more years until it officially unraveled). I was a little stumped on what to get her for her birthday earlier this month, so I decided to return the favor after all these years and got her one in black.
This book is about Oklahoma City, which is where I grew up. The author Sam Anderson, who used to be a book critic here, has managed to make a place that I've always been quite fond of, though never particularly good at selling, sound awfully compelling. First up was this excerpt we ran on the site last month. He has turned material that would otherwise be incredibly glaze-over-worthy (a land run!) into something shockingly interesting, but also just really funny. Then he did us one better, giving my hometown its very own Letter of Recommendation in the Times Magazine. I think it's important to point out he's definitely not from OKC, he just likes the place. As Anderson puts it: "Oklahoma City, it turned out, was the most secretly interesting place I had ever been. It was a pure distillation of our nation's essential weirdness — a bouillon cube of America."
Alexis and Katy have both talked about this tee. And I've wanted it forever, too. Of course it showed up in our white T-shirt roundup. But $78 for a repurposed Hanes? I probably would not have bought this without the gift card I found while deep-cleaning my apartment this weekend, but I will say I am very excited for how it will look with all my Levi's.
Another white T-shirt I ordered.
Lori Keong, writer