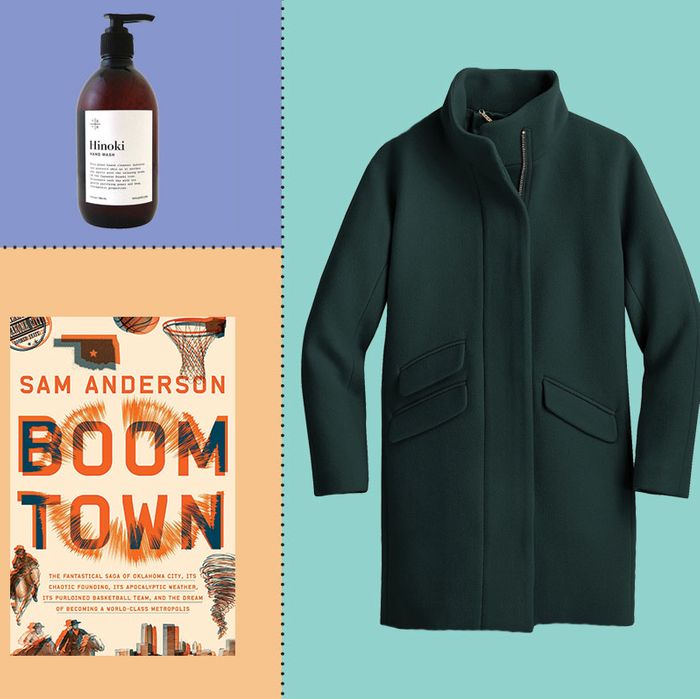 Photo: Courtesy of the retailers
If you follow our biweekly feature Your Shopping Cart, you know that we have some eerily good intel on what things you all are buying. It led us to think that, as Strategist editors, we could turn the tables and highlight all the things we've been buying ourselves. As you'll notice, it's both a blessing and a curse to be a Strat editor; we're picky, but sometimes we just have to get on with it (it's online-shopping expertise meets IRL needs). Below, what we all bought in September.
Simone Kitchens, senior editor
I have this wallet in brown. It's my second, the first was actually a hand-me-down I got years ago from my sister when she decided it was too beat-looking to use anymore (I carried it for five more years until it officially unraveled). I was a little stumped on what to get her for her birthday earlier this month, so I decided to return the favor after all these years and got her one in black.
This book is about Oklahoma City, which is where I grew up. The author Sam Anderson, who used to be a book critic here, has managed to make a place that I've always been quite fond of, though never particularly good at selling, sound awfully compelling. First up was this excerpt we ran on the site last month. He has turned material that would otherwise be incredibly glaze-over-worthy (a land run!) into something shockingly interesting, but also just really funny. Then he did us one better, giving my hometown its very own Letter of Recommendation in the Times Magazine. I think it's important to point out he's definitely not from OKC, he just likes the place. As Anderson puts it: "Oklahoma City, it turned out, was the most secretly interesting place I had ever been. It was a pure distillation of our nation's essential weirdness — a bouillon cube of America."
Alexis and Katy have both talked about this tee. And I've wanted it forever, too. Of course it showed up in our white T-shirt roundup. But $78 for a repurposed Hanes? I probably would not have bought this without the gift card I found while deep-cleaning my apartment this weekend, but I will say I am very excited for how it will look with all my Levi's.
Another white T-shirt I ordered.
Lori Keong, writer
One of my least regrettable impulse buys this month was a clear Otterbox phone case (in keeping with my pursuit of all things see-through). It's the teeniest bit zany since it's filled with glitter (I was worried it would be too much), but it's very subtle in person — more like a light dusting — and extremely fetching on my cream-colored iPhone. My colleague Maxine tells me it's very chic and I agree!
As New York weather goes, within a span of one week, I have gone from scouring the internet for saucy block-heel sandals on sale to block-heel boots on sale. I ended up with these. They are not on sale, sadly, but they do have a chunky heel for height and something of a latexy Catwoman air about them. They're sock boot–esque — but not aggressively so — and I think they'll fit my matchstick-thin ankles nicely.
My years-old nude bras were looking a little tired, so when a pitch for Harper Wilde (a buzzy new direct-to-consumer bra company that specializes in nudes specifically) came across my inbox, I was very eager to test one out. I can tell you that the fit on their "base bra" is great — just the right amount of body-hugging without any underboob or gaping in the cup area — with a barely detectable underwire. You wouldn't think that front-adjusting straps were a big deal, either, until you realize how completely life-changing it is to not have to twist yourself like a pretzel just to tighten the thing.
Karen Iorio Adelson, writer
Yes, I bought a winter coat when it was still 90 degrees out, but in my defense, it was 40 percent off during J. Crew's Labor Day sale. I have a similar coat in camel that's a few years old and has gotten a little grody, so I'm looking forward to replacing it with this dark green version that probably won't show dirt and stains as easily.
I'm going to Japan for two weeks and I plan on reading the English translation of this Japanese bestseller — that came out to a lot of buzz earlier this year — during my 14-hour flight. As the title implies, it's about a woman working at a convenience store, and is also supposedly a commentary on late capitalism and the nation's culture of conformity.
Maxine Builder, writer
Pretty much everything I've read about being a more productive person involves avoiding electronics around bedtime. So in an attempt to wean myself off my bad habit of scrolling through Instagram both right before I go to sleep and the second I wake up, I bought an analog alarm clock to replace my iPhone's alarm. This one takes up virtually no space on my already-crowded nightstand. In fact, because it's so tiny, I was a little worried it wouldn't be loud enough to get me up, and so I kept my phone next to it with a backup alarm, just in case, for the first couple of nights. But it is plenty loud to get me up — though mostly without bothering my partner — so much so that I now confidently leave my phone in the living room, far away from my bed, before I go to sleep.