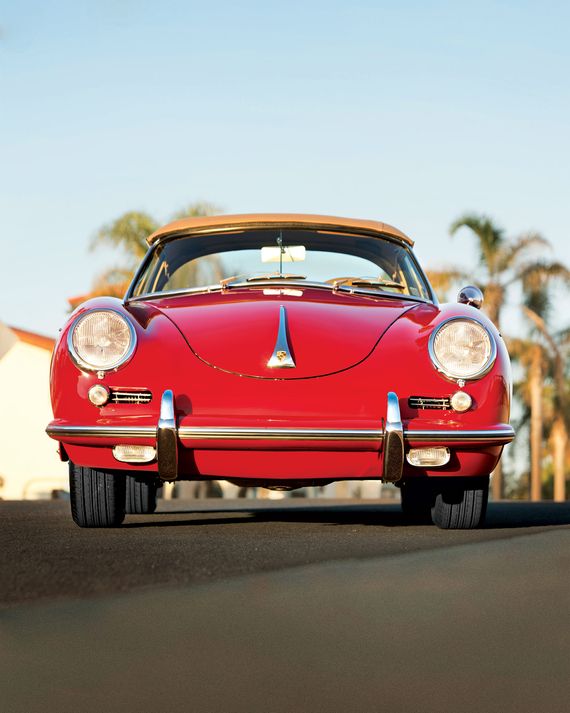 The vintage Porsche.
Photo: Pawel Litwinski
Expensive things are sometimes things we come to regret. Other times, though, years later, they are the things that one feels wisest about having sprung for. What is it that makes such pieces truly worth it? Perhaps it's the pure, decadent indulgence of the items — only trotted out for the most special of occasions. Perhaps it's the knowledge that even the most ephemeral of such pleasures will endure in one's memory. Sometimes it's more quantifiable: knowing that you have used/worn/wrapped yourself in/inhaled this pricey thing so many times, and will use it so many more, that it has paid for itself five, ten, 100 times over.
By Rob Patronite and Robin Raisfeld
Photo: Hannah Whitaker
Yes, She Wolf Bakery's miche can be purchased by the $5 quarter-loaf. But we say forget practicality and surrender to the aesthetic allure of the whole supercolossal four-pound wheel. It's bread as symbol of abundance and generosity and a testament to the baker's craft. And a bigger loaf means bigger flavor and a longer shelf life. We love the faint but persistent sourness of the moist crumb, contrasted with all those toasty, caramel-y, nutty, Maillard-reaction flavors of the crackly crust; the resounding crunch when you take a serrated blade to the 18-inch diameter; the edible link to an old-world tradition that extends back centuries. How can something made up of only flour, water, salt, and natural leaven cost that much? In fact, fewer ingredients (like freshly milled Farmer Ground flours) often lead to better bread. But mainly it's technique and the luxury of time. The whole She Wolf dough-making, shaping, fermenting, and general babying process takes over two days; you don't so much bake this miche as go into labor and give birth to it. So yeah, spring for the whole hubcap-size loaf. Put it out on the buffet like a work of art. Inhale its deep grainy fragrance. Revel in its complexity of flavor. Buy a hunk of French Comté, some good butter. Invite friends.
The
6.99-Carat–Diamond–and–Ceramic
Taffin
Ring
By Claudia Mata
Photo: Hannah Whitaker
I covered jewelry as an editor in New York for over 12 years, which means I've seen many, many beautiful things. But now that I'm removed from it all (I left for Northern California a couple of years ago), James de Givenchy's pieces are the ones I go back to. He would save a stone for years — like, 20 years in the safe — until he felt it had the right life for itself. What I like about the ceramic element is that it adds a bit of whimsy to a piece of jewelry that would otherwise be so serious — you have a major stone paired with something that's a notch or two down. But they still feel timeless to me: I've sent friends to get wedding rings from him. It's hard for me to say that the value of something that is worn on a hand is worth the price of someone's home. But looking at it for what it is — from my years of being in the industry, from knowing what it takes to create it, the rarity of the stone itself, the clarity, how it's cut — well, you can see why it costs so much. Sometimes I wonder why it doesn't cost more.
By Molly Young
Photo: Hannah Whitaker
Nobody needs fancy soap. Soap has one job, and most will do that job. Spending $38 on a small orb of soap is not, therefore, something I endorse — unless you repurpose it into something much more valuable. Let me explain.
A year ago, I bought a $38 soap from an old perfume company called Krigler. Krigler is known for heady, high-quality, smell-it-from-across-the-room scents. But instead of using my soap for its intended ephemeral purpose, I dropped it into my lingerie drawer to scent my delicates. Wrapped in its original plastic, the soap emitted a strikingly lovely smell that permeated my underthings. It was like an old-fashioned sachet on meth. I expanded the soap's itinerary through all of my dresser drawers. In turn, my clothes no longer smell like detergent but instead bear notes of neroli and jasmine. A year's worth of aromatic pants sounds like something an unreasonable billionaire might demand — yet Krigler soap can be ordered online on a mere thousandaire's budget.
My scent of choice is English Promenade 19, which smells like a garden at dusk. You may prefer one with woodsy vetiver or a sultry black-tea profile. Be careful in your selection — the soap lasts forever. I've had mine for a year with no diminishment in scent properties. Amortized, this comes to around ten cents a day for ongoing blissful aromatics. What else can you buy for a dime these days?
The
$70-Per-Half-Pound
Wasabi
By Hugh Merwin 
Photo: Hannah Whitaker
Years ago, on thanksgiving, my father fell and broke his hip minutes before the meal was scheduled to start. Family members dispersed as soon as the EMTs drove away. I threw a midnight dinner party to deal with the mountains of food, and because I was a line cook, my replacement guests were all industry people. One had a knob of fresh wasabi — he'd spared it from his restaurant — and grated it over the dark meat.
Fresh wasabi rules. The rhizome (the plant's root) exudes a groundswell of isothiocyanates, the compounds that storm nasal passages with wonderful, prickly heat. By comparison, standard-issue wasabi doled out in pasty blobs is really just powdered horseradish with a bad dye job.
The sort of Very Informed Person who extols deluxe A5 Wagyu may suggest that Shizuoka prefecture — wasabi's Japanese birthplace — produces the freshest, but West Coast–grown varieties are the perfect foil for king crab or even mashed potatoes. A few ounces is enough for a 20-pound salmon, which might be an inconvenience to butcher, unless, of course, a bunch of sushi chefs show up unexpectedly on your doorstep.
The
$1,000
North
Face
Himalayan
Suit
By Jessica Silvester
Photo: Hannah Whitaker
Not long after the birth of my child, I learned that if I ever again hoped to have any time to myself, beyond the walls of the diaper-exploding apartment, it would have to be in the early morning. I began to take walks along the Hudson River greenway at 4 a.m. As the temperatures plummeted, so too did my hopes of maintaining this meditative ritual. That is, until I had the chance to interview a landscape painter named Ellen Altfest. She told me about her beloved Himalayan Suit, and how its 800-fill goose-down insulation served to make a February cold snap feel like an autumn afternoon. She also revealed that it costs nearly $1,000. I could not justify such an expense — my job did not require me to be in, say, a subzero forest painting lichen. My new job, though — keeping another human being alive — did demand that I keep a clear head.
On a hormone-induced whim, I bought the suit. And as I continued to get out the door every morning despite the ever-lower digits on my weather app — 23, 17, minus 4 — the purchase seemed less and less insane. Of course, I looked crazy. Even through my snorkel hood, I could see the weird stares. "She's warm," I could hear construction workers saying to one another near Chelsea Piers.
The
$15,000
A.
Lange
&
Söhne
Saxonia
Watch
(With
an
Alligator
Leather
Band)
Photo: Hannah Whitaker
I hate putting on tuxedos, they make me look like a penguin imploded inside a hairy crêpe. But this super-elegant German watch is a freaking horological masterpiece: no frills, not even a seconds hand, just the hour and minute hands surrounded by a neat white-gold case. It makes dressing up worth the hassle. Now, what did I do with that cummerbund?
The
$695
Balenciaga
Sneakers
By Damon Young
Photo: Hannah Whitaker
Last summer, I watched the NBA Awards dinner as Kemba Walker of the Charlotte Hornets won the NBA Sportsmanship Award, given to the player who best "exemplifies the ideals of sportsmanship on the court — ethical behavior, fair play, and integrity."
Walker wore a fitted gray suit with light checkers bordered by a slight baby-blue stitch and a black polo shirt buttoned to the top. On his feet were a pair of low-top bone-white sneakers. I thought he looked fresh as fuck.
Walker's freshness solved two intersecting dilemmas I had. Months earlier, I'd bought a Lazio gray herringbone suit from Suitsupply similar in cut and fit to Walker's, and I'd been curious how it would look with sneakers. Also, I'd been looking for a pair of sneakers that I could wear with a style of dress — trendy and practical airport/on a college panel/at a happy hour after the panel — that I've deemed "nigga casual," something I could slip off when passing through airport security.
The next weekend, I drove to Ross Park Mall, a few miles north of Pittsburgh (where I live), in search of the right shoe. I parked outside Nordstrom, intending to pass through it before stopping at Foot Locker, maybe Macy's. And then, well, remember in The Godfather, when Michael first saw Apollonia and was so captivated by her that his bodyguards claimed he was hit by a thunderbolt? That's what happened when I laid eyes on the Balenciaga Race Runner at Nordstrom. It looked like something from the future. But not a Mad Max future. More like a Minority Report future. A future where Tom Cruise is still running.
I inspected the shoes like a butcher vetting a porterhouse. I even sniffed them, as if that fucking mattered. After the shoes had met my arbitrary olfactory standards, I asked a salesman if he had my size (11). Once I put them on, I officially moved from merely "captivated" to "Holy fucking shit, where have you been my entire life, you devil sneaker with a name I can't even pronounce?" I hadn't looked at the price yet. I hadn't even heard of Balenciaga until that day, but I knew that the Venn diagram of "brands I've never heard of" and "sold at Nordstrom" and "roughly the price of a kidney" is a perfect circle, and I just didn't want to scare myself away. But I had to look. So I did: $695.
You know how, on some sitcoms — let's just say Roc or The King of Queens — the penny-pinching dad/husband will hear the extravagant cost of a thing and then start naming all the things he can buy with that money? ("A $17 burger?! At Jonny's on the Ave., I can get two burgers, a steak, some tater tots, and an oil change for $12.99!") That was me seeing that price tag. But they just felt and looked so damn good. "And," I attempted to sway myself, "these would be my fancy airport/panel nigga-casual sneakers. Not my Pittsburgh sneakers. It's a mature and appropriate investment, Damon."
I bought the shoes and don't have any regrets. They've been a welcome addition to my wardrobe, and I've lost count of how many people ask me about them when I'm wearing them. They look good with the gray suit, with jeans, with sweats, with the above-the-knee shorts I wear to cookouts and rib fests, with hoop shorts when I'm going to CVS and pretending to get captured by paparazzi. I even have a guy I go to who specializes in kidney-priced sneakers and cleans them. I've always wanted to have a "guy," though I think I enjoy saying "I have a guy" more than actually having a guy.
Still, I'm urged sometimes — particularly when watching the Hornets — to invoice Kemba Walker. This is all his fault. And I'm sure he can afford it.
The
$250
Bose
Noise-Masking
Sleepbuds