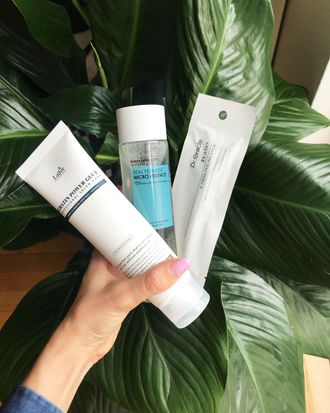 The products, in Rio's hand.
Photo: Rio Viera-Newton
If you've never browsed Soko Glam before, you're missing out on an extremely well-curated selection of K-beauty products. There are so many gems on the site that I've often fantasized about somehow getting inside the bathroom cabinets of Soko's employees, just to get the inside scoop on the products they actually use the most.
Instead, once a year, we all get the next best thing: the Best of K-Beauty Awards, for which Soko puts together a list of top-selling and best-reviewed products from the last year. That list comes out today, and from now until October 16, every single product on the list is marked down 15 percent. I've tried and tested every single one, and I'm here to tell you about my four absolute favorites.