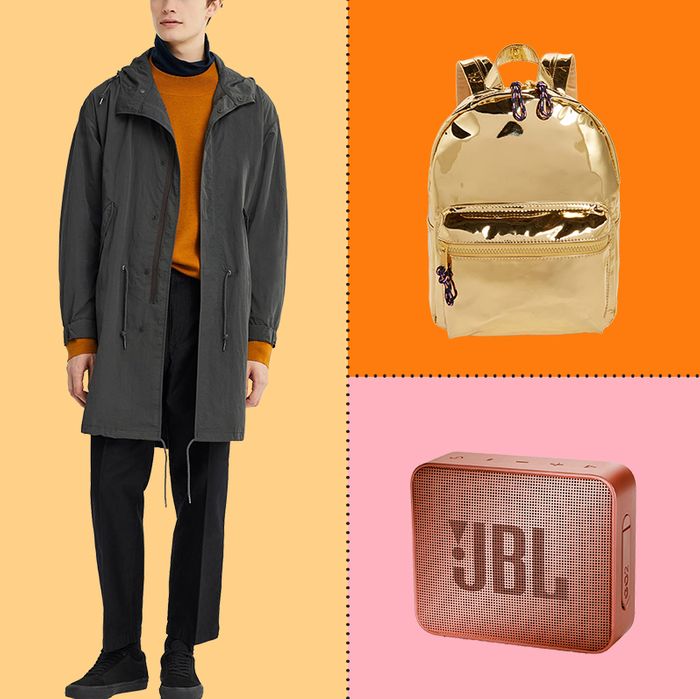 Photo: Courtesy of the retailers
We're in a bit of an in-between stage right now — it's not quite the holiday season, but it's not not the holiday season. Lots of retailers are putting up some good deals to get us in the mood, though: There's a sale-on-sale going on at Outnet, scads of Uniqlo goodies, even an RCA flat-screen for $130 at Walmart. All those, plus Rio's favorite cleanser, a bunch of Madewell jeans, and some nice shoe deals from Nordstrom Rack.
A slightly long pocket T-shirt that you'll wash and wear and get holes in before giving up.
Who knew Timberland made backpacks? We dig the unplaceable quality and speckled material on this knapsack. It looks almost like something you'd see slung over the shoulder of a hip Japanese high schooler.
Need a TV for the bedroom? These days you can get big-screen TVs for much longer than 32 inches, but it more than suffices at this price.
A festive holiday sweater that won't look too out-there when you break it out in February.
Danish brand Elka is famous for its minimalist rainwear — the Klitmøller is a best seller, and a nice departure from more established brands we think (it has an A.P.C. quality, no?).
It's a pretty well-known trick by now, but the easiest way to fake an expensive mattress is to get an expensive mattress topper. They're practically giving away this memory-foam one from Tempur-Pedic.
A sale-on-sale — a bunch of things from Outnet's mid-season sale are an extra 50 percent off the sale price, like these extremely tasteful earrings.