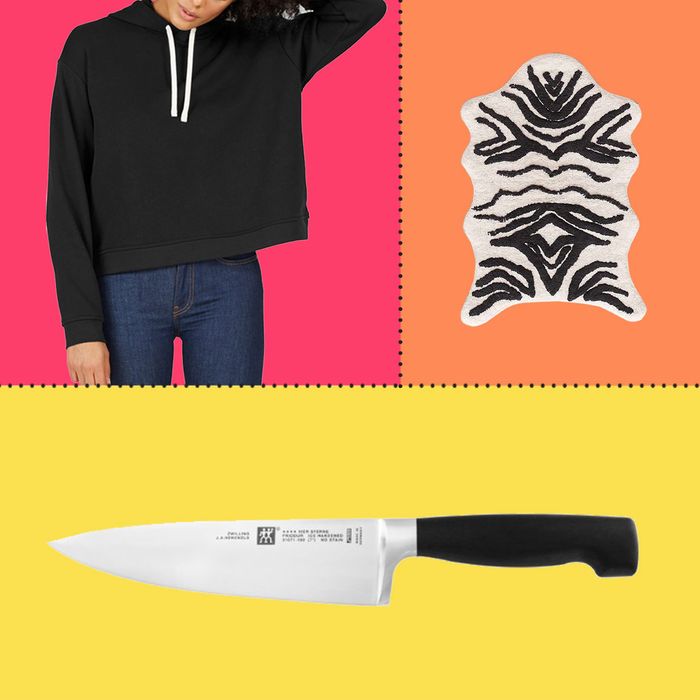 Photo: Courtesy of the retailers
We thought that Columbus Day was going to be the last big sales moment in October, but, boy, were we wrong. There are a bunch of great deals to be had right now: Everlane just replenished its selection of sale items, Bandier is having a 20 percent off Friends & Family sale (which applies on top of already discounted things), plus Nordstrom Rack has a bunch of great loungewear we want to wear through January. All that, plus our favorite bath tray, Susan Kelechi Watson's tote bag, and Fitbits that are hardly ever this cheap.
Writer Verena von Pfetten adores this bathtub tray for reading, watching shows, and enjoying a glass of wine in the tub — now it's on clearance for $10 off.
The blue on this flattering cotton shirt isn't a solid but a superthin micro stripe.
A work, weekend, day, night, wear-it-all-the-time shirt.
The cotton fabric on this white shirt has an almost sheer quality to it that makes it extra amenable to fall layering.
Still looking for a good pair of slim sweatpants for lounging? We love the stuff from ecoconscious brand Alternative.
And if you're looking for something a bit splashier, these would be fun with a simple T-shirt.
North Face makes a great puffy vest for layering under your favorite wool coats (in the event that you're not looking to go full gorp).
We wouldn't tie up all the strings on this kimono jacket, but keeping it in the office as an extra layering piece is a stellar idea.
As far as comfortable shoes go, few things touch the orthopedic credibility of Clarks. We like the actual look of these Terris (though we might want to cut off that little leather tassel once we get them).
A pair of medium-height shoes that you could wear to brunch, to work, to a party and look totally at ease.
We love how tailored this North Face hoodie is — it almost doesn't look like North Face at all.
Another good layering piece for any winter travels you might have coming up (notice the flattering diagonal quilts along the torso).
We love a cactus, but sometimes even they're too high-maintenance. Best to go with a faux version.
We love the smell of Murchison-Hume (see here) and would have the freshest house with this clean starter kit featuring four products: Counter Safe All-Purpose Surface Cleaner, Boys' Bathroom Cleaner, Heirloom Dish Soap, and Premium Glass Cleaner.
Just the sweetest thing tied around a glum handbag.
Another contender for "the sweater I keep at my desk when the office thermostat is set to kill me."
A very striking-looking curling iron from California-based luxury hair-tool brand T3.
This cozy cardigan is the one you would wanna keep in the closet for weekends when you don't plan to leave the apartment.
Our favorite rain boots right now are Chelsea ones (no muss, no fuss!), and we just love the pointed toe and matte look on this pair.
We like how Everlane does slightly turned-up versions of the basics — this is a hoodie, but, like, a sophisticated hoodie.