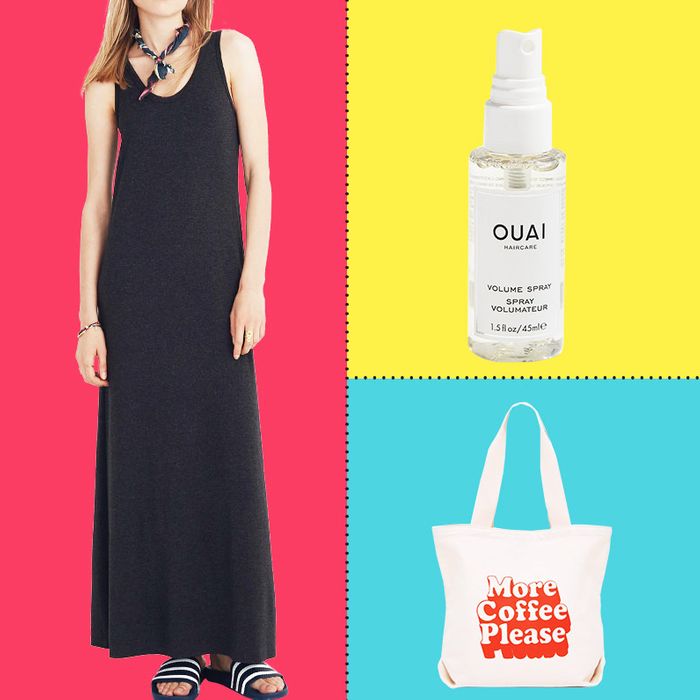 Photo: Courtesy of the retailers
Columbus Day may be over, but there are still plenty of sales to be had. We went and found lots of home and kitchen goods this week, including things from Cuisinart, Dyson, Lacoste, and Black & Decker. That, plus clothes from Saturdays, Everlane, Madewell, and Uniqlo. Don't forget that today is the very last day of the big Dermstore sale, too.
A very understated women's watch that would make a nice birthday present for a teen.
A heads-up that Urban Outfitters is having a beauty sale, where you can score a dollar off the cultish Ouai volume spray (not a huge discount, but it's something).
That means this nifty little toiletry kit (or pencil bag) from Tooletries is on sale, too.
How cool is the styling on this maxi dress? We'd want to wear it just the same, with some Adidas slides and a messily tied neckerchief.
Strategist HQ is a big fan of stripes, especially sophisticated mini ones like on this T-shirt.
We'd even wear this T-shirt with a black skirt for a bit of a high-low look.
There's something just a little bit vintage and off-kilter about this denim dress, which is exactly why we like it.
If you're looking to make the leap to AirPods, they're a slight bit cheaper at Walmart than they are at Apple.
Two watches in one — whenever you get bored of the metal link bracelet, swap it out for the leather straps.
Photo: 18-05-24 kadeemfisher PM1 B8 raypfeiffer M
This longish-sleeved T-shirt almost has a Yeezy feel to it.
Photo: 18-05-17 edwingill PM1 B8 benbrubaker M
While this one's slightly more classic.
A totally elegant pair of heels that makes date night that much more special.