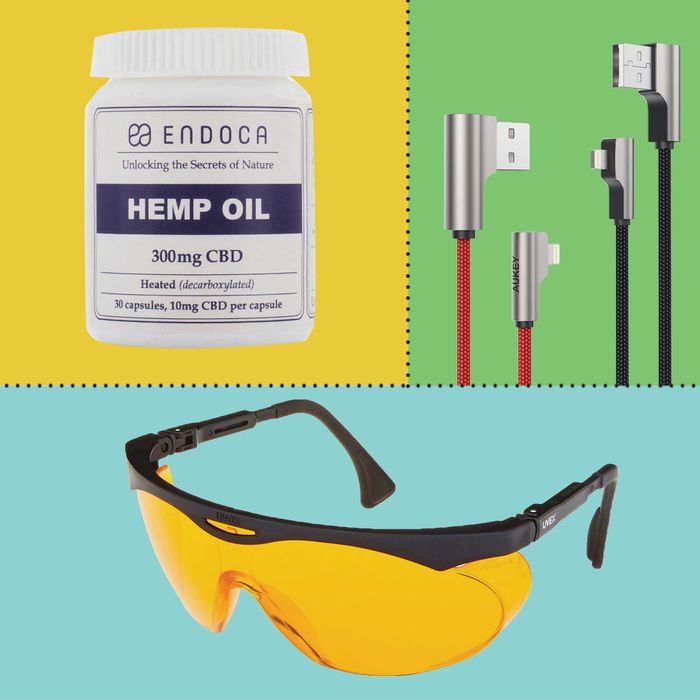 Photo: Courtesy of the Retailers
Welcome back to Your Shopping Cart, wherein we break out the top ten products that you, our devoted Strategist readers, bought in droves. Think of this as the TL;DR of the Strategist: If your like-minded brethren are buying these items, maybe you'd like them, too.
Strat readers are really taking care of their faces, if these top sellers are any indication. We have this painful face mask back at No. 1, swapping spots with last week's No. 2 pick, the almighty pimple patch. A couple groomers are back this week as well, with one of our most popular beard trimmers holding steady at No. 5 and another one making it back onto the list at No. 9. A multi-modal xylophone for tykes that debuted last week creeps up into the seventh spot, while a fancy lube returns strong in fourth place. As for newcomers, we got this nifty, right-angled lightning cable debuting in third, and these hemp oil capsules bringing up the rear in tenth.
1. The 'Most Painful Mask Ever' Is Like a Dyson for My Pores (Last Installment: 2)
It's not called "Hell-Pore" for nothing. With a reputation for being the "world's most painful mask," this peel-off mask is back in the No. 1 spot after slipping down to second last week. Writer Garrett Munce's review seems to refute the pain factor of this mask, however, and instead lauds its effectiveness — "Whenever I use it, every single blackhead on my face is gone — my pores become microscopic, like I've taken a Dyson to them." — obviously striking a nerve (or pore or two) with Strat readers.
2. The Google Doc I Send to People Who Ask About My Skin (1)
What more is there to say about these best-selling stalwarts other than that they work? Strat beauty writer Rio Viera-Newton introduced us to the now-famous patches last year in her epic skin-care Google-doc post: "[T]he Holy Grail. Drop everything and buy them. Not even going to explain, will just say if you pop or pick a zit, put this on immediately afterward, go to bed, and in the morning you'll see what I'm talking about and thank me."
3. Why Didn't Anyone Think of a Right-Angled iPhone Cable Sooner? (New entry)
Steven John wrote about these brilliant right-angled lighting cables by Aukey that are far superior to the white ones that come with iPhones that will inevitably fray. "Unlike USB and lightning plugs that stick straight out, the Aukey connector and USB plugs jut at a 90-degree angle," he writes. "It means that if you're lying in bed watching the universe explode on Twitter, you won't be folding the cable while it rests on your stomach. And if you're driving in your car and charging your phone from a cup holder, you won't have to read your notifications upside down at the stoplight." A no-brainer recommendation that translated into a respectable debut at No. 3.
4. What Is the Best Lube? (7)
It might be one of the things we don't talk about, but lube is definitely something you're buying. Samantha Bard, co-owner of the sex-positive shop Shag in Williamsburg, raved about this very elegant-looking lube: "Uberlube is THE BEST. Not joking — it is one of the highest-quality silicone lubes out there. Plus, it comes in the classiest bottle you've ever seen. Aside from being a staff favorite, it is also a customer favorite!"
5. What's the Best Beard Trimmer? (Same spot)
This beard trimmer, with a radial dial that lets you choose lengths down to the half-millimeter (for guys who don't want to go totally clean-shaven), moves up a spot on the list and into the top five. Writer Kurt Soller loves how it keeps stray hairs out of the sink: "A vacuum-suction feature that collects the majority of your shaven hairs — up to 90 percent of them, according to the company, but who really knows? All I can say is that this is a godsend."
6. The 'Glass Skin' Serum Hoarded by Editors and Redditors Is Back in Stock (New entry)
Our writer Lori Keong has glowing skin, and she attributes it to this holy-grail serum by Peach & Lily that she calls "no hyperbole, the best hydrating serum I've ever tried." Thanks to this glowing endorsement (and her glowing "glass skin," which she explains is the "Korean beauty technique of prepping your skin so it looks so healthy and hydrated that it looks practically translucent"), the product is, unfortunately, sold out once again for now.
But fear not! Lori recommends this dupe from K-beauty brand Whal Myung that makes you glow like you're wearing liquid highlighter.