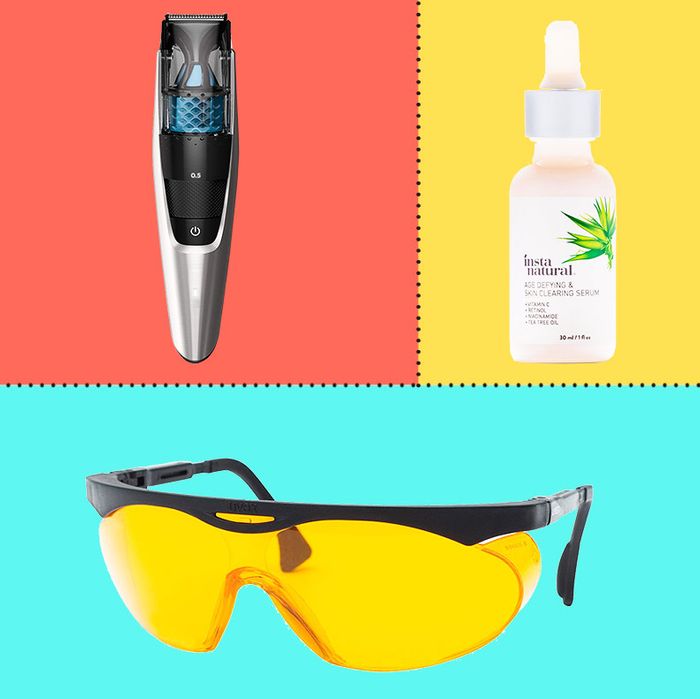 Photo: Courtesy of the retailers
Welcome back to Your Shopping Cart, wherein we break out the top ten products that you, devoted Strategist readers, all bought in droves. Think of this as the tl;dr of the Strategist: If your like-minded brethren are buying these items, maybe you'd like to, too.
Skin-care products comprise half of this week's list, with five out of ten spots dedicated to getting skin glowing and banishing pimples. One of these entries — a brightening vitamin C serum — is new, while the rest are old favorites. The legendary pimple patches hold steady at No. 2; a painful pore mask drops from the top spot to third place; the serum that gives one of our writer's "glass skin" is at No. 8, down from No. 6; and a snail essence is back on the list in ninth place after a brief hiatus. A fancy lube and one of our top grooming picks for guys — this popular beard trimmer — hold down their spots from the last list at fourth and fifth place, respectively. We've also got two more returning hits — blue-light-blocking glasses inch up from eighth place to sixth, and last list's tenth place hemp-oil capsules make the jump to No. 7. And finally, in tenth place, an adorable, colorful xylophone ideal for 1-year-olds.
1. This $22 Serum Gave Me Clear, Hydrated (and Even Bouncy) Skin (Last Installment: New entry)
We're always on the lookout for a new vitamin C serum, so when Strategist writer Liza Corsillo revealed that she's been using this relatively inexpensive formula for two years and that it "works better than any other product to clear my skin while gently helping to prevent wrinkles," we were immediately onboard. Looks like a lot of you were, too, and this newcomer — which also features some of our other favorite ingredients, like niacinamide and hyaluronic and salicylic acid — breaks onto the list in first place.
2. The Google Doc I Send to People Who Ask About My Skin (2)
By now, you're probably more than familiar with these zit-erasing pimple patches that have been stalwarts on our best-seller list ever since Strat beauty writer Rio Viera-Newton introduced us to them in her epic skin-care Google-doc post: "[T]he Holy Grail. Drop everything and buy them. Not even going to explain, will just say if you pop or pick a zit, put this on immediately afterward, go to bed, and in the morning you'll see what I'm talking about and thank me."
3. The 'Most Painful Mask Ever' Is Like a Dyson for My Pores (1)
It's not called "Hell-Pore" for nothing. Despite its reputation as the "world's most painful mask," this peel-off mask stays in the top three — down a couple spots from No. 1 last week. Writer Garrett Munce's review seems to refute the pain factor of this mask, however, and instead lauds its effectiveness: "Whenever I use it, every single blackhead on my face is gone — my pores become microscopic, like I've taken a Dyson to them." This obviously struck a nerve (or pore or two) with Strat readers.