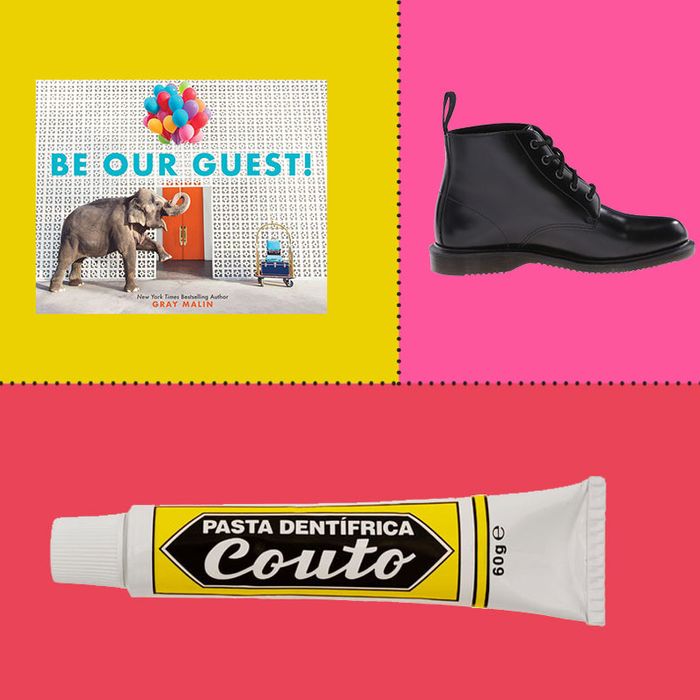 Photo: courtesy of the Retailers
If you follow our biweekly feature Your Shopping Cart, you know that we have some eerily good intel on what things you all are buying. It led us to think that, as Strategist editors, we could turn the tables and highlight all the things we've been buying ourselves. As you'll notice, it's both a blessing and a curse to be a Strategist editor; we're picky, but sometimes we just have to get on with it (it's online-shopping expertise meets IRL needs). Below, what we all bought in October.
Maxine Builder, writer
Ever since I saw Greta Gerwig's pink, leather fanny pack in an Ask the Strategist post back in February, I've wanted one of my own. But I've also been hesitant to spend over $100 on a fanny pack because, well, it's a fanny pack, and I'm worried this whole trend could turn on me at any moment. So while scrolling through COS's website the other day, I was thrilled to find this white, leather bum pack. The pouch itself is small, so it doesn't hold much more than a billfold, my keys, and my phone, but that also means it's got a sleeker, slimmer profile and doesn't look or feel bulky. I have received lots of compliments on it, and though I love it, I am mad I didn't buy one sooner.
I truly thought I was ahead of the curve when I bought a reusable KeepCup for my morning cappuccinos, but the same day I bought one at my local coffee shop, it appeared on Liza's roundup of the best travel coffee mugs, according to coffee snobs. I guess this means I'm officially a coffee snob (as if that's news to anyone), but at least I'm a snob who's trying to reduce the number of paper cups she uses. And after using it for a few days, I now also believe that cappuccinos taste better from a glass cup than a paper one, and I will not apologize for that preference.
My cousin is having a baby, and I am very excited for her. She and her husband actually went on a babymoon to Palm Springs, so for their baby shower this month, I gave them a copy of Gray Malin's Be Our Guest. It's about a cute monkey named Maurice who's the concierge at the Parker Palm Springs, and he takes you on a tour of the hotel, showing you all the other animals that are staying there. It's beautifully shot, in that totally whimsical, idyllic style that's Malin's signature, with a sweet story that I think both parents and baby will enjoy.
Margaret Rhodes, senior editor
I just got back from a trip to Portugal, the country that makes this pretty excellent toothpaste. You can buy it from boutiques in New York for around $11 a tube (or, obviously, here on Amazon), but I actually stumbled upon the Couto store in Porto and picked up several tubes for around three euros each. It's minty, a little gummier than regular Crest, but not as sweet. But no lies, I buy it for the packaging.
Ages ago, I bought the medium-size Away suitcase in the dark wine-red color because I also have a burgundy suede duffel bag and I wanted matching luggage. Since then I've (1) seen the Away in this midnight green color and decided it's much more handsome than my red one because it's actually more like a warm black with a mossy sheen, and (2) vowed to become a more efficient packer, what with extra fees for checking bags and the inconvenience I force on my main travel companion, an efficient packer. So I sold my other Away, the one you have to check, on Nextdoor (hot tip: Nextdoor is so much better and less sketchy than Craigslist) and bought the Bigger Carry-On. And now I never want to check a bag again. This fits an extraordinary amount: Four pairs of shoes, outfits for nine days that were somewhere across 50 to 80 degrees, and all of my many boxes of toothpaste on the way back.
I assume under eyes are like thighs, in that almost no one likes their own, and I'm no exception. I recently caught myself on camera and was not happy about how fatigued I looked under bright studio lighting. So I complained about it to my mom, who immediately said, "You just need the Laura Mercier magic powder." It's actually called Secret Brightening Powder, and my mom bought it ages ago on a tip from an exceptionally wonderful makeup artist. The powder in question is fine and airy to the touch. I still use a concealer for the dark circles underneath my eyes, but now I've added this into rotation as well. You need little more than a quick dust of it around your eyes to quickly look more awake, and my mom says it lasts forever. It's like highlighter without actually being glossed and shiny like the Tin Man.
Lauren Ro, writer
Photo: 18-05-11 hyunjoo PM2 B3 jentricolello W
It took many different pairs of maternity jeans to arrive at these from Madewell, which were recommended to me by a doula when I was working on this story about the best maternity belts, and let me tell you, now that I have a pair of jeans that actually fit, I feel like a whole new person. They're pull-on skinnies equipped with a trompe-l'oeil fly and an over-the-belly stretchy band that feels comfortable but also has enough room to expand as my stomach expands. One design element I appreciate is that the band actually tapers in the back so that you're not completely enveloped in extra fabric, which can get hot. I'm hoping they last me through the winter.
Now that I had jeans, I needed new tops to go with them. I had been eyeing this Breton-striped top from Hatch, but the reviews regarding poor fit (and the high price tag) turned me away. Then I saw this similar shirt from ASOS that had dropped shoulders and a more accommodating shape — and for a fraction of the price. It looks great with a pencil skirt or jeans, and if it weren't for my two-week laundry schedule, I would wear it every day.
I have a lot of rules, and one of my rules is that I'd never be a Lululemon-wearing person. But then I read this Strategist ode about the best maternity leggings at a time when I was feeling particularly vulnerable about my changing body, so I decided to cast my morals aside and try on a pair. They were buttery soft and not too tight, just as the writer promised, and they held me in all the right places. I was (reluctantly) sold. I don't even like leggings unless I'm at the gym. But, alas, never say never.
Jason Chen, deputy editor
I'd been feeding my puppy goat-milk ice-cube treats that were just impossible to get out of the plastic tray. I ended up cracking a tray in half and replaced it with these silicone versions that not only make his probiotic cubes easier to pop out but make my own drinks at home more civilized. I feel like an especially good host when someone comes over and I hand them a Macallan with perfectly cubic cubes.
I wasn't really looking for a water bottle, but I saw this mint one that I bought without even thinking. I (stupidly) thought to myself it looked very Memphis, which would only make sense given that George Sowden is a CO-FOUNDER OF MEMPHIS. Anyway, I actually hate water, but now I drink it all the time.
I had to miss the Lykke Li concert earlier this month and got myself some merch as a consolation prize. (Why does everything look like PIN-UP magazine right now?)
David Notis, writer
I just bought a Capilene Air Crew base layer from Patagonia, and I have been wearing it A LOT. I get cold easily, so I usually wear some sort of thermal base layer in the fall or winter. I have a few that are 100 percent merino wool, which are great, but this one is the softest and stretchiest I've found. Whenever I wear it, I get this snug feeling; it's like a warm and cozy Glad ForceFlex trash bag.
I don't know if it's a placebo or if it actually works. I usually get a cold whenever the temperature first drops, but this year I decided to come prepared, and I've been taking this every day for the past few weeks. So far so good (knock on wood).
Everyone has an opinion about who makes the best wool socks. In my opinion, Darn Tough does. They're warm, come in a bunch of different cushioning options, and they hold up really well. These are the only wool socks I have that still don't show any wear in the heel.
Lori Keong, writer
I call this my "rebellious teen" jacket. I spotted it while combing through the sale section at Urban Outfitters, and with it on, I feel like a young greaser chain-smoking in a parking lot. It's perfectly oversize and boxy, which is ideal for layering over sweaters and tugging up the collar when it's cold. And to the Grub Street colleague who told me, "You look like you're about to kick my ass," when I approached her while wearing it, thank you.
I fully intend to pair it with these Doc Martens I just got as a present (baby's first Docs). It's embarrassing to admit this, but I have been coveting these in a Regina George–esque way ever since seeing Kaia Gerber, a very cool teen, wearing Dr. Martens. These are a little stubbier than the typical military-style combat boots because I was worried about the tall ones being overwhelming on my small frame, and I think they'll be great for stomping around this season.
Karen Iorio Adelson, writer
When I was in Japan earlier this month, one of the hotels I stayed at would leave these on the pillows every night during turndown service. I tried it out and discovered that the mask warms up (via what the brand calls a "steam-generating thermo pad") once it's out of the package, and it immediately lulled me to sleep. They're sold in Japanese drugstores, so I picked up a few to take home, and they were a lifesaver in helping me fall asleep when I was super jet-lagged and adjusting back to New York time. Our beauty writer Rio Viera-Newton is also a fan.
In just a few years, I went from thinking turtlenecks weren't for me to becoming a full-fledged member of team turtle. I don't know why I resisted for so long, since turtlenecks are so cozy that they now make up the majority of my winter wardrobe. But I didn't have a navy one until I found this super soft and stretchy one at Madewell last weekend.
Simone Kitchens, senior editor
I did not buy a lot this month, but I did buy these boots. I have admired them since last winter, but they sold out before I could even try them on. I am still wearing Converse 100 percent of the time, but when I finally retire those for the season, I think these will look good with all of my cropped-ish pants. The salesgirls convincingly told me that the soles are particularly good for slick weather. They seem to be (frustratingly) sold out again.
I go through a lot of conditioner. My hair is very curly, very tangly, very dry. I first tried this conditioner when I was staying at a friend's house upstate this summer. I had seen this natural brand around (you can buy it at Whole Foods), but hadn't tried it before. I haven't had a ton of success with natural hair stuff, so I was shocked at how well it detangled (for not having silicone) and how nice it made my hair feel. My curls dried in a hydrated, elongated way that felt more airy than weighed down. I also hate packing travel versions of conditioner because a little mini will not even get me through one wash. So my newish trick is buying this very reasonably priced, full-size conditioner at Whole Foods in whatever place I'm visiting — I usually end up finishing it by the time I leave. I did it this summer in Colorado, and again a few weekends ago in Oklahoma.
Liza Corsillo, writer/editor
I bought this the first time on a whim at the Innisfree store near Union Square because I was lured into the shop by all their nice plants — I will wander into any store with foliage. Now on my second round and first refill I don't know how I lived without it before. First of all when you buy it in the store you get to pick your own compact from almost a hundred cute colors and patterns. Second, this stuff works like a concealer, foundation, and powder in one. I apply makeup on the subway often and this thing makes the process much quicker.
In an ideal world I would have a dedicated closet for black jeans of every shape and denim weight. But since I don't have the space I tend to stick to pairs that can do double or triple duty, good for work, weekend, and going out. These are my current favorite pair and I am considering buying a second pair in case they sell out. I like that they have a touch of a normcore art-teacher vibe, especially when paired with clogs or Blundstone boots. They sit high on the waist and do that cute wedgie thing in the back without making me feel strangled. And while they are cropped, they're also just long enough to overlap with a pulled-all-the-way-up tube sock.
Like I said, I've started hiking up my socks to fill in the gap between pant cuff and shoes as the weather gets colder. Cute socks make this style hack look a lot more intentional and make putting on socks at all more bearable. I like how the fringe on these Hansel From Basel socks looks like a little caterpillar chilling out on my ankle.
The Strategist is designed to surface the most useful, expert recommendations for things to buy across the vast e-commerce landscape. Some of our latest conquests include the best acne treatments, rolling luggage, pillows for side sleepers, natural anxiety remedies, and bath towels. We update links when possible, but note that deals can expire and all prices are subject to change.
Every editorial product is independently selected. If you buy something through our links, New York may earn an affiliate commission.