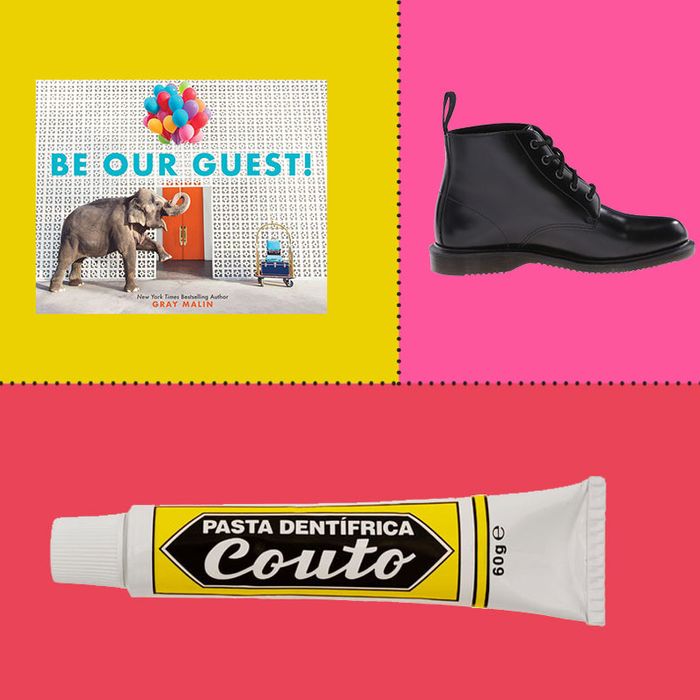 Photo: courtesy of the Retailers
If you follow our biweekly feature Your Shopping Cart, you know that we have some eerily good intel on what things you all are buying. It led us to think that, as Strategist editors, we could turn the tables and highlight all the things we've been buying ourselves. As you'll notice, it's both a blessing and a curse to be a Strategist editor; we're picky, but sometimes we just have to get on with it (it's online-shopping expertise meets IRL needs). Below, what we all bought in October.
Maxine Builder, writer
Ever since I saw Greta Gerwig's pink, leather fanny pack in an Ask the Strategist post back in February, I've wanted one of my own. But I've also been hesitant to spend over $100 on a fanny pack because, well, it's a fanny pack, and I'm worried this whole trend could turn on me at any moment. So while scrolling through COS's website the other day, I was thrilled to find this white, leather bum pack. The pouch itself is small, so it doesn't hold much more than a billfold, my keys, and my phone, but that also means it's got a sleeker, slimmer profile and doesn't look or feel bulky. I have received lots of compliments on it, and though I love it, I am mad I didn't buy one sooner.
I truly thought I was ahead of the curve when I bought a reusable KeepCup for my morning cappuccinos, but the same day I bought one at my local coffee shop, it appeared on Liza's roundup of the best travel coffee mugs, according to coffee snobs. I guess this means I'm officially a coffee snob (as if that's news to anyone), but at least I'm a snob who's trying to reduce the number of paper cups she uses. And after using it for a few days, I now also believe that cappuccinos taste better from a glass cup than a paper one, and I will not apologize for that preference.
My cousin is having a baby, and I am very excited for her. She and her husband actually went on a babymoon to Palm Springs, so for their baby shower this month, I gave them a copy of Gray Malin's Be Our Guest. It's about a cute monkey named Maurice who's the concierge at the Parker Palm Springs, and he takes you on a tour of the hotel, showing you all the other animals that are staying there. It's beautifully shot, in that totally whimsical, idyllic style that's Malin's signature, with a sweet story that I think both parents and baby will enjoy.
Margaret Rhodes, senior editor
I just got back from a trip to Portugal, the country that makes this pretty excellent toothpaste. You can buy it from boutiques in New York for around $11 a tube (or, obviously, here on Amazon), but I actually stumbled upon the Couto store in Porto and picked up several tubes for around three euros each. It's minty, a little gummier than regular Crest, but not as sweet. But no lies, I buy it for the packaging.
Ages ago, I bought the medium-size Away suitcase in the dark wine-red color because I also have a burgundy suede duffel bag and I wanted matching luggage. Since then I've (1) seen the Away in this midnight green color and decided it's much more handsome than my red one because it's actually more like a warm black with a mossy sheen, and (2) vowed to become a more efficient packer, what with extra fees for checking bags and the inconvenience I force on my main travel companion, an efficient packer. So I sold my other Away, the one you have to check, on Nextdoor (hot tip: Nextdoor is so much better and less sketchy than Craigslist) and bought the Bigger Carry-On. And now I never want to check a bag again. This fits an extraordinary amount: Four pairs of shoes, outfits for nine days that were somewhere across 50 to 80 degrees, and all of my many boxes of toothpaste on the way back.
I assume under eyes are like thighs, in that almost no one likes their own, and I'm no exception. I recently caught myself on camera and was not happy about how fatigued I looked under bright studio lighting. So I complained about it to my mom, who immediately said, "You just need the Laura Mercier magic powder." It's actually called Secret Brightening Powder, and my mom bought it ages ago on a tip from an exceptionally wonderful makeup artist. The powder in question is fine and airy to the touch. I still use a concealer for the dark circles underneath my eyes, but now I've added this into rotation as well. You need little more than a quick dust of it around your eyes to quickly look more awake, and my mom says it lasts forever. It's like highlighter without actually being glossed and shiny like the Tin Man.
Lauren Ro, writer