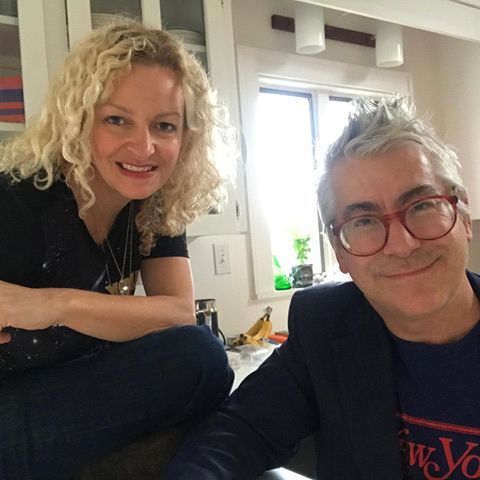 Linda and John Meyers (John's wearing a
New York
T-shirt that he bought, not in October but in July).
Photo: Linda and John Meyers
Every month, the Strategist editors do their version of a haul blog, jibber-jabbering about their favorite purchases of the last four weeks. To get that same personality and taste insight (via receipts), we're inviting interesting friends of the Strategist to run down their own buys. For this installment of the Guest Strat Haul, John and Linda Meyers, owners of the Portland soap company Wary Meyers (a Strategist favorite), tell us what they bought in October.
What Linda bought in October
Full disclosure: I found these boots unused at our local consignment shop, but love them so much that I would buy a new pair when — if? — these wear out. Lined in sheepskin, they're incredibly comfortable and equally perfect as a slipper or out to the store or, for that matter, out in the wilds of Westeros. They're also handmade in Maine (always look for those words).
My son was desperate to have us play Fortnite with him, and I tolerated the commando-aesthetic characters for a while, but when this "Rapscallion" skin was offered, gameplay became much more fun and sophisticated. I picture her as a Breton-striped cat burglar in 1950s Monaco, canoodling with John Robie and lifting paintings out of La Colombe d'Or. For a little extra V-bucks, I bought the Starry Flight glider, a take on Van Gogh's Starry Night, which she uses to float down from the Battle Bus. Incidentally, my interest in Fortnite was largely piqued by this article. I even tracked down one of those visors on eBay. This skin's unavailable right now, but it might come back later.
October happened to be my birthday month, so these purchases were a little more special than the average month's. Over the summer, I bought a Loquet London locket from the Real Real. It came with a few charms, but I wanted something to add to it, so I got this Loquet x Dimes Restaurant collab fried egg. I've always had a thing for miniature food (and precious gems), so this hit the mark. I should also confess that I splurged on the glow-in-the-dark mushroom charm and the large topaz locket ring.
We were walking in Soho over the summer and ran into three girls on the sidewalk giving out samples of the cutest, most delicious little cupcakes. One friend we were with said, "Oh, yes, Baked by Melissa. They're the best." So when it came time for a birthday cake last week, I opted for the 50-pack. They're fun and pretty and ridiculously good. Our son had a couple of friends over when the box arrived, and I feel bad, but I waited for those kids to leave before I admitted to my son that the cupcakes were here.
What John bought in October