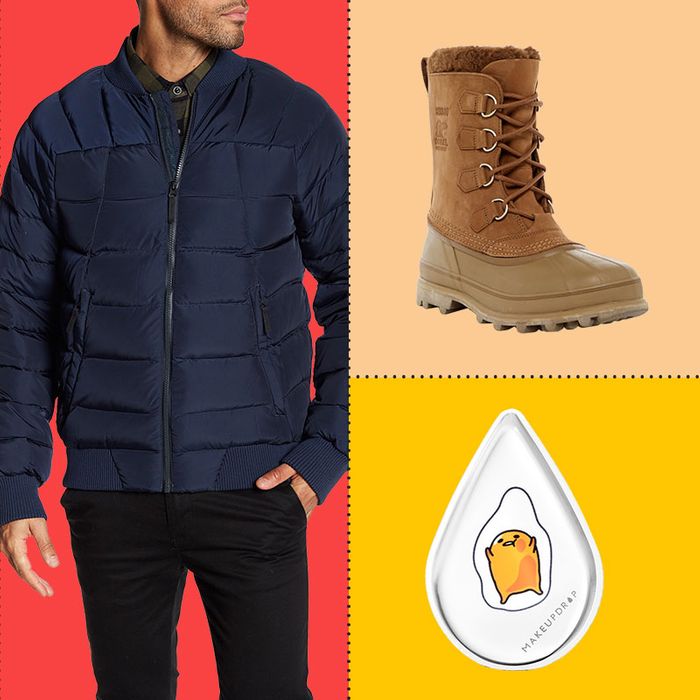 Photo: Courtesy of the retailers
If the cold's started bothering you (with the exception of the unseasonably warm temperatures this week), there are plenty of deals to be had on winterwear this week, like puffers from North Face and boots by Sorel. There are some solid home and kitchen deals, too, from KitchenAid mixers to foot massagers — all of which would make very good holiday gifts. Plus, Tom Ford sunglasses, Smythson cardholders, Marc Jacobs phone cases, and the hottest toys of 2018.
This foot massager we own and use (and which would make an excellent gift for mom or dad) isn't technically on sale, but it does come with a $40 off coupon that makes us wish we'd bought it now and not earlier this year — just don't forget to click the green button.
Our friends at the Cut called the MakeupDrop silicone brush the best makeup brush you can find, saying it's "excellent, more hygienic, and easier to clean than any other similar device on the market." Now just add a Hello Kitty and slash the price in half. [Editor's note: An earlier version of this showed a Gudetama brush, which has since sold out.]
A very understated fold-over-style navy wallet we were surprised to see for this cheap.
If you're looking for a great watch for under $200, this extremely simple one (we really dig that blue second hand) could be just right.
Or maybe you're looking for something a bit more monochromatic.
The velvet sheen and texture on this jacket make it a nice contrasting element to pair with workaday jeans.
A ribbed beanie with a cool marled quality that doesn't cross over into too slouchy, The Hills territory.
A warm-weather tank (a.k.a. a right-now tank) that costs about as much as a morning latte.
For when it does start coming down: extremely durable snow boots from hardworking brand Sorel.
If your MacBook Air has started feeling sluggish, but you're not interested in buying a brand-new computer when who knows what the new lineup of MacBooks could bring, consider the much cheaper certified-refurbished version.
An on-trend puffer that will still look good 20 years from now. The color is especially handsome — it's a bluer blue than dark navy.
Have you gotten your Chelsea boots for fall yet? We like how these only reach the middle of the ankle rather than cover the whole thing.
A snappy two-tone case for your phone that doubles as a cardholder wallet.
We love these glasses, and though they don't quite suit our coloring (we're more of a black-blue story), they're perfect for someone with a sunnier, Cybill Shepherd vibe.
A wool scarf with a classically Missoni-looking chevron print that doesn't go so wildly colorful the way Missoni prints can.
Very French-girl-who-just-moved-to-Soho boots that look more expensive than they are.
All the cookies and cakes and pies you'd want to make for the holidays would be so much easier with a professional-grade stand mixer that's cheaper than you'll find anywhere (for today only).
Another stellar gift for mom or just for yourself, this eye mask and scarf travel set is cashmere.
A bright little color pop in the form of a junk-mail collector.
The stripped-down good looks of a Mackintosh without the Scottish brand's hefty price tag.
The biggest craze in kids' toys right now is blind bags and surprises (you buy a gift not knowing what's exactly inside). This box comes with even more surprises (experts say it's a big one this year), and now it's on sale.
We happen to think the combination of colors here is just outstanding. (Why don't we do black and gray more often?)