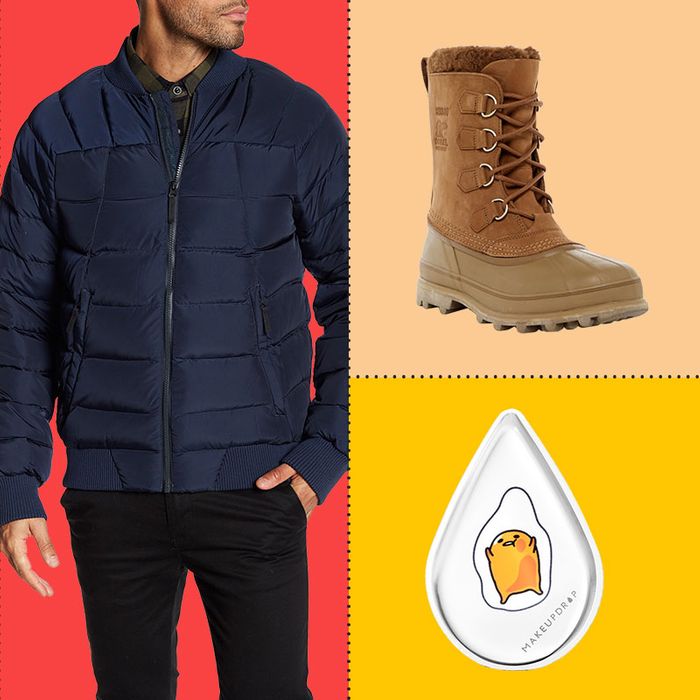 Photo: Courtesy of the retailers
If the cold's started bothering you (with the exception of the unseasonably warm temperatures this week), there are plenty of deals to be had on winterwear this week, like puffers from North Face and boots by Sorel. There are some solid home and kitchen deals, too, from KitchenAid mixers to foot massagers — all of which would make very good holiday gifts. Plus, Tom Ford sunglasses, Smythson cardholders, Marc Jacobs phone cases, and the hottest toys of 2018.
This foot massager we own and use (and which would make an excellent gift for mom or dad) isn't technically on sale, but it does come with a $40 off coupon that makes us wish we'd bought it now and not earlier this year — just don't forget to click the green button.
Our friends at the Cut called the MakeupDrop silicone brush the best makeup brush you can find, saying it's "excellent, more hygienic, and easier to clean than any other similar device on the market." Now just add a Hello Kitty and slash the price in half. [Editor's note: An earlier version of this showed a Gudetama brush, which has since sold out.]
A very understated fold-over-style navy wallet we were surprised to see for this cheap.
If you're looking for a great watch for under $200, this extremely simple one (we really dig that blue second hand) could be just right.
Or maybe you're looking for something a bit more monochromatic.
The velvet sheen and texture on this jacket make it a nice contrasting element to pair with workaday jeans.
A ribbed beanie with a cool marled quality that doesn't cross over into too slouchy, The Hills territory.