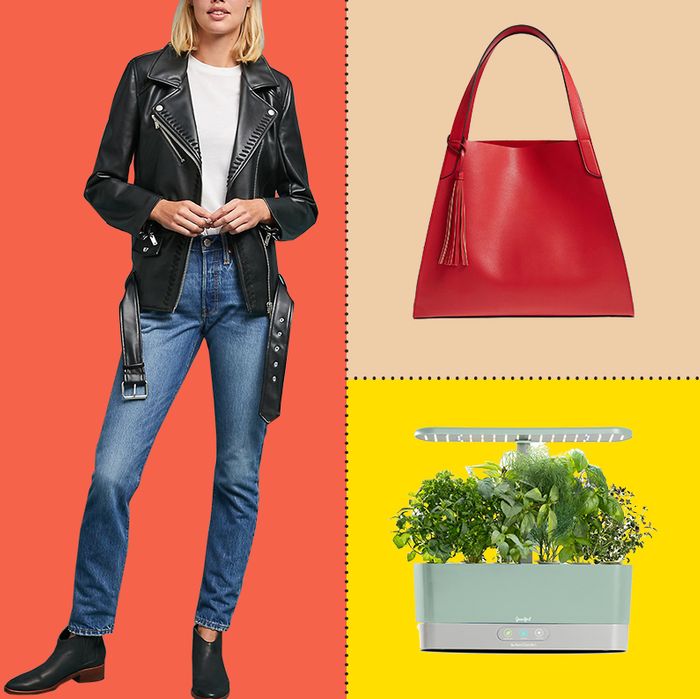 Photo: Courtesy of the retailers
Veterans Day is this Sunday, November 11, and while the holiday isn't usually a sales bonanza, there are some retailers that are putting things on sale (Macy's in particular, with code VETS that gets you discounts on a wide range of stuff). This week, we found some great deals on everything from Clarks boots and Diane von Fürstenberg heels to J.Crew smoking slippers and Patagonia puffers. Plus: Comme des Garçons, Mario Badescu, Tory Burch, and Madewell.
They're practically giving this dress away — we especially like the flouncy sleeves and uneven hem.
Clarks is known for having invented the suede, crepe-soled desert boots (a subset of chukkas), but these leather and rubber boots are even better for winter.
Some totally timeless and elegant black heels (they come in a nice "cappuccino" shade, too).
Have you been eyeing a countertop garden for growing your own basil and rosemary? This stylish one is now cheaper than we've ever seen, but if you want something for $90, this chef-recommended one is also on sale.
This $27 faux leather tote looks much more expensive than it is. We love the color.
A good keep-it-in-the-backseat layer for those days when you haven't prepared for the cold.
There's a nice simplicity to this handbag; we like how the calfskin strap tucks into the metal hardware.
We didn't think it was possible to get a brand-name microwave for less than the price of two movie tickets.
A long-sleeved (if not long-hemmed) DVF dress that's just crying out for a pair of tights.
We absolutely love the low profile on this sectional sofa and can happily imagine plopping down on it right now. It's now available at such a big discount, we almost wish we had an extra living room.
A slightly oversized raincoat with a cinch at the waist.
Perfect for men and women, outdoorsy and not.
We like the delicate smell and the even burn-quality on Nest candles by Laura Slatkin. They're not quite status candles, but they're lovely.
As comfortable as a sneaker, but so much more elegant, smoking slippers are like ballet flats with just a little bit more polish.
A cotton shirt that toes the line between the dressy and the casual. It's totally work-appropriate, but could work for a kids' party, too.
Before it gets blisteringly cold, invest in a puffy Patagonia down jacket (and some down detergent, while you're at it). You can get this one for 20 percent off.
And there's also a ladies' version that's a bit more streamlined.
All the subtle status of the classic CdG zip wallet, with the additional punk attitude of ten studs.
We can see ourselves wearing this with our hair tucked into the turtleneck like Phoebe Philo.
We can imagine just how cozy this scarf would be all wrapped up and poking out from the collars of our peacoats.
As much as we love the look of bright and zippy outerwear. we see ourselves reaching for something like this on most days — there's no color story to think about.
A burnt sienna coat that would look great with all the navy we already have.
A vegan leather coat with the most classic biker silhouette (the belt at the waist is removable).