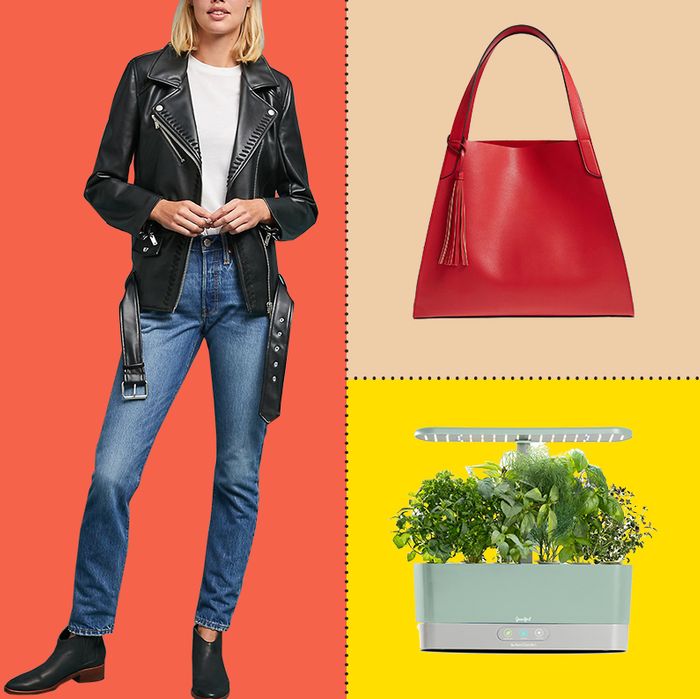 Photo: Courtesy of the retailers
Veterans Day is this Sunday, November 11, and while the holiday isn't usually a sales bonanza, there are some retailers that are putting things on sale (Macy's in particular, with code VETS that gets you discounts on a wide range of stuff). This week, we found some great deals on everything from Clarks boots and Diane von Fürstenberg heels to J.Crew smoking slippers and Patagonia puffers. Plus: Comme des Garçons, Mario Badescu, Tory Burch, and Madewell.
They're practically giving this dress away — we especially like the flouncy sleeves and uneven hem.
Clarks is known for having invented the suede, crepe-soled desert boots (a subset of chukkas), but these leather and rubber boots are even better for winter.
Some totally timeless and elegant black heels (they come in a nice "cappuccino" shade, too).
Have you been eyeing a countertop garden for growing your own basil and rosemary? This stylish one is now cheaper than we've ever seen, but if you want something for $90, this chef-recommended one is also on sale.
This $27 faux leather tote looks much more expensive than it is. We love the color.
A good keep-it-in-the-backseat layer for those days when you haven't prepared for the cold.
There's a nice simplicity to this handbag; we like how the calfskin strap tucks into the metal hardware.
We didn't think it was possible to get a brand-name microwave for less than the price of two movie tickets.
A long-sleeved (if not long-hemmed) DVF dress that's just crying out for a pair of tights.
We absolutely love the low profile on this sectional sofa and can happily imagine plopping down on it right now. It's now available at such a big discount, we almost wish we had an extra living room.
A slightly oversized raincoat with a cinch at the waist.