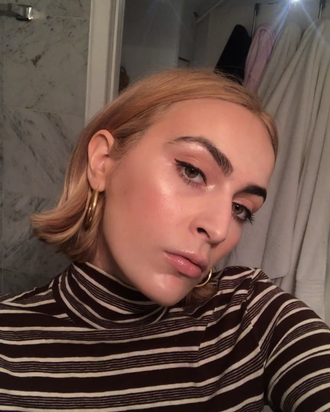 The author, wearing every product she bought from the Sephora sale.
Photo: Rio Viera-Newton
The beauty insider sale at Sephora is itself a holiday — that time of year when you get 15 percent off the products you'd ordinarily only splurge on after payday (those who are part of Sephora's VIB program enjoy 20 percent off, which is a good reason to join). But there's one slight issue: going to Sephora during the sale, especially in New York City, is extremely hectic — last time I witnessed two people physically fight over the last Fenty Trophy Wife. So recently, I've been really into shopping the Beauty Insider sale online. Plus, Sephora's return policies are flexible in comparison to most online retailers (the product can be used, you just need the receipt) — so if something doesn't work out, I don't mind returning it to the store when the chaos has passed. Because despite the fact that the 20 percent discount allows me to impulse buy just about anything, I typically still have one or two product regrets that I end up returning a few days later.
This year, however, it was different — everything I bought from the VIB sale I absolutely adore. So much so, that they're the only products I wore on my face all weekend long. If you need a little guidance on what to buy, look no further. There's only one day left of the Sephora sale, so pop over to Sephora and use the code BIBONUS at checkout for your 15 percent off (or ENJOY if you're a VIB for 20 percent off).
This is a product I have been wanting since I first laid eyes on it. But as a highlighter obsessive, I kept talking myself out of it, telling myself I already had too many. I am truly kicking myself for not having this product since its launch. This is the brightest, boldest, highlighter I have ever used without getting that overly shimmery appearance — despite how blinding it is, it somehow still comes across as totally natural. If you have fair skin as I do, the pinky-nude color perfectly blends into the skin to provide you with that glowy, pearly beam on the high points of your face. But it gets even better: one end of the stick is a highlighter, and the other is a balm, so if you want that kind of wet highlight look, pat some of the balm end on top of it. Did I mention the packaging is stunning as well? Mother has done it again.
Okay, I know this product totally seems like something I should already own, but I tried a friend of mine's in the shade "Rally" once and it was kind of too light on my skin and I wiped it off in about two seconds. But when I was swatching some of the Milk products, I came across the shade "Quickie," a deep berry color, that when I put it on my hand gave me the loveliest flush to my cheeks that actually looked natural, instead of nonexistent. This has quickly become an everyday staple of mine. Unlike the Charlotte Tilbury Beach Sticks which are more on the creamy side, this product is a touch more slippery and on the hydrating side, which makes blending it into your skin easy. I could use this without a mirror. Per usual, I love using it on my eyelids and lips for the full soft-glam look.
I had been looking for this concealer everywhere after hearing rave reviews about it from one of my favorite makeup artist @Nikki_Makeup (not to be confused with Nikki Tutorials), who is the global brand ambassador for Becca Cosmetics and does tutorials on her Instagram Stories every Sunday. In one tutorial, she used this concealer, and showed how amazing it is for natural, everyday coverage, but with buildable yet dewy qualities that make it ideal for covering zits. I looked for this concealer everywhere but it was nowhere to be found. So you can only imagine how ecstatic I was when I finally found it on the website. Unlike Tarte's Shape Tape which is quite tacky and takes some work to truly master, this product is the perfect balance of watery yet full coverage. It blends quickly and without pull into the skin, which means concealing zits, dark spots, or undereyes is beyond easy with this concealer. I mean it when I say I won't be using another concealer anytime soon — immediate holy grail! I'm fair with yellow undertones, and I love this in the shade Fair.