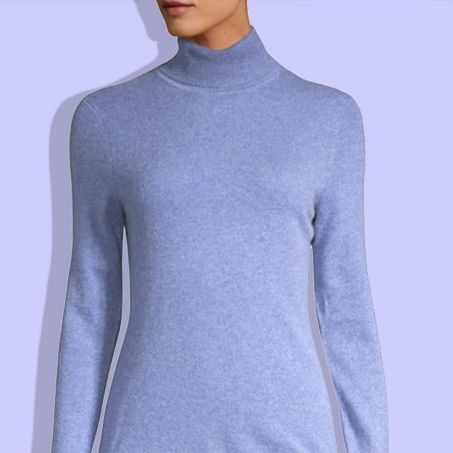 Photo: Courtesy of Lord & Taylor
Where can you find the nicest scarf? What's the best wallet to gift? Every year, around this time — like holiday classics on the radio — certain gifts become popular all over again. To determine the very best versions of those things, we're talking to experts, adding our own opinions, and even testing products ourselves to find the greatest gift (plus several runners-up).
There are lots of cozy materials out there, but cashmere might just be the ultimate. "I would say that cashmere is the fiber of the gods, but that might be a bit much," says Fabio Garzena, president of the Cashmere and Camel Hair Manufacturers Institute (CCMI), an international industry organization that represents producers and manufacturers of camel hair, cashmere, and other superfine fibers. "Cashmere is extremely soft, warm, comfortable, and breathable, and it's a luxury fiber that is available to most people," says Garzena.
These qualities make it more expensive than regular wool, but there are plenty of options that are reasonably priced (made even sweeter with holiday sales rolling out all season). For the past two years, our go-to pick has been a classic crewneck sweater from Neiman Marcus recommended by the Cut's fashion director Rebecca Ramsey, but to determine whether it's truly the best (affordable) choice, we sniffed out a few others and called them in to see which one was indeed the softest and most luxurious. While Garzena explained that it's difficult to evaluate the quality of a cashmere sweater simply by sight or touch — Garzena would want to know about the raw material and how it's processed — we're confident our in-person evaluation (by a Strategist panel of five people) of these sweaters succeeded in sussing out the best cashmere sweater for most people. Don't miss all of the Strategist's holiday gift coverage right here, too.
The best cashmere sweater
Strategist writer Lori Keong recently tipped us off to Lord & Taylor's house-brand cashmere sweaters as her favorite, and we agree, hands down. "Receiving one of their petite cashmere turtlenecks — just right on the hips, buttery soft, and pill-resistant — felt like being touched by an angel. I wanted to live in this thing," she wrote. "It's so soft that I've deemed it the cheapest, nicest cashmere out there — thicker, fuzzier, and downier, when compared to its peers in affordable cashmere." She's right. Compared to all the samples we called in — a total of eight — it was by far the softest and most cashmere-y. "Incredibly luxurious," as one of our testers put it. And you can't beat its price. Originally $160, it's currently on sale for $60.
Here's a cashmere sweater from Lord & Taylor's private label for men, Black Brown 1826.
The runners-up
If we're talking about affordable casual wear, it'd be impossible to ignore Amazon's private-label Lark & Ro, which Strategist writer Lauren Levy (née Schwartzberg) had tried and vouched for. When our panel of testers picked up this next sweater, each person cooed over how soft it felt. One of our editors even called it "buttery soft," likening it to the kind of sweater your wealthy grandmother would own. Though it's on the thinner side, the turtleneck has a good drape and would be great for winter layering. We would even call it a little bit dressy, and it only costs $50.
J.Crew's cashmere sweater came up as another favorite among the Strategist team, so we threw it into the mix, and it was a favorite among testers. Super soft to the touch, it's light and "spongy" in a way that makes you want to wear it all day long. Although it's fitted, it has slightly vented sides and a delicate weave, making it great to wear by day and night — and it comes in just about any color you would ever want.
Compared to its similarly priced department-store competitor, Neiman Marcus's cashmere isn't as soft to the touch, but it's thicker and a little plusher than Lord and Taylor's. According to Ramsey, while the cashmere crewneck is "not the sexiest or most thrilling gift by any means," it's easy and relaxed, and it just works: "It's not too tight nor too big. There is nothing tricky in the stitching or trimming. It's like wearing a favorite T-shirt — but one you have to dry-clean. And it pretty much works with any winter outfit of mine." For those looking for a workhorse of a garment that also happens to be made of luxe fiber, Neiman Marcus's private-label cashmere sweater is a solid, durable choice. And it's currently 50 percent off.