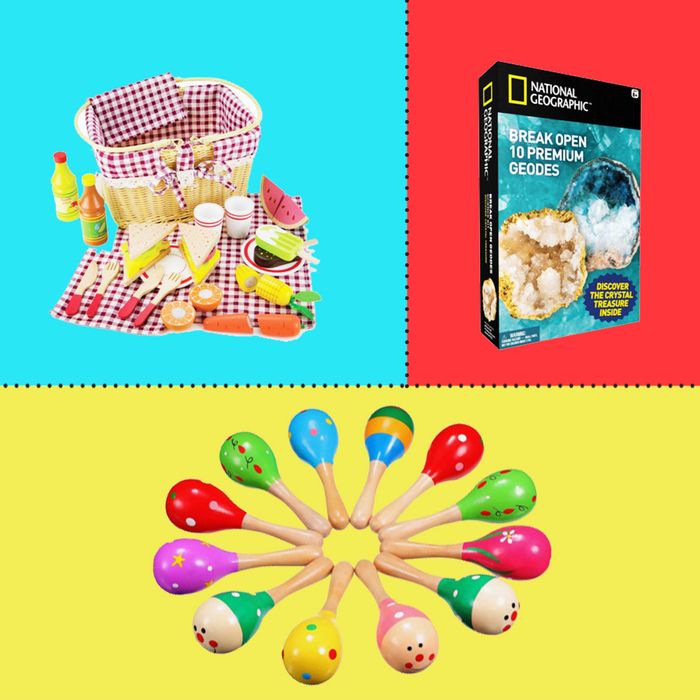 Photo: Courtesy of the retailers
If you're still scratching your head over what to get your nieces, nephews, friends' kids, or even your own child, let us help you. Culled from our expert-approved gift guides for ages 1 through 12 — as well as teenage boys and girls — here are 23 last-minute gifts and stockings stuffers for every age that will arrive just in time for Christmas.
For 1-year-olds
This dancing, light-up musical robot is great for a 1-year-old who's beginning to discover music. According to Dr. Sarah Roseberry Lytle, director of outreach and education at the Institute for Learning and Brain Sciences: "Young kids love to make music and noises and explore things, like, Can I make it softer? Can I make it louder?" Lytle says. "What happens when I hit it harder? Does that make it louder? That's a really interesting learning process."
Or try these magnetic blocks, which are made in Honduras by a company with the goal of creating living-wage jobs for Tegucigalpa residents.
For 2-year-olds
"Instruments are great because kids can do anything with them and collaborate with others," says Dr. Roberta Golinkoff, a professor of psychology at the University of Delaware. "With maracas you can get up and walk around with them and play with mom and with friends."
"Kids love to paint," according to Dr. Golinkoff, and this stand-up easel makes it just a little more fun and interesting.
For 3-year-olds
You can't go wrong with this classic book by Eric Carle.
For 4-year-olds
According to George Sachs, a clinical child psychologist and founder of the Sachs Center in Manhattan, 4-year-olds are doing a lot of pretend play. "This picnic play set is wonderful, as is any kind of activity where they can pretend using different props," he says.