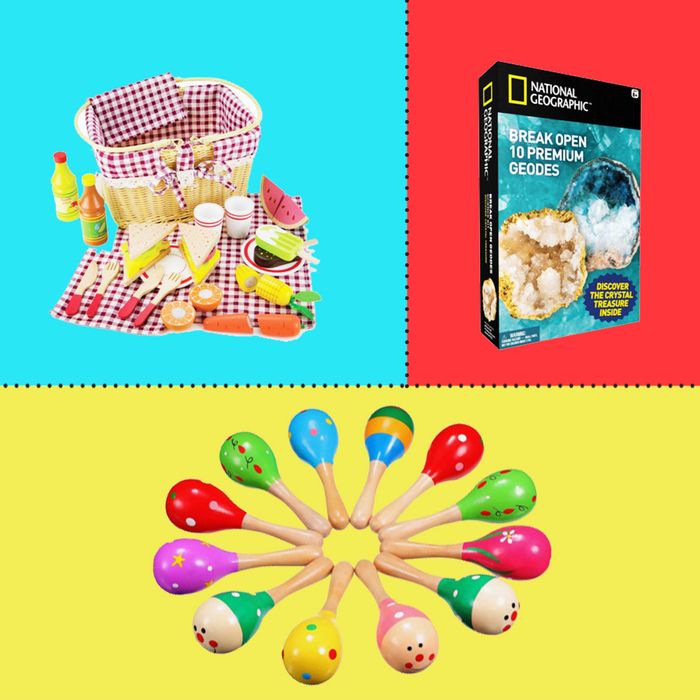 Photo: Courtesy of the retailers
If you're still scratching your head over what to get your nieces, nephews, friends' kids, or even your own child, let us help you. Culled from our expert-approved gift guides for ages 1 through 12 — as well as teenage boys and girls — here are 23 last-minute gifts and stockings stuffers for every age that will arrive just in time for Christmas.
For 1-year-olds
This dancing, light-up musical robot is great for a 1-year-old who's beginning to discover music. According to Dr. Sarah Roseberry Lytle, director of outreach and education at the Institute for Learning and Brain Sciences: "Young kids love to make music and noises and explore things, like, Can I make it softer? Can I make it louder?" Lytle says. "What happens when I hit it harder? Does that make it louder? That's a really interesting learning process."
Or try these magnetic blocks, which are made in Honduras by a company with the goal of creating living-wage jobs for Tegucigalpa residents.
For 2-year-olds
"Instruments are great because kids can do anything with them and collaborate with others," says Dr. Roberta Golinkoff, a professor of psychology at the University of Delaware. "With maracas you can get up and walk around with them and play with mom and with friends."
"Kids love to paint," according to Dr. Golinkoff, and this stand-up easel makes it just a little more fun and interesting.
For 3-year-olds
You can't go wrong with this classic book by Eric Carle.
For 4-year-olds
According to George Sachs, a clinical child psychologist and founder of the Sachs Center in Manhattan, 4-year-olds are doing a lot of pretend play. "This picnic play set is wonderful, as is any kind of activity where they can pretend using different props," he says.
"This is the story of Rosie Revere, who dreamed of becoming a great engineer," begins this book about a brilliant young inventor. For the 4-year-old who wants to follow suit.
For 5-year-olds
Dr. Sachs also approves of this fort-building set for 5-year-olds. Not only is it instructive, it's also really cool.
Kids go wild over the Stomp Rocket, according to Dr. Sachs. Not only is it fun and interactive, it's also educational.
For 6-year-olds
Play therapist Joseph Sacks recommends a grabber, which can occupy a 6-year-old for hours. "It's not really a toy, but kids love it," he says.
Lexie is a cowgirl with a talent for wrangling words. Read this book with your 6-year-old and find out who's making a mess of things at the ranch.
For 7-year-olds
"I want children to love reading," says Dr. Golinkoff. "I don't want it to feel like a chore. And I don't care about what kinds of books they read." Her grandson Elio approves of the Calvin and Hobbes series. Although it might be a little advanced for a 7-year-old, its illustrations would be more than engaging.
Mobi is like Bananagrams, but with simple math equations — a fun way to get your kids into math.
For 8-year-olds
This award-winning toy is a great opportunity to introduce your 8-year-old to the world of electronics.
At 8, literacy skills are increasing, according to child therapist Glenda Stoller, LCSW, co-founder of Village Parenting NYC. This set by childhood favorite Dahl includes Matilda and The BFG.