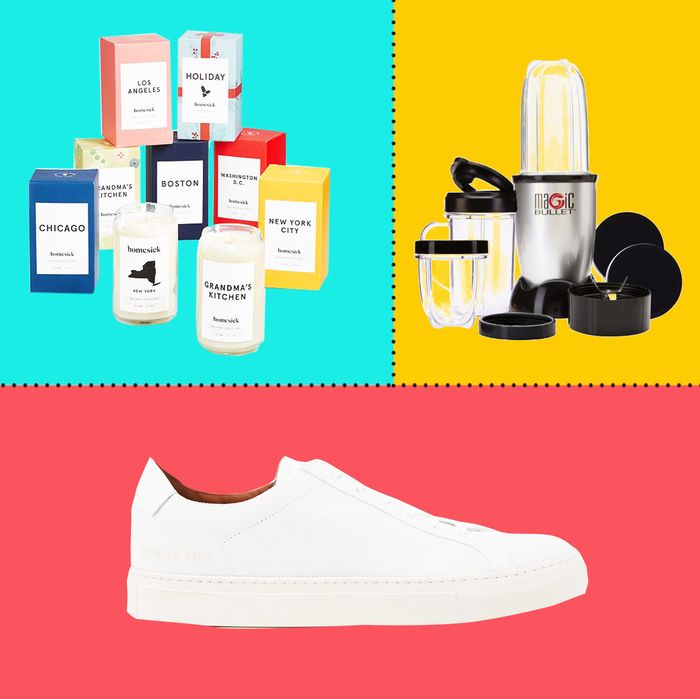 Photo: Courtesy of the retailers
It's the last big sales event before Christmas, and by this point you're either scrambling to get something at the very last minute (we've got you covered) or else you're very ready for your giftees to open up your excellent gifts. Before you take off for the holiday, check out some of the very good deals to be had, including on Common Projects sneakers, Cosabella shirts, Madewell totes, and lots of stylish J.Crew. We went through the sales bins to find all the actually good things you'd actually want to buy.
An extremely tasteful pair of gold hoop earrings that are just the right size.
The 484s are J.Crew's skinniest cut of men's jeans, but they're not so thigh-hugging that circulation will get cut off. This stretchy version has more give, too.
It's funny how the simplest little thing — like the broad stripe on this black work bag — can make something very subdued into something interesting-looking.
A spare topcoat with a menswear vibe — we especially like how the sleeves are trim and short enough to let shirt cuffs peek through.
Get a jumpstart on New Year's resolutions now, with a Magic Bullet smoothie blender that's insanely cheap right now.
Need a New Year's party manicure? Try this Deborah Lippmann shade in a sheer mauve with a subtle shimmer.