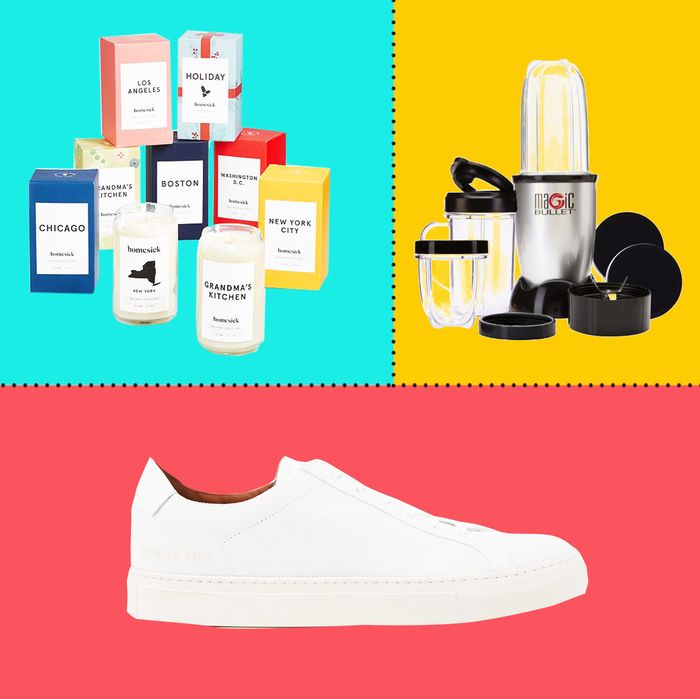 Photo: Courtesy of the retailers
It's the last big sales event before Christmas, and by this point you're either scrambling to get something at the very last minute (we've got you covered) or else you're very ready for your giftees to open up your excellent gifts. Before you take off for the holiday, check out some of the very good deals to be had, including on Common Projects sneakers, Cosabella shirts, Madewell totes, and lots of stylish J.Crew. We went through the sales bins to find all the actually good things you'd actually want to buy.
An extremely tasteful pair of gold hoop earrings that are just the right size.
The 484s are J.Crew's skinniest cut of men's jeans, but they're not so thigh-hugging that circulation will get cut off. This stretchy version has more give, too.
It's funny how the simplest little thing — like the broad stripe on this black work bag — can make something very subdued into something interesting-looking.
A spare topcoat with a menswear vibe — we especially like how the sleeves are trim and short enough to let shirt cuffs peek through.
Get a jumpstart on New Year's resolutions now, with a Magic Bullet smoothie blender that's insanely cheap right now.
Need a New Year's party manicure? Try this Deborah Lippmann shade in a sheer mauve with a subtle shimmer.
Just a plain old denim shirt that has surprisingly infinite uses (tucked in and buttoned up at work, worn loosey-goosey on Sundays, even a nice layering piece through the fall).
It's a Cosabella nighttime tank top that's (no joke) $13.
There's something very sophisticated about the stripped-down silhouette and pale pink shade on these suede sneakers.
A shawl-collared merino wool cardigan that makes us want to pledge a frat, read some Nietzsche, and say things like, "Oh, no, you gotta live off campus."
A weather-resistant Ugg boot that doesn't scream "Ugg boot."
There's nothing fisherman-y about this sweater, but for some reason it reminds us of the kind of thing a sea captain would want to wear.
These funny candles — they're meant to evoke the idea of a particular city or scent memory like "Grandma's Kitchen" — make killer gifts.
This coat is one of those things that you look at and say, "Topshop??" The black contrast once you flip up the collar is the neatest part. (It comes in lots of other colors, too.)
A Hunter rain boot that's both sleek and waterproof — the little bit of quilting along the heel is a nice touch.
Somewhere between a turtleneck and a mock neck is this slouchy number.
Have you heard? Logos are back.
In case you're looking for something to wear to a New Year's party that won't look silly once you pull it back out again in May.
A very comfortable pair of work boots with a memory foam sole.