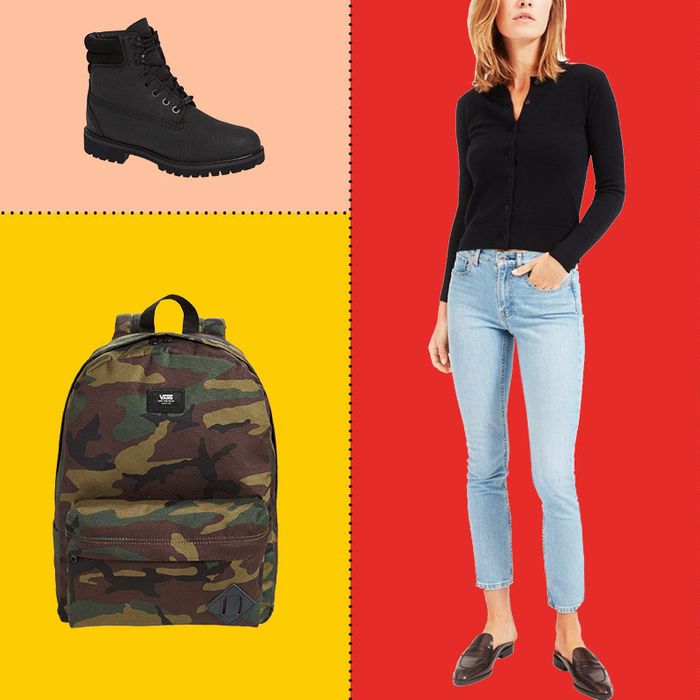 Photo: Courtesy of the retailers
There are just a few shopping days left before Christmas, which leaves you with just a bit more time to buy gifts without resorting to two-day shipping — and right now, a good number of things are on sale that would happen to make great gifts. You can find Ninja blenders at Walmart, wool beanies at Moda, plus very cheap Pyrex at Macy's. All that, plus Everlane jeans, bath salts, fuzzy jackets, and DVF dresses.
A perfect-for-layering, drapey hunter green coat that's much less expensive than it looks.
A nice gift for a dad who would never think to get himself a pullover this polished.
This is a very good deal on Pyrex's highly versatile glass storage. Note that it's six pieces because they count the lids, ha.
Timberland boots don't always have to come in that tan shade — this collaboration with Canadian line wings+horns puts a sleek, Batman-ish twist on the brand.
A very warm no-brainer of a puffer from the North Face, which apparently Kim Kardashian just discovered??
This sweater is saying, "Top off your cocoa and sit by the fire with me."
This highly effective Ninja blender model is being phased out, which makes it a great time to snatch one up on the cheap.
For someone who's been extra good this year, Amazon has put a bunch of watches from Japanese brand Citizen on sale at a hefty discount.
A Chelsea boot for men that has a bit of the scuff and wear on the leather already kicked off for you.
Do not sleep on Cole Haan clothes! This handsome jacket would be just the ticket on a sleety Monday morning.
A very cool-looking set of coasters that's so much more interesting than your typical agate design objects.
A nice little commuter backpack for the hypebeast in your life.
This elegant polka dot shirt would look good under a cardigan, worn with a sweater, or just on its own.
The coziest of pullovers for weekends in the country — or Thursdays on the couch.
We thought someone had made a mistake when we saw the price on this stretchy striped tank top, which features silver thread for its antibacterial (and stench-fighting) qualities.
There was a time when you couldn't walk ten feet without seeing a guy in chambray — we miss those days.
A very James Dean silhouette.
Photo: 18-08-20 jessieli AM2 B6 audrekrull W
There's something very "cool rich lady" about the maroon on this faux-fur coat.
Much cooler-looking than the TOMS of our imagination.
The ribbing and pompom on this beanie are so appealing — it would make a perfectly excellent girlfriend gift.
Sometimes you don't want a chunky scarf so much as you want one that twists and gathers perfectly around your neck.