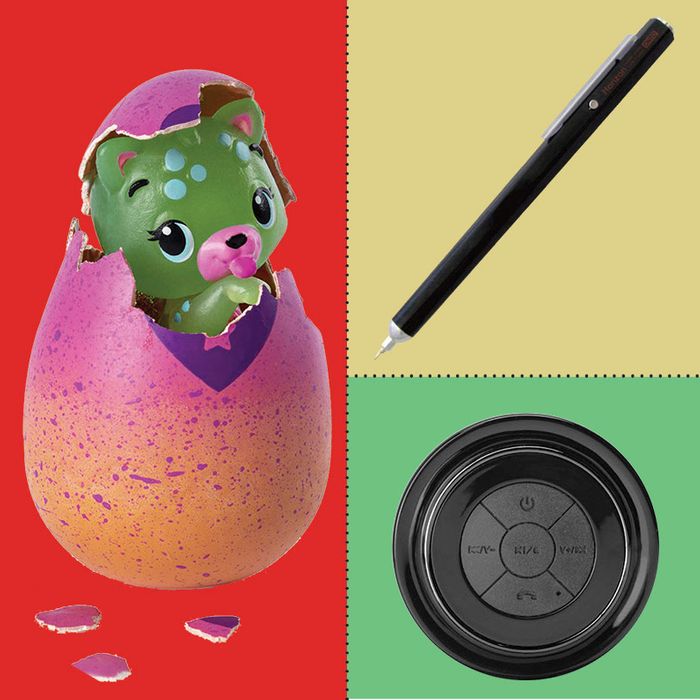 Photo: Courtesy of the retailers
Welcome back to Your Shopping Cart, wherein we break out the top ten products that you, devoted Strategist readers, all bought in droves. Think of this as the tl;dr of the Strategist: If your like-minded brethren are buying these items, maybe you'd like to, too.
When we asked trend forecasters to predict the top toys of 2018, Hatchimals topped the list, and it looks like they were right on the money: The baby animal toys are our No. 1 best seller for two lists in a row. Other holiday gifts for kids of all ages are also selling well, like this "sneaky, snacky squirrel" game that's in third place this week. We knew our ranking of the top 100 pens would spark some controversy as everyone has a favorite, but enough of you picked up our No. 3 choice, a fine line marker pen, and our No. 2 choice, a Japanese-made ballpoint, to launch them onto the list in second and fourth place, respectively. As for newcomers, a very reasonably priced cashmere sweater appears at No. 9, and a Bluetooth speaker beloved by teens shows up in seventh place. Two old favorites are back after taking some time off the list: Our perennially best-selling beard trimmer in fifth place and one of Strategist beauty writer Rio Viera-Newton's holy grail serums closing out the list at No. 10. Also returning are the drill brush attachment that Strategist writer Maxine Builder uses to deep clean her bathroom (No. 6) and this plush bathrobe holding steady in eighth place.
1. The 21 Holiday Toys to Buy Now Before They Sell Out, According to Trend Forecasters (Last installment: 1)
Hatchimals, the baby animal toys that reveal their gender when they "hatch," have been selling out for three years in a row, and Adrienne Appell of the Toy Association doesn't see the Hatchi-mania stopping anytime soon. She says, "The huge trend right now are collectible toys and unboxing toys; they're doing extremely well right now and definitely something kids are asking for." This limited-edition set is an Amazon exclusive — and our No. 1 best seller two weeks in a row.
2. The 100 Best Pens, As Tested by Strategist Editors (New entry)
These fine line marker pens came out third overall in our ranking of 100 pens — and were the highest-rated felt pens. Our tester, Strategist writer-editor Liza Corsillo says, "Of all the pens I tried, it feels the closest to an extension of my natural hand gestures and it makes my handwriting look easygoing and legible." Plus, she didn't notice any smudging or bleed-through.
3. The Best Gifts for a 3-Year-Old, According to a Child Therapist (Off last list)
In our ongoing project to find the best gifts for kids of all ages, we discovered this best-selling board game that came highly recommended by a child therapist for 3-year-olds. Dr. George Sachs, a clinical child psychologist, told us board games are good gifts because they "teach the skills of sharing, turn-taking, and handling frustration when losing." Off our last list, the game is back, likely thanks to holiday shopping.