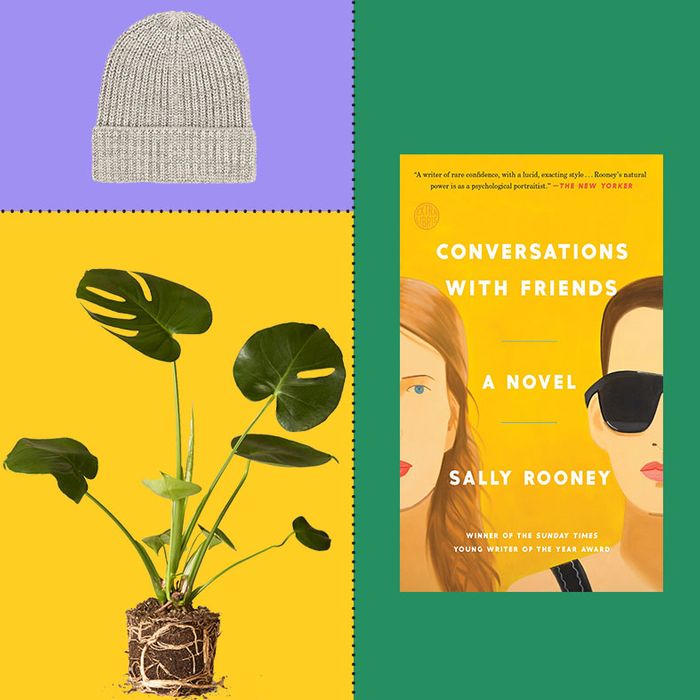 Photo: Courtesy of the retailers
If you follow our biweekly feature Your Shopping Cart, you know that we have some eerily good intel on what you all are buying. Which led us to think that, as Strategist editors, we could turn the tables and highlight all the things we've been buying ourselves. As you'll notice, it's both a blessing and a curse to be a Strategist editor; we're picky, but sometimes we just have to get on with it (it's online shopping expertise meets IRL needs). Below, what we all bought in December.
Maxine Builder, writer
I picked up the Hairstory Brush at the Strategist's holiday pop-up — which marked Hairstory's brick-and-mortar pop-up debut! — after talking with one of their stylists, and it's made the experience of washing my hair with New Wash somehow even nicer. The prickly-looking brush is actually fairly pliable, and it massages my scalp as I wash, which feels incredible. Using the brush also helps me ensure that all of the product, and ensuing hair gunk, is rinsed out.
My boyfriend wanted black mini-Uggs for Christmas, so I got him a pair of black mini-Uggs (and now I think I also want a pair of Uggs, but in chestnut, not black).
I was desperate to take some time off of the internet this month, so I spent a lot of money on books and even more time reading in my bed, far, far away from screens. I finally picked up Sally Rooney's Conversations With Friends and devoured it in two days. I also bought Cocaine + Surfing, which was on display at McNally Jackson in Williamsburg among all of the cookbooks but is decidedly not a cookbook. As the title suggests, Cocaine + Surfing is about surf's love affair with cocaine, but it really ends up being a fascinating, and often hilarious, meditation on coping when your expectations for life don't quite match your reality.
Simone Kitchens, senior editor
I know New Balance has had a slightly problematic last couple years, but I'm still into the way they look. I had the gray Steve Jobs-preferred 991s in college like everyone else, and now I'm returning to them with this slightly bouncier 998 version. They're still sort of a nothing sneaker, in a good way. To me, New Balance has transcended dad-sneaker-ness; they're just full-on grandpa.
I like a lot of things about this conditioner: how it instantly detangles my very knot-prone hair, the way it makes my curly hair air-dry in this evenly hydrated, non-crunchy way. But mostly, I really like they way it smells, like a freshly lit stick of palo santo. Most hair stuff tends to have this perfumy artificial scent that I find to be overpowering. This stuff, with its sandalwood-lavender-jojoba formula, is more subtle, but at the same time, it's exactly what I want to smell like.
I haven't been feeling so hot this week; am teetering on the verge of coming down with something. And I look like it, Katy recently told me. This, coupled with my olive-ish undertones, means my skin can look sort of green. I really like the left side of this palette, it's a bricky-peachy red with absolutely no shimmer whatsoever. I dab it on the tops of my cheek, then I'll go in with a drop of face oil and just buff it out. Helps me look a little more alive.
Margaret Rhodes, senior editor
I edited a big story on knives this year, in which the Global G-2 came out on top as the best chef's knife. For Christmas I gave one to my dad, who taught me much of what I know about cooking.
I also considered a lot of candles this year. The DNA I inherited from my mom more or less includes an obsessive love of candles, so I gave her this big, intoxicating "alien wood explosion"-scented candle — one of the absolute best I came across.
December isn't the month to buy stuff for yourself, but it is officially cold as hell, so I picked up this beanie from Uniqlo. I love the thick knit on it, and it's Heattech so it's like wearing a tiny space heater on your head. Evidence suggests it was a good purchase: the other day a guy unloading a UPS truck in Soho yelled at me, "Hey! I like your hat!" So I yelled back, "It only costs $10, around the corner!" and then he said, "Maybe I'll go get one!" I hope he did.
Katy Schneider, associate editor
I had to test out a bunch of stylish space heaters for a recent issue of the magazine, and walked away with several new ones. My hands-down favorite was this modish guy by Plus Minus Zero, a Japanese company headed by famous industrial designer Naoto Fukasawa. It's warming and portable and turns off when it tips over, but most importantly I find it totally strange-looking and adorable, like a tiny, modish hearth.
Photo: Jon Shireman
This month I've had bunch of migraines, a terrible cold, and lots of work. One result of this wonderful trifecta? I killed my giant monstera plant. I thought our office plant whisperer, Randy from the photo department, might be able to salvage it, but when I showed him a picture he smiled at me sadly and said it might be time to let it go. So I stuck it in a garbage bag, and bought a new one. Hopefully this one makes it through January without perishing.
Dominique Pariso, intern
This eye shadow instantly turns your eyelids into disco balls with super-pigmented glitter that does not budge. Plus, the formula dries down like a dream, with no flaking or creasing. I plan on wearing it everyday from now until New Year's.
I ran my old pair of beloved black Vagabond boots into the ground and the white feels like a sleek upgrade. Truth be told, I snapped these up during the Urban Outfitters sale. The boots are sold out there now but, luckily, still available at Asos.
Seeing Nessie bobbing around makes every pot of sad, cold-weather, lentil gruel that much sweeter.
When I was a kid, my mom would routinely eat all of the marshmallows from the Lucky Charms box and leave the oat cereal for me and my brother to eat for breakfast. Last year, I bought this one-pound bag of cereal marshmallow for Christmas to remind her of our tragic childhood. She loved them so much, I decided to repurchase them to put in her stocking for the second year in a row.
Katie Kimmel is a foodie fan-favorite. I already own one of her T-shirts that says "Linguini and Clams" on it, so I decided to expand my pasta-based apparel with this tote bag as a little holiday gift to myself.
Liza Corsillo, writer/editor
Almost everything I bought in December was a gift for someone else. But I did splurge on one new thing for myself. The Penfield Kirby jacket is something that I recommended as a girlfriend gift as well as something I added to my Strategist editor wish list, so I really hope nobody decided to buy one for me. Today is my first day wearing it out and I couldn't be happier. It's warm and cozy with the perfect amount of pockets — six different places to put my hands while walking! And it makes jeans and a pair of Blundstones look like a fashion choice rather than something I would happily wear seven days a week.