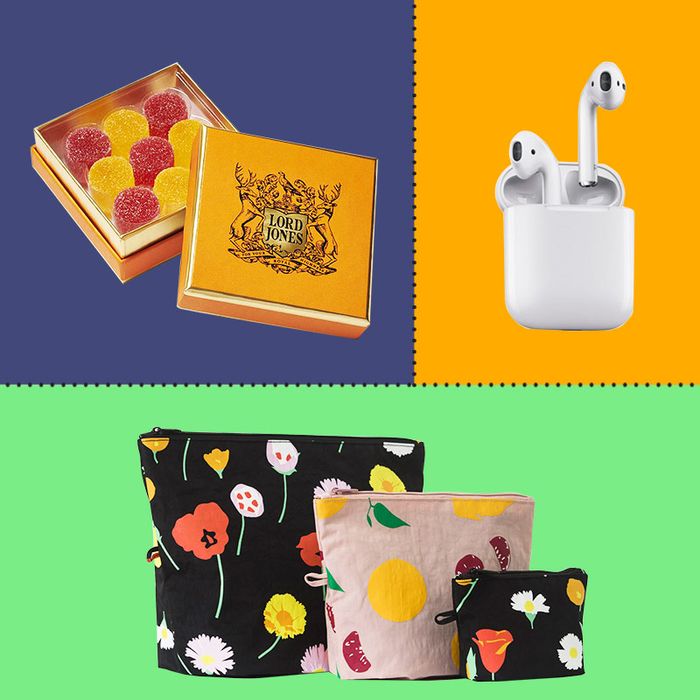 Photo: Courtesy of the retailers
To be Strategist editors, we have to be obsessive, exacting, and a little bit crazy when it comes to finding things to buy on the internet — so that you, the reader, don't have to be. Which is why we thought that letting you in on the holiday gifts we'll be giving this year (and the gifts we want) might be useful. See what we gave last year, too. Mom, dad, friends — please don't read this.
Margaret Rhodes, senior editor | What I want
I have a long personal history of mulling over certain purchases for months, and I've mulled over these Jonah Hill-esque Birkenstock Boston slip-ons (in forest green) for so long that I've made it to Christmas and decided to just ask my dad for them. It's never seemed quite right to ask my dad for shoes or clothing or any kind of fashion item (what does he care? He wears old rugby T-shirts and Keens), but my stepmom owned, no joke, around 20 pairs of them that she accumulated over the years. So I know my dad gets Birkenstocks.
I feel some resistance towards these, because every other woman walking around Brooklyn has worn them for years. But I'm tired of my toes going numb in the winter, and not a single pair of my wool or Heattech socks has ever really made a difference, so I do really want these shearling-lined boots. The crucial detail, to me, is that the ones I want don't have the pale wood sole. This dark sole makes them a hint more anonymous and not as heavily No.6-branded.
What I'm giving
My mom reads the Strategist, so I wouldn't dare say what I bought for her, but I do feel safe sharing some of what she specifically asked for. "That wine-saving carafe looks cool," she told me. It took me a beat to realize she meant the Savino wine preserver from our gifts-for-moms post. And then I realized — of course this is the perfect gift for the mom (or the anybody) who doesn't want to ruin a bottle after pouring out just one Tuesday-night glass.
Every time I go home, there are fresh flowers in my mother's kitchen, and some waiting for me in my old bedroom. But my mother has just informed my sister and me that she's "always frustrated with my vases. My favorite one is done … must have broke." We had a little wave of vase coverage on the site last week, with these bud vases and some of the taller vessels I picked to go with pampas grass. I think my mom would still prefer a glass vase over something ceramic, but for the sake of not buying a generic clear glass one, I'm thinking about this two-toned tumbler-shaped vase from Hay.
This fall, my dad and I went on a father-daughter trip to Portland, Maine, and somewhere between the oysters and beers on that trip he lost his fleece vest. So he'd like another one. He couldn't care less about the Patagonia label, but he did specify that he wants pockets on his vest. For that reason (and because he lives in very cold central Oregon), I'm leaning towards this one.
Tommy John's press team sent a few cold-weather items over to my desk recently, and I don't even have words to describe how soft some of their stuff is. We included them in an article on startup underwear this year, but the items I liked best this go-around are the lounge pants and this henley, which I've been living in at home for the past week. I'm not even sure who I'm buying this for yet, but my sister lives in a frigid climate and skis almost every weekend, so I'm thinking she'll be a good recipient for some extra-soft, long-underwear kind of clothing.
Maxine Builder, writer | What I want
I've been coveting sneakers from sustainable French brand Veja for months. I first learned read about them from the Strategist — specifically from Lori's roundup of the best white sneakers for women — back in February. Then, while on vacation in Paris in June, I spotted stylish women in these sneakers all over the city, and even held a pair in my hands in a very nice boutique off the Canal Saint Martin, but I didn't follow through with the purchase. When I spotted them in the window of Madewell on Broadway in Soho last month, I understood that we were meant to be together — as soon as someone else buys them for me this holiday.
Every Christmas for as long as I can remember, all eight of my cousins have participated in a Secret Santa gift exchange, and for the last several years, I've asked for the same thing: a new pair of running sneakers, so I can get a jump-start on my New Year's resolution to finally run ten miles in 90 minutes. (To no one's surprise, this has been my New Year's resolution for a while, and no, I have never achieved it.) I was pretty charmed by the A.P.L. sneakers in this megapost about the best sneakers for every type of workout, but I think I'll ask for these Nikes in a subdued mauve and gray.
One hobby that I've picked up this year is going to Y7. It's Vinyasa yoga in a hot, dark room with no mirrors, but also the soundtrack is hip-hop instead of sitar-inflected New Age music, and can you say you really lived through 2018 if you didn't balance in Warrior III pose while listening to "Nice for What" by Drake, featuring Big Freedia? I try to go once a week, just to break up my regular gym routine, so a 15-pack of classes will last me well into the spring.
What I'm giving
Now that my parents understand what I do at the Strategist, they came prepared with their Christmas wish lists on Thanksgiving and insisted I buy everything for them on Black Friday, to ensure we got the best deals. My mother requested a pair of noise-canceling headphones from Bose (which I bought on sale for $299) …
… while my dad wanted a new Chromebook to replace the tiny Gateway laptop he's been using since 2009 and is still running on Windows 7, if you can even imagine that. We settled for this HP laptop, which is plenty powerful enough for him to read the New York Times and send emails and take meeting notes in his role as treasurer for his road association.
My go-to thank-you gift or stocking stuffer this year is a chocolate bar from Tony's Chocolonely, specifically their seasonal chocolate bar made with milk chocolate and mulled wine. It tastes delicious, the packaging is so colorful it doesn't need to be wrapped, and the Dutch company is committed to ethically sourcing its cocoa, as well as to educating consumers about what a fair trade really means. It's very much a look-good, feel-good kind of gift, so I like to have a few on hand to give out as needed.
Karen Iorio Adelson, writer | What I want
I've been obsessed with this silk sleep shirt (and matching eye mask!) from artist and designer Christina J. Wang since I first noticed it while browsing Nordstrom on Black Friday. Of course it wasn't on sale, and it's kind of stupidly expensive, but I love the adorable illustrations of all the things that go into a perfect lazy Sunday — Netflix, cozy slippers, sheet masks, Chinese takeout, and cookies. It's not something I'd buy for myself but it would make the perfect extravagant gift.
What I'm giving
My husband is incredibly hard to shop for because he never wants nor buys anything, so I was ecstatic when he casually mentioned that he's been thinking of replacing his backpack with a messenger bag. I dove into the search with some Strategist-level vigor and I'm fairly certain I've narrowed it down to this one. It'll fit his 15-inch work laptop and it looks business-appropriate.
Lauren Ro, writer | What I want
When I discovered Kalon in my previous job as an editor in the home space, I was instantly charmed. I even met the company's co-founders, whose design philosophy and process impressed me. Now that I'm in the thick of shopping for baby stuff, I've returned to the studio's Caravan Crib, probably its most popular product. I love the minimal lines and pale natural finish, but especially the smooth, tapered legs. No other crib looks as streamlined or refined. But let's be real: no child has any business sleeping in a $1,200 crib unless they're royal or celebrity progeny. But this is a fantasy wish list. It even converts to a toddler bed, which a lot of other normal-priced cribs also do, but as long as we're trying to justify the cost, it's a feature worth mentioning. (For the record, my husband thinks I'm crazy for even entertaining the idea of buying this thing.)
What I'm giving
Photo: Kabir Fernandez/Kabir Fernandez
I've been eyeing these pouches from Baggu ever since a colleague whipped one out of her bag at the Strategist Holiday Pop-Up Shop. I love that they come in three sizes, sport a graphic floral pattern that isn't too precious, and are machine washable. While I want to get a set for myself, they would also make the perfect gift for your friends. They're cute, practical, and the only way to organize the contents of your black-hole tote bags, according to Katy Schneider.
When I was a kid growing up in L.A., my parents would take us to lunch at Canter's Deli for its corned beef sandwich every Sunday after church. That's where I developed a taste for pickled herring, my dad's all-time favorite snack. When my family visited New York recently, I took them to Russ and Daughters, where my dad naturally had to try the pickled herring. One bite was enough to convince him that it was the best he'd ever had. Since I'm not flying home for Christmas this year, I'm planning on sending my family a box of the deli's "New York Brunch" kit and two kinds of pickled herring — cream with onions and plain with onions. While the overnight shipping costs are steep (it was $55 when I sent him a box for father's day), it's certainly cheaper than a cross-country plane ticket during the holidays.
Katy Schneider, associate editor | What I want
I have been looking for an elegant coat that I can wear during the winter when my puffer isn't appropriate. And last week, while scrolling feverishly through Bona Drag's outerwear section, I came upon this No.6 mohair shawl-coat. It's so beautiful! So soft-looking! So miserably expensive. I'm Jewish, which means Hanukkah is behind me and Christmas is not in front of me, but here's hoping someone thinks I deserve a late December gift just for being me.
I've also had my eye on these relatively inexpensive Leanne Shapton prints, which are currently on sale at Picture Room. I've loved Shapton since I read her Important Artifacts and Personal Property from the Collection of Lenore Doolan and Harold Morris, Including Books, Street Fashion, and Jewelry — a fictional auction catalogue listing 325 items (love notes written on playbills, a pair of movie tickets to see Annie Hall at Film Forum) belonging to a recently broken-up couple — back in 2010.
Lori Keong, Writer | What I want
I really try not to hoard records anymore because I move so often (half of my record collection is at my parents' house for that reason) but I've also never really known how to store the ones that I do have with me. This table stand was the first thing I found online that wasn't an ugly-looking milk crate or a bulky cabinet. It also takes up very little space and it'll help me pack light once I decide to move on from my current apartment.
The one thing that's been eluding me in my winter clothing shopping this year has been a thick, chunky, knit sweater (I own lots of cashmere but I want something thicker, with texture, to round out my collection). I saw the Frankie Shop post a pile of these colorful sweaters on Instagram recently and a lightbulb went off in my head. This is exactly it. Now I just have to choose a color.
What I'm giving
My mom doesn't read my byline (sad but true) so I feel comfortable sharing that I drew her name in my family's first Secret Santa this year. On the phone this weekend, she revealed unprompted that she was asking for this Oxo frying pan because "America's Test Kitchen said it was the best." I guess my work here is done, but I'll probably end up throwing some retinol cream in there to round it out.
Little-known fact: I grew up in Georgia, but was born in Johannesburg, where air-dried jerky is a delicacy. We love a good biltong, but you usually can't find the right stuff in the States unless you shop at a dedicated South African store. I received a bunch of samples of this Made by True biltong, though, which I will happily dole out as stocking stuffers this year. It's actually very good and well-seasoned, and comes in lots of different flavors, from garlic and herbs to coriander and spice. True story: my dad once parked our cars in the driveway so he could use the whole garage to air dry his own deer biltong (both a Georgian and a very South African thing to do). Once he knows about this stuff, he won't need to make his own.
My roommate is an angel and has significantly reduced my stress levels since I moved in with him this year. We've both bonded over being highly anxious people and have discussed our dabblings in CBD before, so I think I'm going to give him one of Lord Jones' highly giftable gum drop sets as a token of my appreciation. I've tried these mango chili gum drops before and they're delicious: they taste just like lychee but with a hint of spice.
Simone Kitchens, senior editor | What I want
I already have two tabletop versions of this lamp (one for my desk, another I keep on the floor in my apartment). They are adorable and really glow things up, but to me they are starter Noguchi. What I would really love is this full-size lantern with long, spindly legs. I have just the corner for it. (It's annoyingly out of stock at the Noguchi Museum right now, but if you're interested in a tabletop version, the MoMA Design Store has one.)
Gifts I'm Giving
Like you, I have quite a few holiday parties to go to over these next few weeks. One of them is my good friend's joint holiday/housewarming party. And since showing up with a bottle of wine is sort of required party-guesting, I'm going to pick up four of these (elegant but not too pricey) recycled glass tumblers to gift along with that wine.