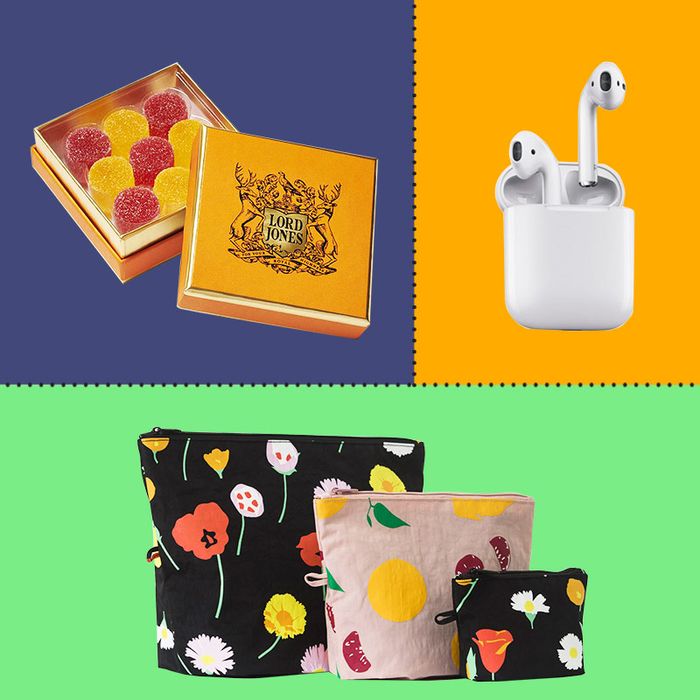 Photo: Courtesy of the retailers
To be Strategist editors, we have to be obsessive, exacting, and a little bit crazy when it comes to finding things to buy on the internet — so that you, the reader, don't have to be. Which is why we thought that letting you in on the holiday gifts we'll be giving this year (and the gifts we want) might be useful. See what we gave last year, too. Mom, dad, friends — please don't read this.
Margaret Rhodes, senior editor | What I want
I have a long personal history of mulling over certain purchases for months, and I've mulled over these Jonah Hill-esque Birkenstock Boston slip-ons (in forest green) for so long that I've made it to Christmas and decided to just ask my dad for them. It's never seemed quite right to ask my dad for shoes or clothing or any kind of fashion item (what does he care? He wears old rugby T-shirts and Keens), but my stepmom owned, no joke, around 20 pairs of them that she accumulated over the years. So I know my dad gets Birkenstocks.
I feel some resistance towards these, because every other woman walking around Brooklyn has worn them for years. But I'm tired of my toes going numb in the winter, and not a single pair of my wool or Heattech socks has ever really made a difference, so I do really want these shearling-lined boots. The crucial detail, to me, is that the ones I want don't have the pale wood sole. This dark sole makes them a hint more anonymous and not as heavily No.6-branded.
What I'm giving
My mom reads the Strategist, so I wouldn't dare say what I bought for her, but I do feel safe sharing some of what she specifically asked for. "That wine-saving carafe looks cool," she told me. It took me a beat to realize she meant the Savino wine preserver from our gifts-for-moms post. And then I realized — of course this is the perfect gift for the mom (or the anybody) who doesn't want to ruin a bottle after pouring out just one Tuesday-night glass.
Every time I go home, there are fresh flowers in my mother's kitchen, and some waiting for me in my old bedroom. But my mother has just informed my sister and me that she's "always frustrated with my vases. My favorite one is done … must have broke." We had a little wave of vase coverage on the site last week, with these bud vases and some of the taller vessels I picked to go with pampas grass. I think my mom would still prefer a glass vase over something ceramic, but for the sake of not buying a generic clear glass one, I'm thinking about this two-toned tumbler-shaped vase from Hay.
This fall, my dad and I went on a father-daughter trip to Portland, Maine, and somewhere between the oysters and beers on that trip he lost his fleece vest. So he'd like another one. He couldn't care less about the Patagonia label, but he did specify that he wants pockets on his vest. For that reason (and because he lives in very cold central Oregon), I'm leaning towards this one.
Tommy John's press team sent a few cold-weather items over to my desk recently, and I don't even have words to describe how soft some of their stuff is. We included them in an article on startup underwear this year, but the items I liked best this go-around are the lounge pants and this henley, which I've been living in at home for the past week. I'm not even sure who I'm buying this for yet, but my sister lives in a frigid climate and skis almost every weekend, so I'm thinking she'll be a good recipient for some extra-soft, long-underwear kind of clothing.
Maxine Builder, writer | What I want
I've been coveting sneakers from sustainable French brand Veja for months. I first learned read about them from the Strategist — specifically from Lori's roundup of the best white sneakers for women — back in February. Then, while on vacation in Paris in June, I spotted stylish women in these sneakers all over the city, and even held a pair in my hands in a very nice boutique off the Canal Saint Martin, but I didn't follow through with the purchase. When I spotted them in the window of Madewell on Broadway in Soho last month, I understood that we were meant to be together — as soon as someone else buys them for me this holiday.
Every Christmas for as long as I can remember, all eight of my cousins have participated in a Secret Santa gift exchange, and for the last several years, I've asked for the same thing: a new pair of running sneakers, so I can get a jump-start on my New Year's resolution to finally run ten miles in 90 minutes. (To no one's surprise, this has been my New Year's resolution for a while, and no, I have never achieved it.) I was pretty charmed by the A.P.L. sneakers in this megapost about the best sneakers for every type of workout, but I think I'll ask for these Nikes in a subdued mauve and gray.
One hobby that I've picked up this year is going to Y7. It's Vinyasa yoga in a hot, dark room with no mirrors, but also the soundtrack is hip-hop instead of sitar-inflected New Age music, and can you say you really lived through 2018 if you didn't balance in Warrior III pose while listening to "Nice for What" by Drake, featuring Big Freedia? I try to go once a week, just to break up my regular gym routine, so a 15-pack of classes will last me well into the spring.
What I'm giving
Now that my parents understand what I do at the Strategist, they came prepared with their Christmas wish lists on Thanksgiving and insisted I buy everything for them on Black Friday, to ensure we got the best deals. My mother requested a pair of noise-canceling headphones from Bose (which I bought on sale for $299) …
… while my dad wanted a new Chromebook to replace the tiny Gateway laptop he's been using since 2009 and is still running on Windows 7, if you can even imagine that. We settled for this HP laptop, which is plenty powerful enough for him to read the New York Times and send emails and take meeting notes in his role as treasurer for his road association.
My go-to thank-you gift or stocking stuffer this year is a chocolate bar from Tony's Chocolonely, specifically their seasonal chocolate bar made with milk chocolate and mulled wine. It tastes delicious, the packaging is so colorful it doesn't need to be wrapped, and the Dutch company is committed to ethically sourcing its cocoa, as well as to educating consumers about what a fair trade really means. It's very much a look-good, feel-good kind of gift, so I like to have a few on hand to give out as needed.
Karen Iorio Adelson, writer | What I want
I've been obsessed with this silk sleep shirt (and matching eye mask!) from artist and designer Christina J. Wang since I first noticed it while browsing Nordstrom on Black Friday. Of course it wasn't on sale, and it's kind of stupidly expensive, but I love the adorable illustrations of all the things that go into a perfect lazy Sunday — Netflix, cozy slippers, sheet masks, Chinese takeout, and cookies. It's not something I'd buy for myself but it would make the perfect extravagant gift.
What I'm giving
My husband is incredibly hard to shop for because he never wants nor buys anything, so I was ecstatic when he casually mentioned that he's been thinking of replacing his backpack with a messenger bag. I dove into the search with some Strategist-level vigor and I'm fairly certain I've narrowed it down to this one. It'll fit his 15-inch work laptop and it looks business-appropriate.