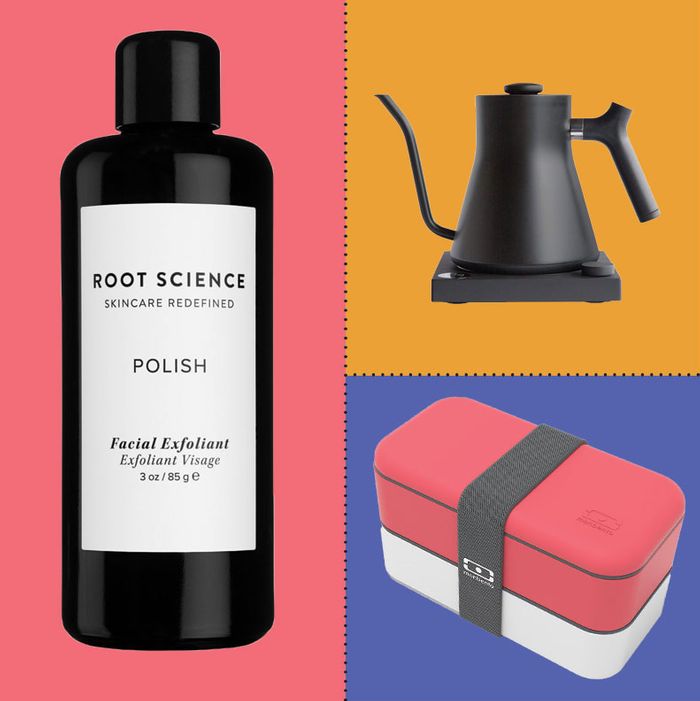 Photo: Courtesy of the retailers
One of the best things we'll hear from friends (and even strangers) is "I found it on the Strategist!" and even as writers and editors of this very site, we're constantly learning about new things here, too. Now that 2018 is nearly over, we're recapping the best things we discovered on the Strategist, whether from our colleagues' shopping receipts, impassioned odes, or celebrity favorites. Below, the vegetable scrubber, lunch box, and natural deodorant we'll keep adding to our carts.
Margaret Rhodes, senior editor
At some point this year I went to an event and got a goodie bag on the way out, and it contained one of these orange-wrapper Japanese vegetable scrub brushes. I left it sitting around for a while until I stumbled on this old post, from Strat's early, early days, espousing the benefits of the scrub brush on sticky or difficult dishes. Then I started using mine on all my dishes, not just the baking pans or skillets, and I became weirdly enamored with it. It's both very aggressive and very gentle, because it's made from natural fibers. And it looks little a wonderful little sea anemone sitting next to my sink. So now I've been ordering three-packs and using them instead of sponges.
Technically, I did not find this on the Strategist, but rather found it thanks to a Strategist in the human form of senior editor Simone Kitchens. At some point this fall I noticed that my skin was looking a little bumpy around my forehead and cheeks. Not breaking out, just unhappy texture. Simone was a beauty editor at Glamour before she came to New York, and she has great product knowledge, so I Slacked her about it. "How often are you exfoliating?" she asked. Never, really, because my skin can be very reactive. She suggested this stuff: superfine powdery dry granules of rice, clay, and turmeric root that you mix with a gentle cleanser or oil and then scrub all over your face. I started using it twice a week or so, and after a week noticed a huge difference — my skin was shiny and smooth and happy once more.
Dominique Pariso, intern
I was routinely using old takeout containers to bring my lunch to work every day and was one catastrophic spill away from a ruined tote bag. So I decided to buy an old Strategist favorite: the Monbento Bento Box. It holds four cups of food (!) and is dishwasher and microwave safe.
Rio wrote that these "little heroes" help maximize tiny bathroom storage, and boy, she was not kidding around. I bought a handful of these on a whim and they not only create space, but really display my everyday makeup beautifully. They are super cheap, easy to install, and allow me to take a "shelfie" that would make any beauty influencer swoon.
Maxine Builder, writer
I am in a constant battle with my skin, which is sometimes fine but mostly red and splotchy and ridden with cystic, hormonal acne. (Date me!) My little brother works as a medical assistant in a dermatologist's office, and he recommended that I add a retinol to my nighttime skin-care routine but refused to give me more information than that. So I turned to this piece by Lori on the best retinol products, according to dermatologists, which is so thorough and well-reported and helped me make sense of this ingredient that I had heard about all the time but didn't quite understand. I ended up buying a tube of Differin, since it seemed like the product with the most consensus around it at the most reasonable price, and it's definitely been a helpful tool in my ongoing struggles.
Katy really sold me on tortoiseshell with this story she wrote back in May — specifically, the earrings. And even though I don't wear that much jewelry, I picked up a pair of tortoiseshell hoops from H&M later that month, and I could not stop wearing them. They make a white T-shirt and jeans seem like an outfit, and the tortoiseshell really does match everything. In fact, if you look closely at my Instagram, you'll spot them in basically every selfie from 2018, from a bachelorette party in Nashville to lunch in Greenwich, Connecticut, with my parents. I wore these earrings so much that I actually lost one of the hoops this month, somewhere between the gym and my apartment, so I now need to replace them. Of course I'll never be able to find the exact same pair, because fast fashion, but I think I'm ready to upgrade to the fancier Bird version. At this point, I know I'll get my money's worth (and I actually feel kind of naked without some tortoiseshell earrings on right now).
Simone Kitchens, senior editor