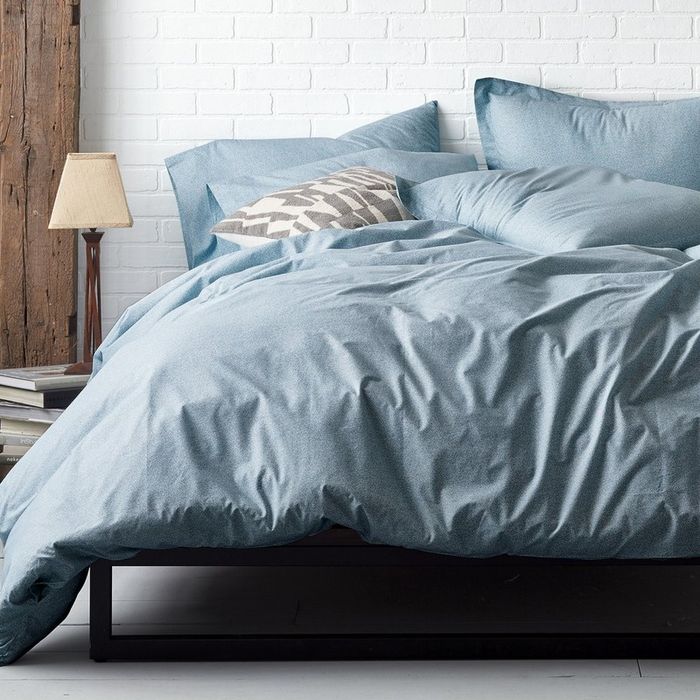 The Cstudio Home duvet cover in question.
Photo: Courtesy of the retailer
In our advice column, Ask the Strategist, we take your most burning shopping questions and survey friends, call up experts, and draw on our own personal experience to answer them. As always, please comment with any questions of your own — we're here to help.
Question: I'm in the middle of a move and an overhaul of the interior décor in my new adult bedroom. I had hoped to find the perfect blue-gray minimalist duvet cover, and I did at the Company Store. But alas, it has been sold out and doesn't seem to be in stock anywhere at all online. Can you recommend anything in a similar style and fashion? Thanks so much!!
Our first move was to contact the Company Store. Perhaps the duvet cover in question would be restocked sometime soon. Unfortunately, according to the customer service specialist we spoke with, the marble percale duvet cover in slate, which is the particular Cstudio Home style our reader inquired about, has been discontinued. We did learn, however, that the Company Store carries similar duvet covers with the same 200-thread-count cotton.
The one our reader wrote in about has a subtle marbled pattern (like the cover of a Mead composition notebook) that basically looks solid from afar. Fortunately, there are still a couple of colors available in this style, like seafoam green and storm, a light gray.
If blue-gray in particular is what you're looking for, this cover is closer in color and sports a canvas design that gives it a bit of visual texture. While it's not the exact slate-hue of the one in question, this blue does have an icy shade thanks to the underlying white lines running through it. Bonus: it's also made of 200-thread-count cotton percale.
And here's another solid duvet cover option from the Company Store that features a combed cotton percale with a slightly higher thread count of 210 and comes in an array of colors. Again, the exact blue-gray hue isn't available, but we think the porcelain blue comes pretty close, with the mineral gray and storm gray as respectable alternatives if you want to lean in to the gray, or the delft if you want to go more blue. We like this sky blue organic cotton option, too.
Now for some options from other companies. We like the icy gray of this duvet cover from West Elm, even if it's not quite the same color. Made of 200-thread-count organic cotton, it features tiny embroidered stitches in white that add a little texture, making it slightly more interesting than a solid cover.
From Kohl's, here's another embroidered option, this time with a square frame. It's also made of a 200-thread-count cotton percale, and the skylight blue option is a reasonable alternative for Cstudio Home's slate. It comes with two shams as well.
The luxury options
If you really want to indulge, bedding-essentials start-ups (and evergreen Strategist best sellers) like Brooklinen, Parachute, and Snowe offer luxurious duvet covers in sophisticated colors for not too much more money.
Los Angeles–based home-linens company Matteo makes a 225-thread-count percale duvet cover that comes in 19 muted colors, one of which — we think the mica — should fit the bill for the cool blue-gray our reader is looking for. Touted as the company's "best-selling hotel fabric," the nap has a "nice crisp finish," like a "lightly-starched white dress shirt" that "will get softer and softer with every washing." Consider us sold.
For something a bit cheaper and more homey, try Matteo's plain-weave combed cotton duvet cover, which looks more lived-in.
Snowe makes some of the best percale sheets this writer has ever owned, and its percale duvet cover would undoubtedly be just as good. It's made in Italy with 500-thread-count Egyptian cotton, making it lightweight and crisp, like something you might find in a fancy hotel. As for color, the cover comes in a sophisticated slate blue that's more muted than our reader's holy grail, but we found that it was the truest blue-gray we encountered on our quest. It's on the pricey side, though — definitely a grown-up purchase that will last.
We've named Parachute's linen sheets the best, so naturally we turned to them for their no-nonsense duvet covers. This set, which includes two sham covers, is also percale, and is also made from 100 percent Egyptian cotton. While the colorways may not be exactly what you're looking for, they do offer soothing grays and blues, like the light-as-air powder blue, or the sleek slate.
Or try Brooklinen's percale cover in a "classic matte finish," at about half the price of its competitors' covers. The sky blue option is pretty close to the bluer tones of the reader's original cover, while the graphite is more slate gray. With a thread count of 270, it's closer to the Company Store's weave than Snowe's cover.
In addition to mattresses, Casper makes bedding. We like the looks of this California-made, 100 percent Supima cotton percale duvet cover in a 400 two-ply thread count. The azure colorway resembles a bluish gray, and it comes with two reversible options — in either navy or sky.