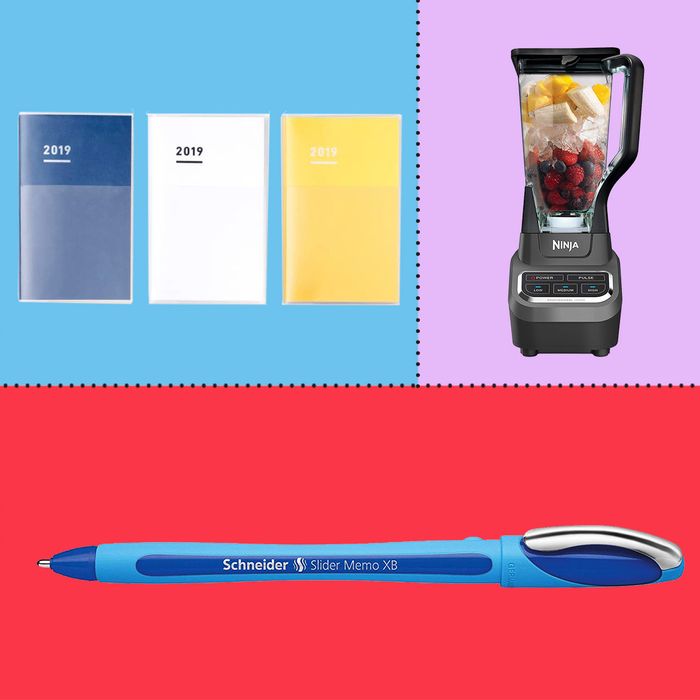 Photo: Courtesy of the retailers
Welcome back to Your Shopping Cart, wherein we break out the top ten products that you, devoted Strategist readers, have lately bought in droves. Think of this as the tl;dr of the Strategist: If your like-minded brethren are buying these items, maybe you'd like to, too.
This week's top seller, the ever-ubiquitous Orolay coat, first appeared on the list (also at number one) back in April of last year — long before it was written up in the New York Times. Close behind, in second place, is a new pimple-healing cream that Strategist writer Rio Viera-Newton introduced us to last week. Two top picks from our ranking of 100 pens — the top-rated felt pen and one of our favorite ballpoints — hit the list in third and sixth places, respectively. A Japanese planner makes its debut at number eight, making us think some of those pens might be for bullet journaling or planning for the year ahead. There are also some returning champs on the list, like blue-light-blocking glasses in fifth place, a baby swaddle in seventh, and a blender that's perfect for smoothies at number nine. Finally, some of you are getting in the mood for Valentine's Day: a fancy lube is in fourth place for the second installment in a row, and an ultra-discreet vibrator hops onto the list in the tenth-place spot.
It hasn't even been a year since we first discovered the expensive-looking but actually very affordable Orolay coat on fashionable women all over the Upper East Side. It's since been spotted in cities across the country and even has its own Instagram account. It returns to the list this week at number one.
Between pimple patches and snail serum, Rio Viera-Newton hasn't let us down when it comes to recommendations from Korean beauty brand Cosrx, and her latest pick is no exception. This blemish-healing cream — along with the brand's new acne patches — uses centella asiatica leaf water, an antibacterial herb, to minimize pimple scars. Rio says, "It's small, it's mighty, and if you're a picker like me, it'll save you over and over."
Third overall in our ranking of 100 pens, this fine-line marker pen was the highest-ranking felt pen on the list. Our tester said, "Of all the pens I tried, it feels the closest to an extension of my natural hand gestures and it makes my handwriting look easygoing and legible." Plus, there wasn't any smudging or bleed-through.
If you're looking to make this Valentine's Day extra-special, try this very elegant-looking lube that Samantha Bard, co-owner of the sex-positive shop Shag in Williamsburg, raved about: "Uberlube is THE BEST. Not joking — it is one the highest-quality silicone lubes out there. Plus, it comes in the classiest bottle you've ever seen. Aside from being a staff favorite, it is also a customer favorite!" It's been our fourth-best-selling product two lists in a row now.
We're sure that many of our readers, like us, spend most of their days staring at screens, so it makes sense that you've also been curious about blue-light-blocking glasses, designed to filter out the type of light that causes eyestrain and disrupts sleep. Strategist writer Maxine Builder did a deep dive on the subject and found that these orange-hued glasses have been shown to improve sleep. After coming in sixth place on our last list, these now inch into the top five.
Sixth place overall — and the second-best ballpoint — in our ranking of 100 pens, this Schneider model has taken off among our readers. It makes its debut on our best seller list this week. Strategist writer David Notis said, "This pen is smooth. Like, really smooth. Almost disarmingly smooth."
From the baby expert behind the Snoo — the white noise and motion-enabled bassinet that sleep-deprived new parents swear is worth the $1,295 price tag — this velcro swaddle (no origami skills needed) is a favorite of writer Julia McVeigh's. She says that after receiving the Sleepea as a gift, she's "enjoyed regular stints of over six hours of uninterrupted sleep," which is quite the achievement for someone with a newborn. After appearing on the last installment of our list at number nine, it moves up a hair this week to seventh place.