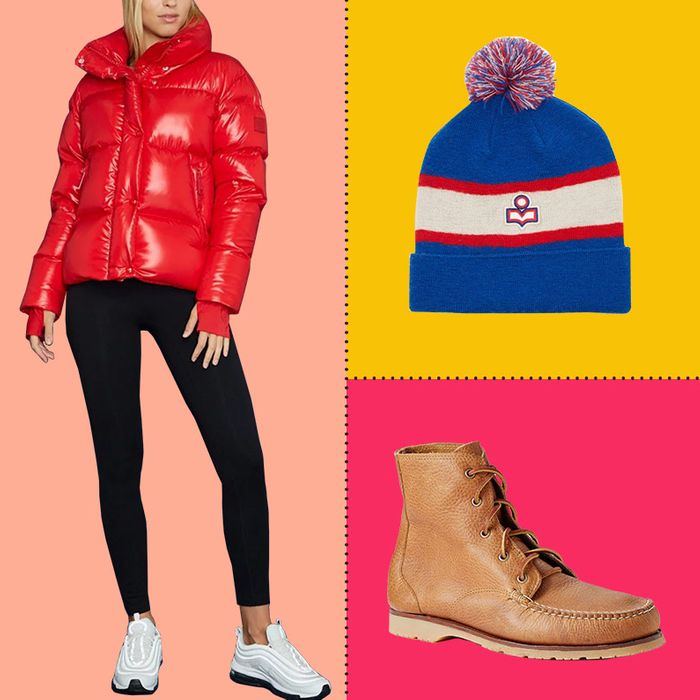 Photo: courtesy of the retailers
This week's journey into the sales sections unearthed a ton of cold-weather gear including a $58 Isabel Marant hat, a bold Adidas scarf, a bright-red puffer from Sam (the exact version above is sold out but we found a similar one), and an Acne hat for your five-year-old.
There's something very elegant (with a little bit of edge) about this pin-striped wool coat from Mango.
A bold statement-scarf from Adidas.
A beaded tote from Sam Edelman that's an extra 40 percent off its sale price.
If you've always wanted a pair of leopard print chelsea boots … the time is now.
This fleecy sweatshirt from Which We Want comes in a very pleasing shade of millennial mustard.
A very good Valentine's Day gift for a fellow: This Italian-made Calvin Klein 205W39NYC brown leather cardholder. Apparently the blue smudge effect is meant to make the leather look like it's been in contact with denim.
It's business on the outside, party on the inside with these "Inside Out" Vans.
This SK-II boxed set is an excellent deal. It includes a bottle of Rio–beloved, glow-inducing Facial Treatment Essence (which normally retails for $99 on its own), plus some facial Treatment Clear Lotion and R.N.A. Eye Cream.
This water- and wind-resistant North Face ski jacket is made with "Heatseeker insulation" that's meant to be both breathable and warm.
Sporty, logo-forward wool hats are having a bit of a time right now (see this one Patagonia hat, for instance). This one from Isabel Marant is both bold and understated at once.
Field Company, which is basically Everlane but for cast-iron skillets, is having a "factory sale," with ever-so-slightly damaged goods on sale at 30 percent off.