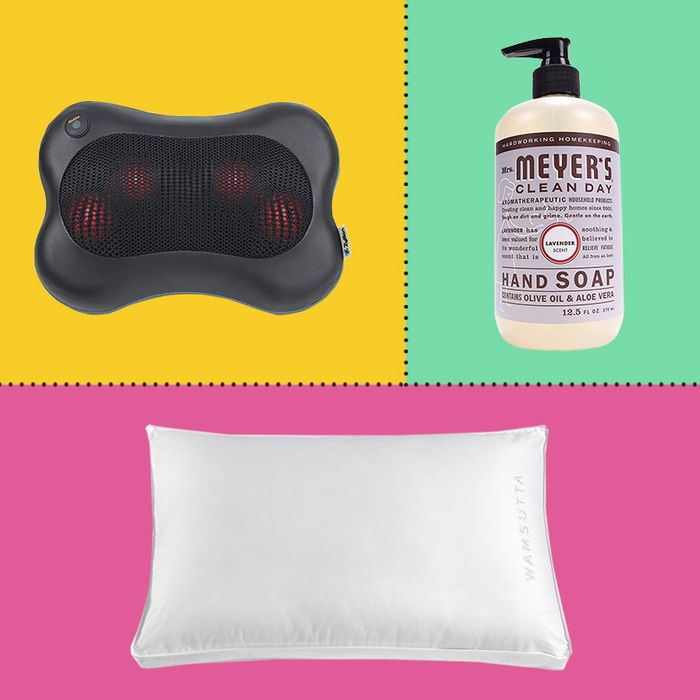 Photo: Courtesy of the retailers
Welcome back to Your Shopping Cart, wherein we break out the top ten products that you, devoted Strategist readers, bought in droves. Think of this as the tl;dr of the Strategist: If your like-minded brethren are buying these items, maybe you'd like to, too.
With eight returning favorites, this week's list was a tough one for new products to crack. Two did manage, though: a lavender-smelling hand soap we found on sale ranks fourth and a shiatsu massager we recommended as a Valentine's Day gift for guys debuts in seventh place. A new pimple-healing cream that Strategist writer Rio Viera-Newton introduced us to last month moves up from second to first place, while a fancy lube inches up from fourth to second just in time for Valentine's Day. Two of our top 100 pens — the highest-rated felt pen and our overall winner — hit the list in third and sixth place, respectively. In the bedding department, an anxiety-soothing weighted blanket finishes in fifth place while a pillow just for side-sleepers rounds out the list in tenth. Finally, a pair of blue-light-blocking glasses (last week's fifth-place finisher) drops to ninth, and a powerful cordless vacuum that's been off the list since last July reappears at number eight.
From pimple patches to snail serum, Rio Viera-Newton hasn't let us down when it comes to recommendations from Korean beauty brand Cosrx, and her latest pick is no exception. This blemish-healing cream — along with the brand's new acne patches — uses centella asiatica–leaf water, an antibacterial herb, to minimize pimple scars. Rio says, "It's small, it's mighty, and if you're a picker like me, it'll save you over and over." After making its first appearance on our last list in second place, it moves up to the top spot this week.
In preparation for Valentine's Day this year, we updated our story on the best lubes, and this very elegant-looking one still tops the list. Samantha Bard, co-owner of the sex-positive shop Shag in Williamsburg, says it's "one of the highest-quality silicone lubes out there," and Emily Morse, doctor of human sexuality and host of Sex With Emily on SiriusXM, is impressed that it has only two ingredients: "pure silicone with a trace of Vitamin E."
Third overall in our ranking of 100 pens, these fine-line marker pens were the highest-ranking felt pens. Our tester said, "Of all the pens I tried, it feels the closest to an extension of my natural hand gestures and it makes my handwriting look easygoing and legible." Plus, there wasn't any smudging or bleed-through. They're in third place on our best-seller list for the second time in a row.
While we're intrigued by expensive status hand soaps, we know that sometimes you just need one that'll get the job done. Which is why we were especially excited to see this trio of lavender-scented Mrs. Meyer's soap deeply discounted as part of an Amazon Super Bowl promotion. Unfortunately the sale is now over, but for $10 you can still get three bottles of soap to stock your kitchen or bathroom with.
Designed to relieve anxiety and improve sleep quality, weighted blankets were a runaway-hit gift this holiday season — and are apparently here to stay. When Strategist writer Karen Iorio Adelson went in search of the best one to give, she tested a handful out and concluded, "Baloo's thoughtful design makes it the most comfortable and aesthetically pleasing one of the bunch." After being sold out for weeks during the holidays, the blankets are now back in stock.
While the results of our ranking of 100 pens were hotly debated on Twitter and in our comments section, our number-one pen ended up being a best seller among readers. Two pens got perfect scores based on our criteria, but the elegant Baron Fig rollerball ultimately came out on top in a final, head-to-head showdown. In his review, Strategist deputy editor Jason Chen said, "I love this pen. It practically dances across the page, and the ink comes through with command and a real presence."