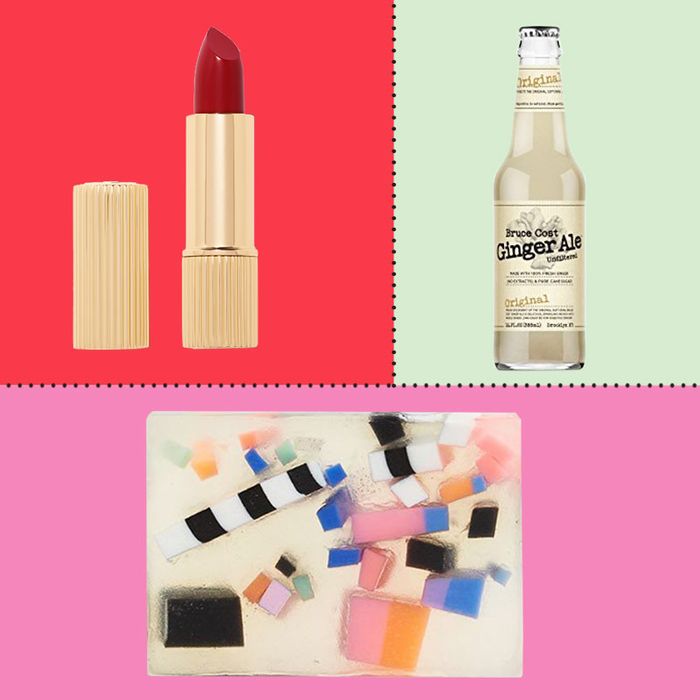 Photo: Courtesy of the retailers
If you follow our biweekly feature Your Shopping Cart, you know that we have some eerily good intel on what you all are buying. Which led us to think that, as Strategist editors, we could turn the tables and highlight all the things we've been buying ourselves. As you'll notice, it's both a blessing and a curse to be a Strategist editor; we're picky, but sometimes we just have to get on with it (it's online shopping expertise meets IRL needs). Below, what we all bought in February.
Jason Chen, deputy editor
I finally got my act together and got a new Hobonichi Techo for 2019. I thought I wanted something different from what I used last year but nothing else I looked at compared to the Hobonichi: its perfect size, soft cover, and pages that feel like high-quality tissue paper (something I didn't even know was on my checklist?).
Owning a dog means lots of dog hair, so I looked for a robot vacuum to help around the apartment. I didn't want anything too expensive — just something good at sucking up dirt and hair from hard surfaces (we don't have rugs). The V3s isn't voice-controlled and gets foiled by the dumbest cords BUT it sucks up so much dirt and hair in a way that's simultaneously disgusting and thrilling. Plus, the price is right.
I got targeted with an Instagram ad for this natural, refillable deodorant and, because I cannot resist a good neon, bought it straight from the app. The stuff stands up! I got the eucalyptus, which comes in solid form and has a bracing, menthol-y scent. But let's be honest, mostly I just like the bottle.
Maxine Builder, writer
I am pleased to announce that I finally figured out how to apply foundation without making myself look like a streaky monster, and all it took was a trip to Ulta in Philadelphia (because the Ulta on the Upper East Side is still too far for me) to get a not-too-expensive makeup brush. This so-called "Airbrush Complexion Perfection Brush" from It Cosmetics has tightly packed bristles that make it easy to buff out foundation, even if you're bad with makeup like me. It's also so much quicker than bouncing a damp makeup sponge all over, a skill that I've never quite been able to figure out. Now I just dab foundation where I feel like I need it and then swirl it around with the brush until it all basically melts into my skin. The result is that I look less red and splotchy but not fully caked.
Speaking of foundation, I also picked up a tube of the cult-y Tarte Shape Tape at Ulta, and I finally get the hype. It's got a matte finish yet doesn't dry my skin out, and as Rio has already explained, a little bit goes a really long way. I've actually been using it in lieu of a foundation, which might be controversial, but makeup's never really been my thing, so I don't know.
If you're a writer or reporter or journalist, recording your interviews is an excellent idea, and usually, I use the app TapeACall to do just that. But it's been glitching on me recently, so I finally purchased a proper telephone recording device. This little earpiece plugs into the microphone jack of the little digital voice recorder I've had for years, and even though I'm still often using TapeACall, it's good to know that I have two ways to get what I need. So if TapeACall isn't working, I can use the recorder — or if I forget the recorder at home, all I need is TapeACall.
Dominique Pariso, writer
I'm a budding hostess with the heart of a pyromaniac, which makes these candlesticks a no-brainer. They have colored wax on the inside so they look really cool as they melt. I bought a few and am planning on sticking them in empty wine bottles at my next dinner party. It's table décor that turns into a party favor by dessert.
Pat McGrath's lipsticks are some of the most pigmented, non-drying, stay-all-day mattes on the market. They also usually retail for $38 bucks a pop (bummer). This trio of minis costs less than one full-size tube and takes up very little space in my pocketbook. Plus, since the formula is so full-coverage, I plan to get a lot of mileage out of them, even though they're petite. The range of shades includes Elson (a cherry red), Obsessed! (an orangey red), and Full Panic (a bright fuchsia) so I've got all the colors I need for the spring/summer ready to go.
I had a block of Binu Binu soap displayed for a few months but wanted to take my sink to more maximalist heights. So, I went for a Strategist standby from Wary Meyers. I have a Cold Picnic bath mat so it sort of looks like the bath mat had a baby and it's living in the soap dish, which I find endlessly amusing as I brush my teeth.
Because my eyes are almond-shaped, they tilt upward at the outer corners, making it especially difficult to curl the longer lashes that hang out there. The ProMaster sports an extra-wide opening with a gently sloping curve (a 38-degree angle, to be exact) that allows the curler to easily sit across the entire lash line and grab all of my lashes in one go without pinching my eyelids. This was actually a repurchase because the last time I was home, my mother "borrowed" my ProMaster — and never gave it back.
Karen Iorio Adelson, writer
I've been in my current apartment for nearly three years but haven't, until now, figured out a good kitchen garbage situation. Our under-the-sink space is unusually small, so we've been using these two tiny trash cans that barely fit — and that we'd have to remove from under the sink to open up fully. Plus, my seltzer-addicted husband would leave empty cans all over the place because we didn't have a convenient recycling bin. This streamlined Simplehuman model got on my radar when I was talking to interior designers about their favorite actually good-looking garbage cans. I liked that it had a separate compartment for recycling and came in rose gold, which I'm kind of a sucker for. I was a little nervous that it'd take up too much space or that the color would be more pink than gold, but it ended up being perfect. Like most Simplehuman products, it's seamlessly functional, with a step-on bar to open it while your hands are full, an inner compartment to store replacement trash bags, and a hidden lid that keeps bags in place and totally hidden from the outside.
While visiting my mom in Florida over Presidents' Day weekend, I took advantage of the warm weather and spent most of the time outside reading. Fittingly, I finished up Florida by Lauren Groff (a recommendation from the Strategist's Mia Leimkuhler that exceeded all my expectations), so on the way back I picked up this novel from Mexican author Valeria Luiselli that's been getting a lot of buzz. I'm not even midway through the book, but I'm already mesmerized by the story of a family navigating a failing marriage and a cross-country road trip in the shadow of our national immigration and refugee crisis.
My birthday was this month and my friends and family treated me to my favorite things: Emmett's deep-dish pizza and Junior's cheesecake. To counteract the gluttony, I treated myself to a Fitbit in hopes of getting in better shape this year. Needless to say I waited until after the birthday feast to start tracking my food and exercise.
Lori Keong, writer
The best thing to do at Sunglass Hut is to find a nice pair of frames that fits your face and then walk right back out with the serial number. That's how I found these snazzy Prada glasses — my first pair of designer shades — on super-sale online. They are black-limousine opaque (so you can imagine how famous I feel in these) and have a rounded cat-eye design that's a little fresher than the Adam Selmans everyone owns. For some odd reason they are classified on this site as "Asian fit," which is maybe why they suit me so well.
My roommate and I are doing this thing where we look around our tiny kitchen and go, "Huh," and imagine all of the missing appliances that would make our lives a little easier. Consumerism! He just bought a toaster so I could stop putting slices of bread in the oven and I just invested in the teeniest Zojirushi rice cooker (a long-standing wish-list item) so I can stop guesstimating it on the stove-top.
The last time I truly loved a lipstick shade was years ago: an orangey red matte Lipstick Queen that I wore down to a little nub. But I've been sampling one of the lipsticks from Jeanne Damas's new makeup line Le Rouje de Paris — a gorgeous warm pink color called Emilie — and am newly smitten. I've been so charmed by the color and the velvety texture that I've been wearing lipstick more and more frequently. I think I have to get my hands on another, so I'm angling to buy the deep-red Camille here.