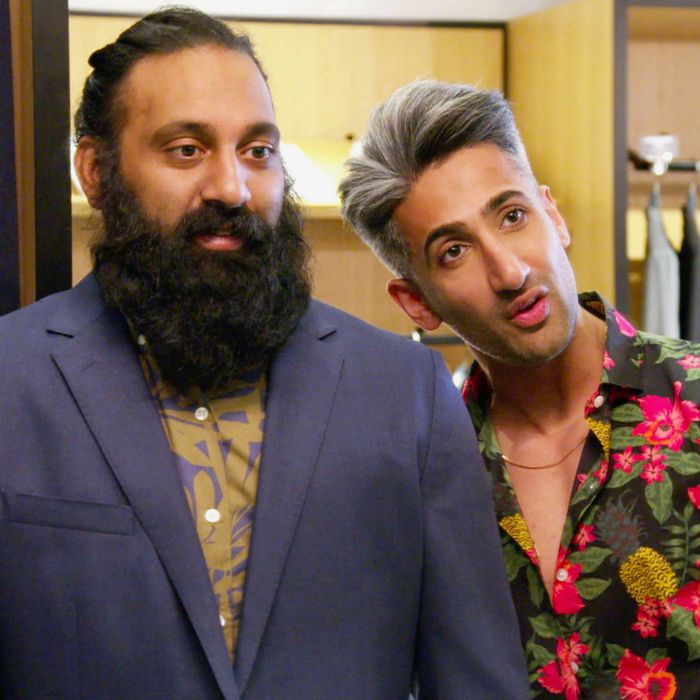 Photo: Courtesy of Netflix
In our advice column, Ask the Strategist, we take your most burning shopping questions and survey friends, call up experts, and draw on our own personal experience to answer them. As always, please comment with any questions of your own — we're here to help.
Question: My boyfriend is in his late 20s and stuck wearing band T-shirts. A lot of the clothes he likes are a little immature, and the emo kid in him thinks a lot of men's fashion is too square or boring. We live in the Pacific Northwest, so even "formal" isn't too formal, and he works in the cannabis industry. Do you have recommendations for things that can help make his wardrobe more age-appropriate?
The biggest take-away from Netflix's Queer Eye is that most people don't actually need a full makeover. What they need is a confidence boost and a little push. In the style department that means finding clothes that fit well and allow a person's character to come through. Your boyfriend's clearly got plenty of fashion opinions, but it seems like he's lacking the tools (enthusiasm, courage?) to evolve his wardrobe from emo-kid to emo-loving-adult. To be clear, we have nothing against band tees. Even the most destroyed vintage T-shirt can look stylish and grown-up as long as it's counter-balanced by less tattered basics. He works in the cannabis industry which leads me to believe he doesn't necessarily need to dress up for his job, but he can still kick it up a little.
To help him out, we talked to professional stylists Donnell Baldwin and Melissa Buck about fashionable basics that will instantly transfigure his closet. Buck recommends starting the process with a some homework: "I've learned the best way to get a guy onboard is by first giving him homework. I ask them to keep a folder on their phone or actually create a private Pinterest page of outfits or clothing that they like." This way she gets a visual sense of what a client is into before shopping. Buck has also found success by setting realistic expectations, taking into account her clients' tolerance for trying on clothes. "I find that most guys don't really like the hunt (shopping) like some of us do. They get really annoyed by around the fifth-to-seventh-garment mark." Here's a brief starter guide to revamping your boyfriend's closet.
Both Baldwin and Buck recommended starting with a dark pair of jeans. Baldwin says, "If he has torn and tattered jeans, I would get a pair of dark-wash selvage jeans. If you don't want to wear a trouser, sometimes you can get away with a crisp white shirt, a dark jean, and a proper brogue. So I would say elevate the jeans a bit."
For guys looking to hold onto their skater/emo-kid appeal, these Carhartt WIP jeans achieve a cleaned-up but not overly serious vibe.
If he's on a budget, Uniqlo is a great place to start, and a pair of black jeans can make wearing band tees even easier. The added stretch makes these jeans super comfortable from day one. "Uniqlo typically has pants with a little bit of stretch to them, which is perfect if you've got thighs or a butt," says Baldwin.
Buck considers "a great oxford white button-down shirt for work that can also double as a cool going-out shirt with jeans" a wardrobe must-have. Because he might wear it several days a week, she says it's worth investing in a higher-quality option, if possible: "Spending a bit more on this particular item really pays off."
For men who are still getting used to the feel of a "dress" shirt, this shirt, which is woven loosely and prewashed for natural elasticity, would make a great first step.