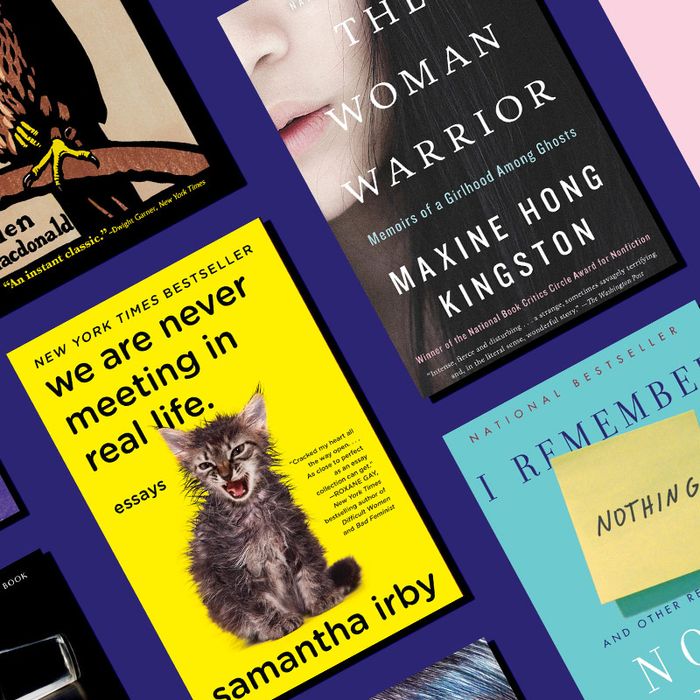 Women writers are increasingly recognized as the dominant force in the contemporary literary landscape. We certainly don't need an occasion to recognize and recommend them, but March — Women's History Month — is as good a time as any. Vulture asked ten women writers (all releasing their own books in March) to choose two must-read titles apiece. Read on for selections from Amber Tamblyn, Taylor Jenkins Reid, and others.
I've been revisiting novels that I loved when I was a kid but as an adult have read very differently. One that particularly struck me is Louisa May Alcott's Little Women. Today I see the influences of Alcott's father, a major figure in transcendentalism and seriously pathetic money manager.
Maxine Hong Kingston's The Woman Warrior was groundbreaking in many ways. By blending autobiography, myth, and history, she revealed the experience of Chinese immigration to the United States in a way never before seen. Hong's "talk stories" also helped launch the careers of many — most? All? — Chinese-American writers working today.
Irby is one of our country's most fierce and foulmouthed authors, whose literary takes on sex, family, and the body are unique in their comedic resonance and full gut-punch power. The best thing about this book, and all of her writing, is that the reader is made to feel like they are taking a master class from their best friend, and you feel right at home with Irby's stories and points of view while also being completely in awe of her craft and wit.
Because I want to recommend every single poetry book this author has written but can only choose one, I've decided on her first, a collection of the many poems the author wrote early on in her career. McKibbens is one of the most admired and copied (sometimes even plagiarized) poets in recent history, and this is due to her blistering work as both a writer and performer. Her poems cover everything from severe mental illness, to the experiences raising her five children, to a brutal childhood upbringing. McKibbens is, in the truest sense of the term, real required reading for anyone looking for poems that will break you wide open and shatter you onto the floor.
Halle Butler, author of The New Me (March 5)
Set in Paris in the 1930s, this novel feels, in some ways, like an answer to Tropic of Cancer. The narrator wanders the streets and cafés, paranoid that she will be recognized — either correctly (as the tragic drunk) or incorrectly (as the uptight English woman). She plays dumb with the grifters who mistake her for rich. She tries to keep her emotions in check. This is my favorite of Rhys's novels. Expect catharsis.
Yeah, I was going to try to not pick this one, but it's my favorite book. The first scene: Edith is packing her family's Manhattan apartment (to move to Pennsylvania, which she thinks is what her husband wants) and finds a crumpled shirt in her son's drawer covered in a crusted substance (ahem) that she tells herself, cheerily, must be crafting glue. The sick delusion and humor only get better from there. Enjoy!
Mary Fleener, author of Billie the Bee (March 5 in paperback)
Pond has a soulful way of adding pizzazz to a common story in an uncommon way. The bizarre menu of people that work with her at her small diner becomes a revolving door of crime and indelicacy, but Pond recognizes their humanity, and as the story unfolds, you just have to love them all.
Like a mad scientist, Ferris takes the chemistry of comics to a new, innovative level with a drawing/design technique that is sensuous and gamy. It's a whodunit murder story observed through the unflinching gaze of an 11-year-old girl, with a sinister background story that will knock your socks off.
Miller's work is audacious in the most thrilling sense of the word. She's reimagining ancient myths — stories we have been telling ourselves for millennia — in bold and inclusive ways. Miller's version of Circe, the goddess/witch, actively reclaims her story from the men who have told it before.
I Remember Nothing was Ephron's last book, and you can feel it in the subjects she tackles, most specifically her two stunning lists "What I Will Not Miss" and "What I Will Miss." All of her work is excellent, but her last one is a great place to start. Nora Forev