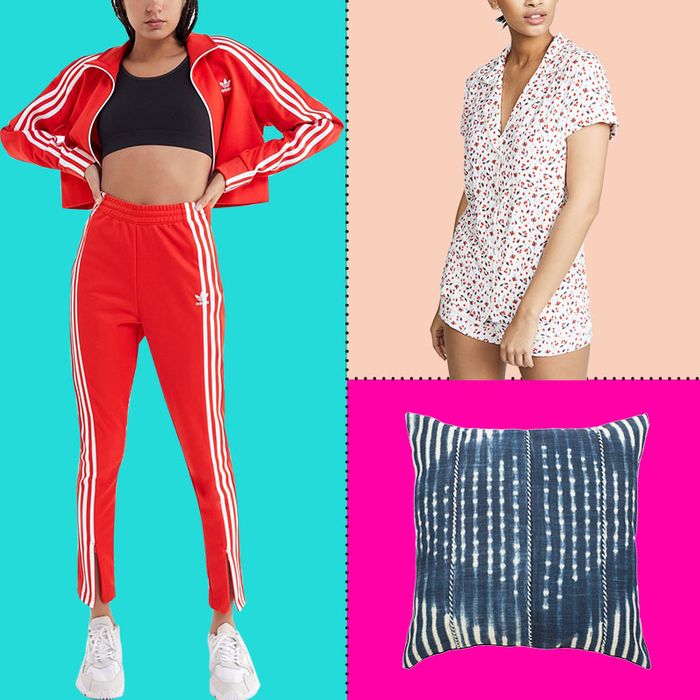 Photo: Courtesy of the retailers.
This week's sales roundup is a biggie … Below, the never-on-sale beauty serums, $7 enamel bowls, and 80-percent-off men's boots we dug up.
We've been on a bit of a Macy's-clearance-bin kick — so many insanely cheap home goods in there, if you do some digging. For instance, this trio of enamel-coated bowls, which, if you do the math, comes out to two bucks a bowl. Meanwhile, you get free shipping with a purchase of $49 or more, so might we interest you in …
It's not quite the season for this men's fleece headband, but it will definitely still be in style next year.
This 20-piece (i.e., for four people) dainty dinnerware set from Godinger is an almost unheard-of 82 percent off.
We like the chunky cuffs on this otherwise traditional striped cotton blouse from Equipment.
We love a plastic tumbler, and these, from Kate Spade, feature subtle little gold dots.
Whenever we see a DVF wrap dress for under $200, we like to flag it. This one is made from 100 percent woven silk satin.
This wrap dress is not as cheap, but is so elegant we had to include it.
Just a fun, leopard-print nylon backpack.
Speaking of not-cheap … these Proenza Schouler heels — but they were even more expensive ($595) at one point.
It's almost showing-your-toes season, and how sweet are these slides from London shoe line Miista?
If you have any summer weddings on the horizon, this floral Clare V. would make a nice festive touch to an outfit. There's a leopard-print Clare V. clutch on sale, too.