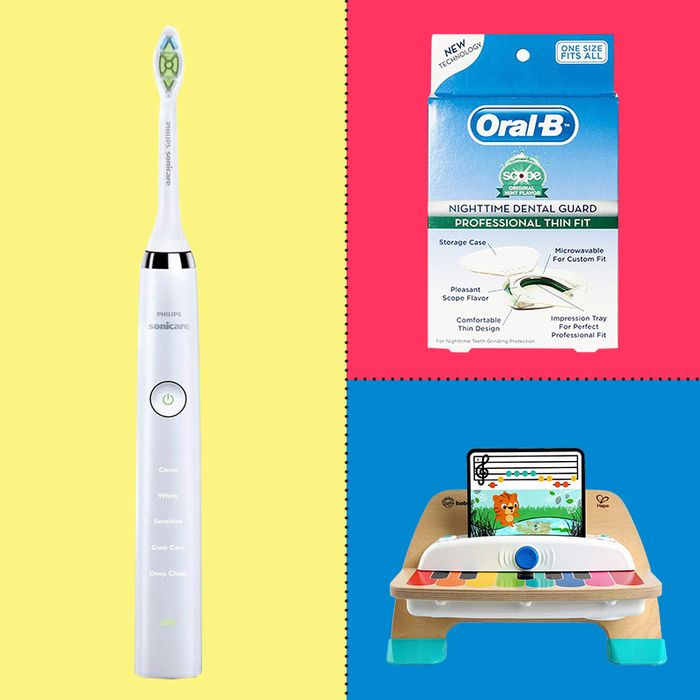 Photo: Courtesy of the retailers
Welcome back to Your Shopping Cart, wherein we break out the top ten products that you, devoted Strategist readers, bought in droves. Think of this as the tl;dr of the Strategist: If your like-minded brethren are buying these items, maybe you'd like to, too.
After two consecutive second-place finishes, this handheld vacuum hits No. 1 on our best-seller list this week. It's followed by the so-called "Tesla of toothbrushes," which lots of our readers bought when it went on sale earlier this month. We have a newcomer in third place (a rose gold Lightning charger cable), and a nasal spray recommended by actor Glenn Howerton at number four. A colorful piano for tots rounds out the top five. A natural deodorant (that actually works) lands at number six, and this fancy bottle of lube moves up from eighth to seventh place. Appearing on the list for the first time, this mouth guard for teeth grinding pops up in eighth place, and two longtime best sellers (a pillow for side-sleepers and an anxiety-reducing weighted blanket) close out the list in ninth and tenth, respectively.
While this tiny-but-mighty Dustbuster often makes the best-seller list (this week marks its ninth appearance), this is the first time its taken the top spot. According to one Amazon reviewer, it's "very powerful for a hand vac. With three young kids and a very messy cat, we've used this vac to pick up spilled cereal (wet and dry), cat food, cat litter, cat hair on furniture, drywall dust (fixing holes the kids made), and every kind of spilled food imaginable with young kids. Never had a problem. [Plus], it is easy to empty. You can either take the front off and dump it or take the back off (for cleaning the filter) and empty it that way. Finally, it is easy to clean the filter."
The Philips Sonicare electric toothbrush gets rave reviews both from writer Stephen Haskell ("one of the best purchases I have ever made") and from enthusiastic Amazon customers ("my colleagues were asking me if I whitened my teeth"). While it's rarely on sale, the normally $200 "Tesla of toothbrushes" was half off on Amazon last week, which might have something to do with its second-place finish. In fact, the last time the Sonicare made our list, it was after a similar discount on Prime Day.
For under $10, this USB Lightning cable (an Amazon favorite) is worth keeping in your bag for emergency charging situations. One reviewer raves, "I've ordered endless cables and they all work great for a week and then die. I decided to try this one since it had the lifetime warranty, and I'm so glad I did. It's excellent and pretty much just like the Apple USB. It charges my phone in the car super fast and even faster via wall charger." And since it's rose gold, you'll always know which one's yours in a sea of white cords.
After catapulting to the top of our last best-seller list, this nasal spray — featuring the naturally antibacterial and antimicrobial plant sugar xylitol, and coming recommended by Glenn Howerton, star of A.P. Bio and co-creator of It's Always Sunny in Philadelphia — is still going strong in fourth place. After sinus surgery, Howerton says he relied on it to prevent congestion. "Within five minutes [of using it,] you'll blow out an outrageous amount of snot. Your sinuses are totally cleared. It's amazing."
If you're looking for an age-appropriate gift for a 1-year-old, you're going to want something that stimulates her growing mind — like this colorful piano toy. Child development expert Dr. Sarah Roseberry Lytle says it's a good pick because "young kids love to make music and noises and exploring things, like, 'Can I make it softer? Can I make it louder?' 'What happens when I hit it harder?' That's a really interesting learning process."
We've dubbed this natural deodorant the unofficial deodorant of the Strategist team, as it's a favorite of Strategist editor Alexis Swerdloff's and senior editor Simone Kitchens's. We were tipped off to it by Aubrey Plaza, who heard about it from Judy Greer, and now our readers are following suit. How does it work? One dermatologist explains: "The vegetable glycerin can help to absorb excess moisture, minimizing the feeling of wetness, and aloe can have a cooling effect on the skin, which can help to reduce the feeling of heat buildup that can occur with sweating."
When this very elegant-looking lube started inching up on our best-seller list, we credited it to a Valentine's Day bump, but now that it's appeared six consecutive times, we feel confident in saying our readers just love it. And they're in good company: Samantha Bard, co-owner of the sex-positive shop Shag in Williamsburg, says it's "one of the highest-quality silicone lubes out there," and Emily Morse, doctor of human sexuality and host of Sex With Emily on SiriusXM, is impressed that it has only two ingredients: "pure silicone with a trace of Vitamin E."