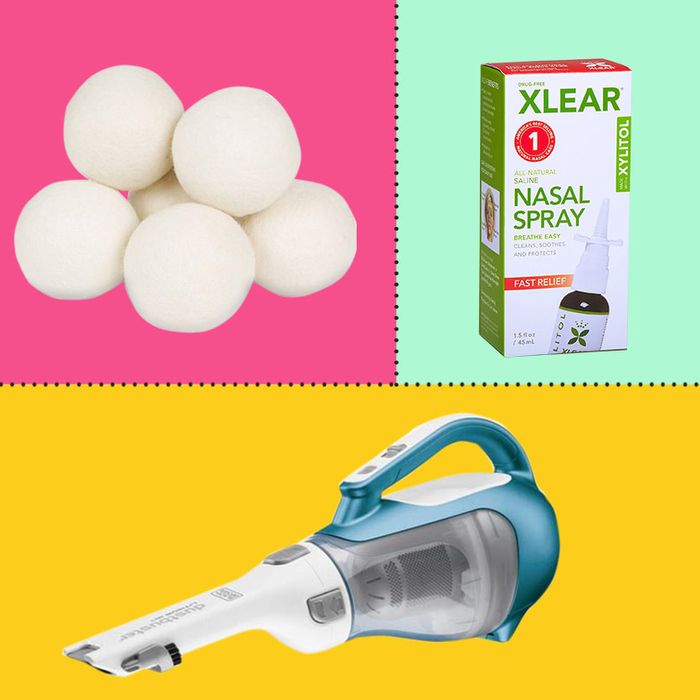 Photo: Courtesy of the retailers
Welcome back to Your Shopping Cart, wherein we break out the top ten products that you, devoted Strategist readers, all bought in droves. Think of this as the TL;DR of the Strategist: If your like-minded brethren are buying these items, maybe you'd like to, too.
A newcomer jumps to the the top of the list this week — a nasal spray recommended by actor Glenn Howerton — followed by a classic best seller in second place: this tiny-but-mighty dustbuster. The rest of the list is a mix of old favorites (like this anxiety-reducing weighted blanket in eighth place and a pillow for side-sleepers in tenth) and new picks (including a streamlined magnetic spice rack in sixth, an iPhone-charging Lightning cable in seventh, and a Rio-recommended sheet mask in ninth). Big sales on two products we've covered before — dryer balls and wireless headphones — launched them into the top ten in third and fourth place, respectively, and this fancy bottle of lube slides from fourth to eighth place.
This week's top seller, a nasal spray featuring the naturally antibacterial and antimicrobial plant sugar xylitol, came recommended to us by Glenn Howerton, star of A.P. Bio and co-creator of It's Always Sunny in Philadelphia. After sinus surgery, he relied on it to stay clear of congestion. "Within five minutes [of using it] you'll blow out an outrageous amount of of snot. Your sinuses are totally cleared. It's amazing."
For the second week in a row, this powerful little cordless vacuum comes in at number two. According to one Amazon reviewer, it's "very powerful for a hand vac. With three young kids and a very messy cat, we've used this vac to pick up spilled cereal (wet and dry), cat food, cat litter, cat hair on furniture, drywall dust (fixing holes the kids made), and every kind of spilled food imaginable with young kids. Never had a problem. [Plus], it is easy to empty. You can either take the front off and dump it or take the back off (for cleaning the filter) and empty it that way. Finally, it is easy to clean the filter."
We first learned about wool dryer balls last year, when Strategist senior editor Simone Kitchens raved that her Woolzies prevented wrinkles and dramatically cut down on drying time. Incidentally, those hit the best-seller list back then, and now these very similar Smart Sheep balls make their debut in third place — probably thanks to a big sale last month. They're back at full price now, but for an eco-conscious, non-toxic drying solution that last for a year, they're still a bargain.
Like the dryer balls, we've known about these headphones for a while, now. Writer Steven John says, "The audio quality is quite good for the earbud category, and the eight-hour battery life is nothing to scoff at, considering the compact size of the hardware," but it took a sale last week to get them on the list. And while they aren't true wireless earbuds, they're a lot cheaper and harder to misplace. As John says, "They connect to one another via magnet to make a necklace you can wear when you're not using them, which is handy for not losing your earphones."
We're always on the lookout for cheap (but expensive-looking) home décor items, so when we saw this minimal, no-install spice rack (it attaches to your fridge magnetically) we knew we'd found a winner – and it looks like our readers are fans as well. It's also from the same Japanese brand as this compact wall ladder that double as a place to hang clothes in cramped apartments.
Designed to relieve anxiety and improve sleep quality, weighted blankets also just feel extra cozy on cold winter nights — so we're not surprised to see this one inch up from eighth to sixth place. When Strategist writer Karen Iorio Adelson went in search of the best one to give as a gift, she tested a handful of models out and concluded that "Baloo's thoughtful design makes it the most comfortable and aesthetically pleasing one of the bunch." These go out of stock often, so act quickly if you want to try one.
Writer Alison Freer loves the extra-long version of this Anker iPhone-charging cable, and these more standard-length ones get glowing reviews on Amazon. One shopper says, "Right out of the package I could feel that the quality of the cables are so much better than the official cable and any discount clones found elsewhere. I needed a hardy, reliable cable I can take with me traveling, and so far, the Anker brand hasn't failed me yet."