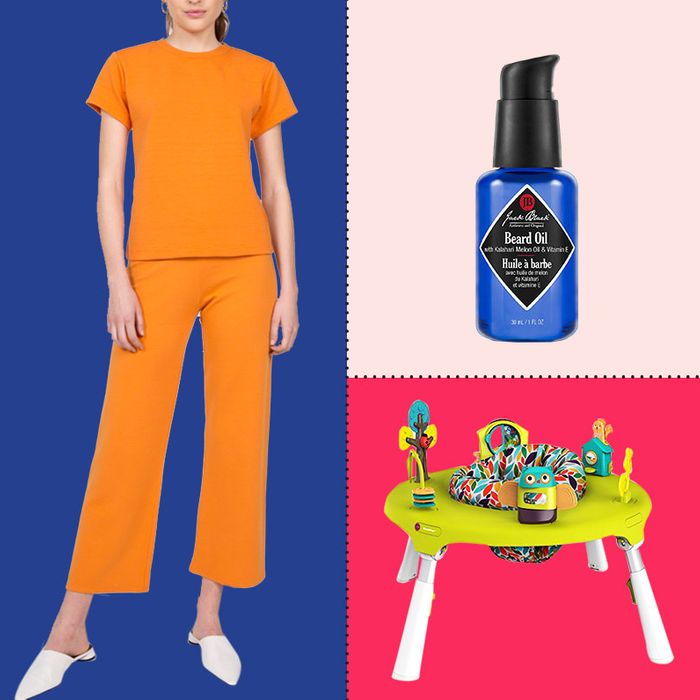 Photo: Courtesy of the retailers
If you follow our biweekly feature Your Shopping Cart, you know that we have some eerily good intel on what you all are buying. Which led us to think that, as Strategist editors, we could turn the tables and highlight all the things we've been buying ourselves. As you'll notice, it's both a blessing and a curse to be a Strategist editor; we're picky, but sometimes we just have to get on with it (it's online-shopping expertise meets IRL needs). Below, what we all bought in March.
David Notis, writer
I love wearing my Darn Tough socks with boots, but if I'm wearing a low-cut shoe or desert boot, I like having something a little more interesting. I bought a few pairs of Anonymous Ism socks earlier in the winter, and they've become my favorite socks. I recently did a Marie Kondo–fueled sock-drawer purge — starting with the easiest things, this was hard enough — and my general guiding principle is to get more socks like those Anonymous Ism ones. That means doing a lot more laundry because these aren't cheap, but I'm okay with that. These are made from really thick cotton, so they're warm enough for a mild winter day, and they'll probably work in the spring too because the weave is pretty loose. I like that they're a little wild, but still subtle. (I also bought them in green which they call "khaki" but I think it's more of a yellowy-green.)
I am sort of growing a beard. I don't know. It's only been about two weeks, but I'm a wimp and get really uncomfortable and itchy after like five days of not shaving, so I'm already babying my little stubbly beard more than most people who have long, actual beards. Still, even if the beard oil isn't strictly necessary, I think it's helped a lot with dryness, and it gives the hair a nice healthy sheen. It's super-lightweight, has a kind of citrusy, barely noticeable scent, and it absorbs quickly so it doesn't make a mess. Also, the pump-style bottle is a lot easier to use than those ones with the glass droppers.
I'm not sure if this is actually healthy. I think it is. I hope so, because otherwise I'm just drinking a really weird dark-green thing every morning for no reason. It was on sale and I bought it on a whim because it's never on sale. I mix it in water every morning and it's become a fun routine. The taste is intense — not the most pleasant — but it's bracing in a nice way when you're still waking up. I'm hesitant to say, "I feel way healthier since drinking this," because I'm obviously not a medical professional, but I really do think I've had more energy lately, and it has all the ingredients everyone is always telling me are important, so there must be something to it?
Jason Chen, deputy editor
Our dog got too big for his puppy bed, so I upgraded — this one looked lofty and well-padded (it's got a regular layer and then an egg crate foam layer) and the dog LOVES it.
Photo: ©Mario Simon
I wanted a slightly oversized T-shirt for the summer, and this on-sale Carne Bollente white tee fit the bill (I like that the sleeves almost hit my elbows). Some of the CB graphics are too much, but this one's just the right amount of perverted.
I'd actually gotten Rebecca Makkai's book in December but didn't feel right about including it in my haul until I actually finished it. Yes, it's as great as everyone says. Buy if you're interested in getting misty on the train.